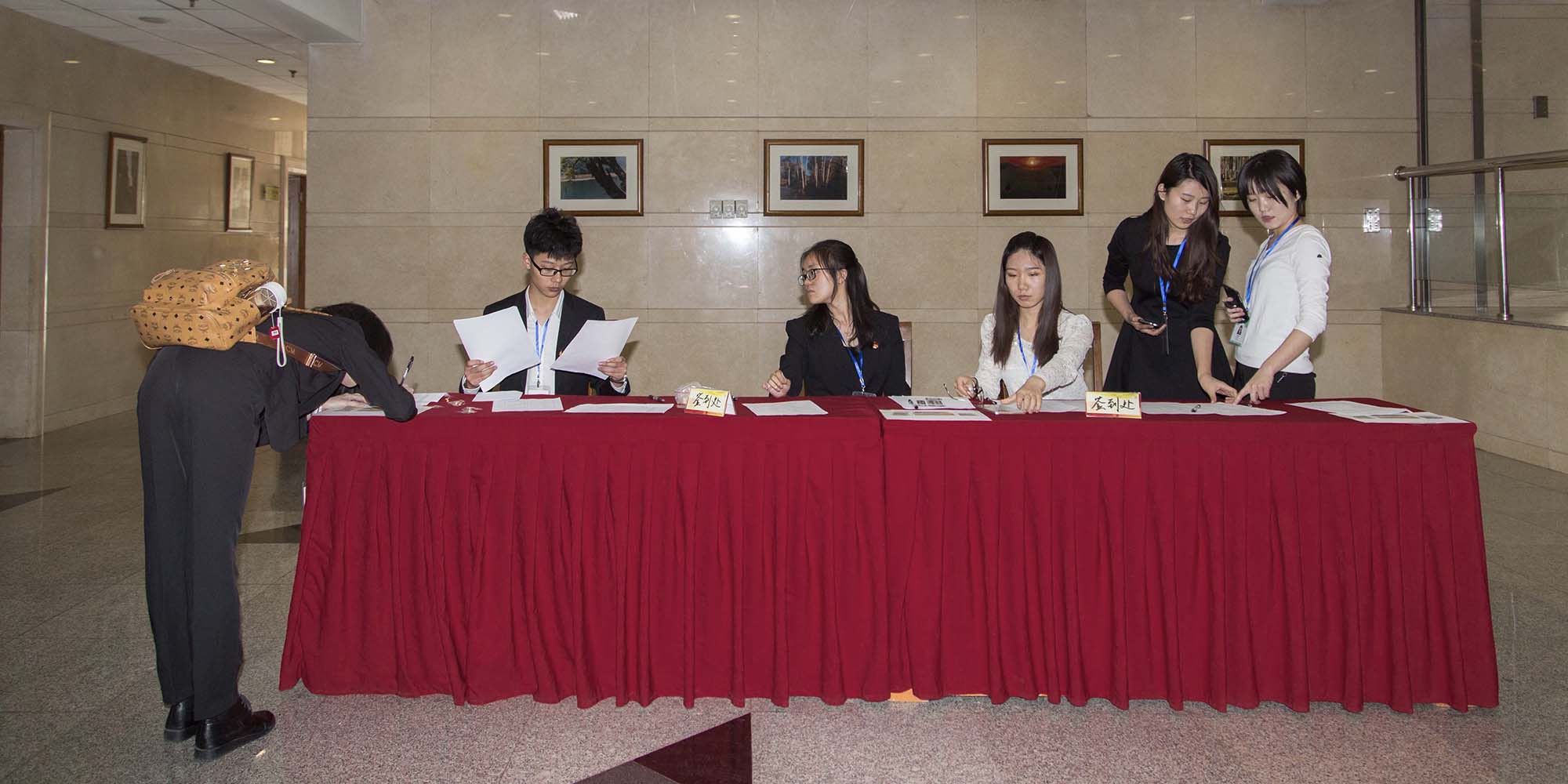 NEWS
Xinhua Criticizes College Students for Bureaucratic Bad Behavior
Commentary says upperclassmen rebuking junior student for not using correct title points to larger issue of a rigid hierarchy distorting one's sense of self-importance.
China's Xinhua News Agency and Communist Youth League have criticized college students in Chengdu for being excessively "bureaucratic" after a chat screenshot showed two upperclassmen reprimanding a younger peer for not using a sufficiently respectful title.
An article published Tuesday on the youth league's Weibo microblog account and a Xinhua commentary published Wednesday both lamented that student associations at Chinese universities are becoming increasingly "bureaucratized."
The chat screenshot from an administrative student group at Chengdu Aeronautic Polytechnic, a college in southwestern China's Sichuan province, shows a student tagging the group's vice president, surnamed Yang, and addressing him as xuezhang, or "elder schoolmate," while inquiring about a meeting. "How dare you tag President Yang! And did you just call him xuezhang? I don't want to see that again," replied one of the group's managers, surnamed Yuan, who later added: "Do you have any idea what you're doing?"
Another chat manager, surnamed Liu, sent a cautionary message to the entire group: "To all junior members, please know your place and be careful of how you speak."
Referring to this incident, the Xinhua commentary criticized students who place too much stock in a rigid hierarchy, and derive an inflated sense of importance from a particular post or title. "Positions at student unions and organizations are loosely linked with postgraduate success," the author wrote. "As such, some people seek to gain a higher place in the hierarchy by any means necessary."
The Beijing News reported Tuesday that the student who posted the offending message is a freshman who had joined the student association last month. During recruitment, one student told the paper, pledges were asked to do push-ups to prove their obedience.
Though the association's QQ group was shut down, the incident has attracted attention on social media, where it resonates with netizens who faced similar situations while at university. "It reminds me of my student union," commented one Weibo user. "A student officer loudly reprimanded a junior member and forced him to apologize simply because he opposed the officer's opinion."
Chengdu Aeronautic Polytechnic published a notice on Tuesday saying that the two group managers had reflected on their faults and promised to rectify their behavior. The notice also denounced another screenshot — appearing to be an internal memo suggesting that discussion of the incident be banned and the whistleblower be hunted down — as a rumor that had been reported to police.
This is not the first time students from a Chinese aeronautics university have been accused of making power plays. Last month, female seniors at the Civil Aviation Flight University, also in Sichuan province, were alleged to have bullied underclassmen by controlling what they wore, how they ate, and whom they ate with. In July, Sun Yat-sen University in Guangdong province was criticized for assigning bureaucratic ranks to the members of its student union — a system that could encourage social division and abuse of authority. And in June 2016, Jiangnan University in Jiangsu province was exposed for providing the president of its student union with seven assistants.
Wednesday's Xinhua commentary draws a parallel between President Xi Jinping's sweeping anti-corruption campaign and the latest college incident, which the author describes as a sign that bureaucratic culture is corrupting and misleading the country's young people. "Rectifying mistakes and fighting against corruption is a wrestling match between different values," writes the author. "Guiding young students over this hurdle is about the country's future, and we cannot neglect the importance of this issue."
Editor: David Paulk.
(Header image: Following orders from a senior officer of a campus student group at the Communication University of China, a junior member (left) writes a self-criticism, Beijing, May 4, 2017. Courtesy of Yang Wenbin)