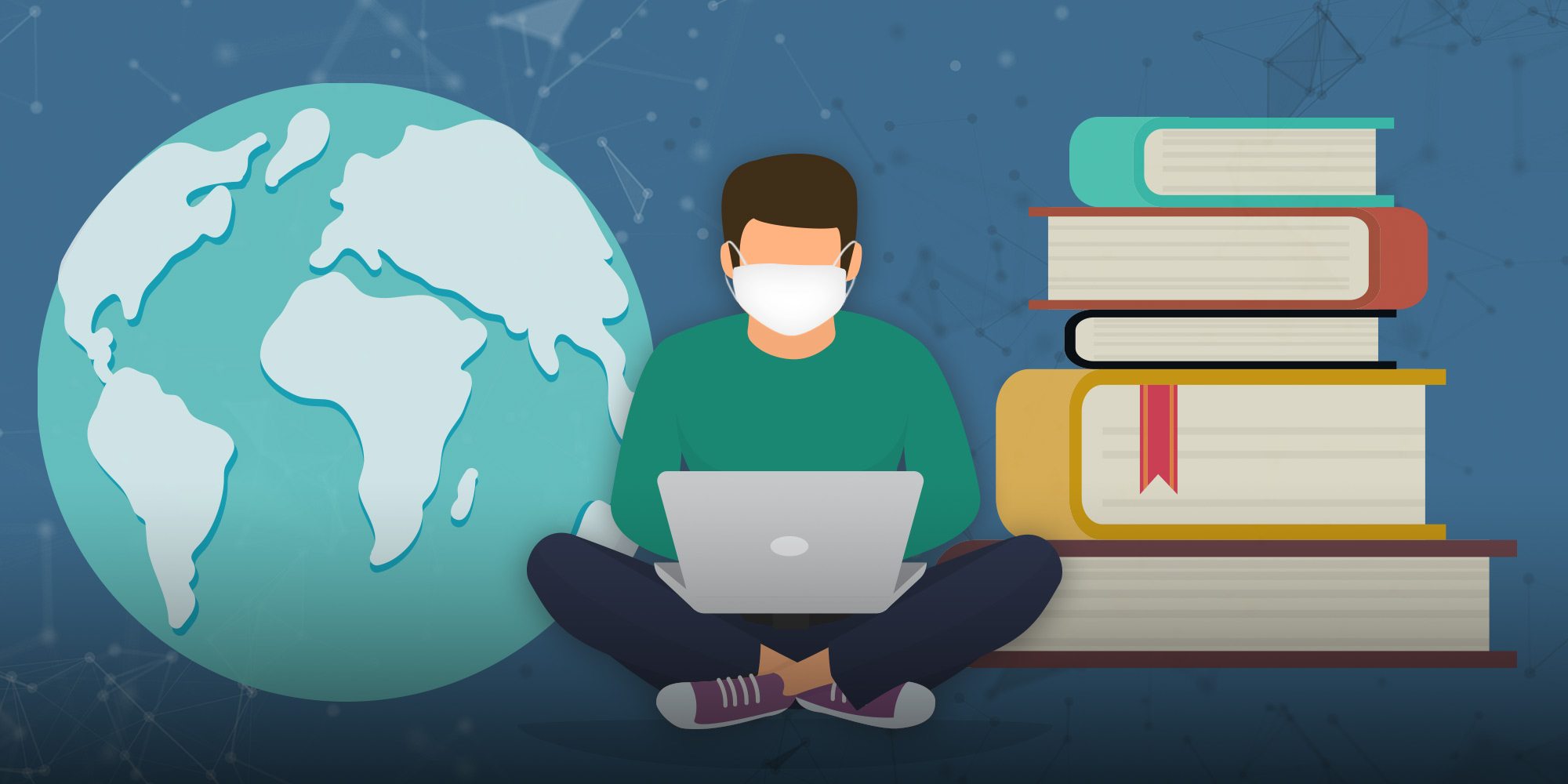 FEATURES
Stay or Go? COVID-19 Forces Students to Rethink Study Abroad Plans
All over China, students are deciding whether to move overseas for university. In the age of COVID-19, the choice is more complex than ever.
Kat Chu was thrilled when she received the email in February: She'd been offered a place at University College London to study computer science.
For the 23-year-old from the eastern Zhejiang province, a place in a master's program at a top British university represented a life-changing opportunity. She remembers sitting down with her family and excitedly discussing the preparations she'd need to make for her move to Europe.
Then, a few weeks later, her parents had a sudden change of heart.
"With the global spread of COVID-19 and the situation overseas getting worse, my parents said maybe I shouldn't go abroad," Chu tells Sixth Tone. "They said if I went there, they'd be worrying about me day and night."
At first, Chu thought she'd be able to convince her parents to let her go. After all, they'd spent over 100,000 yuan ($14,000) on private lessons and agent fees to help prepare her application. 
But her parents' worries intensified after they heard a story about the child of a family friend, who was stuck in the United Kingdom and unable to find a flight back to China. They insisted Chu reject the offer. Unable to pay the tuition fees herself, the young student's dream ended.
"It was so difficult for me to get in. I felt it was such a pity," says Chu. "But my parents are taking a tough stance … They just want me to find a job."
All over China, thousands of families are having similar discussions as students mull over whether to accept offers to study abroad. While an overseas education remains hugely attractive to many in the country, the pandemic is making some hesitant to leave home. Others, meanwhile, are being forced to rethink their plans due to the ongoing disruptions to examinations, visa applications, and international travel.
The decisions these families make over the coming weeks will have far-reaching implications for universities across the English-speaking world, many of which are heavily reliant on the tuition fees paid by Chinese students. 
China is the world's largest source of international students, with 1.5 million people studying abroad as of 2018. The number of scholars departing each year has been growing steadily over the past decade, reaching 660,000 in 2018.
The rise has been driven by the willingness of middle-class Chinese to invest huge sums to give their kids a head start in life. Many value foreign universities' ability to offer students immersion in a multilingual environment, all-round personal development, and an edge in the Chinese job market. 
In the age of COVID-19, however, some families' priorities have shifted.
In a February survey of over 100 China-based study abroad agencies, 65% said they expected the number of students going overseas to decline this year. Over 35% said they thought students were likely to scrap their plans to leave China due to the coronavirus.
Many Chinese students are applying to start their programs a year later, hoping the global situation will have stabilized by 2021, according to Jon Santangelo, a spokesperson for the Beijing Overseas Study Service Association (BOSSA), the international education body that conducted the February survey.
"Students for the first time are choosing a gap year, which in China is practically unheard of," Santangelo tells Sixth Tone. "The majority of agencies have confirmed they're receiving fewer student inquiries compared to last year."
Liu Bo, a mentor at Palm Drive, an education institution that helps Chinese students applying to elite universities in the U.S. and U.K., says several clients have withdrawn their applications completely, while others are trying to defer. 
"The pandemic has brought too much uncertainty," he says. "Still, there are many people who've decided to keep going."
Students' reasons for changing their plans vary, according to Liu. Fears of the virus are a common issue, as is a reluctance to pay eye-watering tuition fees when there's a chance they'll have to attend online classes. 
A semester of Zoom-based lectures was enough to convince Wang Jingzhou to consider putting off his graduate studies. 
The 23-year-old completed a four-year degree in the U.S. in May and is due to start a master's program in the U.K. this fall. But he's still thinking about deferring a year. His new university has told him classes will resume in September, but some lectures will still take place online. He's also worried about potential problems getting a U.K. visa, flying to London, and finding accommodation in the city.
"It's not cost-effective for us to pay the same tuition fees but have virtual teaching," Wang tells Sixth Tone. "I think it's not as efficient as face-to-face discussion."
With his U.S. graduation ceremony postponed, Wang caught a grueling 48-hour flight back to China via the Netherlands — a journey that, in his words, made him feel like a character in the video game PlayerUnknown's Battlegrounds, forced to flee into an ever-shrinking safe zone. 
If he does defer, Wang says he'll spend a year in China doing an internship or starting a business. "I'll make the final decision in August," he says.
While most younger applicants are willing to wait a year to enroll and see if the pandemic-related problems dissipate, graduates sometimes choose to pursue a different path altogether.
"Affected by the pandemic, some students who applied for a master's degree changed their minds as they have more choices," says Liu, the student mentor. "Besides taking a gap year, they could study for their master's at a domestic university, or enter the job market."
But Claire Wang, who isn't related to Wang Jingzhou, tells Sixth Tone she's determined to stick to her original plan. The former bank employee has already taken a year to prepare her graduate school applications, and she's set on doing whatever it takes to begin a master's at a foreign college this year.
"I found the bank job didn't suit me, and studying abroad will help me find a better job," she says. "Some students might want to defer till next spring, but I don't want to do that."
Claire Wang has received a conditional offer from a university in the U.K. and has already taken a PTE Academic English test. If her results aren't good enough, she plans to retake the test in June.
"I have to spare no pains," she says. "I can't waste any time."
For others, however, taking tests — let alone retaking them — is impossible in the current climate. A significant number of applicants are being affected by administrative problems caused by the pandemic. According to the BOSSA survey, 40%-60% of Chinese students have been directly impacted by disruptions to college applications, visa processes, or travel policies.
The pandemic struck at the worst possible time for college applicants. Most U.K. and U.S. universities require non-native English speakers to obtain a certain score in the TOEFL or IELTS language tests, but many examination centers in China, Europe, and North America have been suspended for months. 
U.S. and U.K. visa application centers in China have also been shuttered for long periods, though several U.K. centers recently reopened. Chinese airlines, meanwhile, have been forced to drastically reduce the number of international flights, causing further issues for students looking to start courses abroad.
The restrictions have already cost Linyu, a 25-year-old graduate, a place at his preferred college. The student received a conditional offer from The University of Chicago requiring him to obtain a higher TOEFL score in February, but he was unable to re-sit the test, despite four months of continuous efforts.
In the end, he was able to secure a spot at another elite university instead, but he was bitterly disappointed to miss out on the chance to go to Chicago. He'd spent two years preparing his application, he tells Sixth Tone.
"I'd finally earned my place, then I failed again because of the pandemic," says Linyu, whose name has been changed due to privacy concerns. "Sometimes there's no rhyme or reason to life."
Chinese students about to graduate from overseas universities, meanwhile, are facing a whole different set of challenges. Many hoped to stay in their adopted countries and start their careers overseas, but the economic crisis triggered by COVID-19 is making this extremely challenging.
Vera Li, a 22-year-old graduate, has applied for 400 jobs in the U.S. since completing her diploma at an American college in December, but has received few replies.
"I'm not even considering what the position or location is," says Li. "Whenever there's any opening, I'll go for it."
In March, Li passed a final interview at a tech company in Washington, D.C., but the employer still hasn't sent her an official offer. The firm has instituted a hiring freeze — as have 37% of U.S. employers, according to a March survey by outplacement firm Challenger, Gray, and Christmas.
For now, Li is cutting her daily expenses while she desperately searches for work. But she's started to accept that unless something comes up soon, she might have to move back to China. "It's really brought me a bad headache," she says.
Additional reporting: Luo Meihan; editor: Dominic Morgan.
(Header image: Getty Creative/People Visual, re-edited by Ding Yining/Sixth Tone)