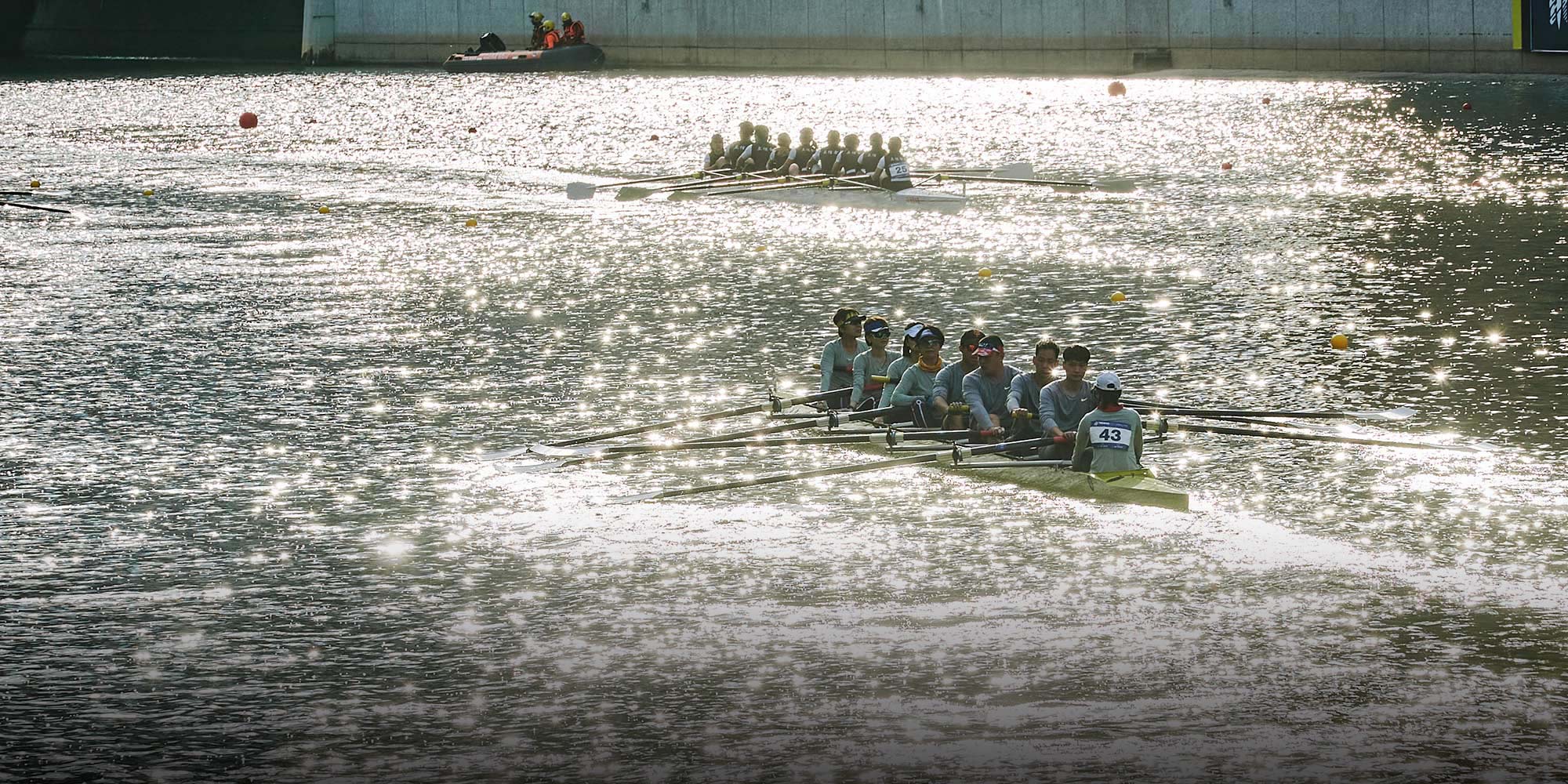 MULTIMEDIA
Shanghai Launches New Regatta Aimed to Rival Henley and Boston
The inaugural Head of Shanghai River Regatta is one of the first major sports events the Chinese city has hosted since the start of the COVID-19 pandemic.
SHANGHAI — The 2021 Head of Shanghai River Regatta — a new event designed to rival well-known rowing meets in London and Boston — took place on Shanghai's Suzhou Creek over the weekend.
The two-day regatta saw 46 eight-person crews from across China — including 12 Tokyo Olympic medal-winning rowers and coaches — compete in front of thousands of spectators gathered along the river banks.
The events included a 4.2-kilometer chase and a 500-meter sprint. Hubei province won gold in both the men's and women's professional rowing competitions, while Shanghai Jiao Tong University and Tongji University bagged first place in the men's and mixed college divisions, respectively. 
Set against the backdrop of Shanghai's towering skyline, the regatta aims to become a fixture in the city's sporting calendar, according to Zhou Jin, director of Shanghai Donghao Lansheng, the events company that organized the regatta.
"London has the Henley Royal Regatta, Boston has the Head of the Charles Regatta," Zhou told Sixth Tone's sister publication The Paper. "Shanghai also needs a branded event on the water."
According to the organizers, more than 7,000 people registered online to secure a prime spot to watch the races. On Saturday, the sidewalks along Suzhou Creek were crowded with spectators, as well as a number of curious passersby.
Several Chinese colleges had brought along large groups to cheer on the competitors on Saturday, with Tongji University providing one of the largest. Zhou Yinan, a former Olympian who now coaches Tongji's rowing team, said he was thrilled to see his students race on the water he himself once practiced on.
"Rowing is still a niche sport … but the fact the competition is held on Suzhou Creek will help introduce it to the public," Zhou, who isn't related to Zhou Jin, told Sixth Tone.
The regatta was also one of the first major sporting events held in Shanghai for more than 18 months. The city previously canceled a slew of events, including the Chinese Grand Prix and Shanghai Masters tennis tournament, due to COVID-19 restrictions.
"Shanghai has suspended many world-class international sports competitions due to travel restrictions," Xu Bin, director of the Shanghai Sports Bureau, said during the opening ceremony on Saturday.
Photos: Wu Huiyuan; editor: Dominic Morgan; visuals editor: Ding Yining. 
(Header image: Rowers compete during the Head of Shanghai River Regatta, Oct. 24, 2021. Wu Huiyuan/Sixth Tone)