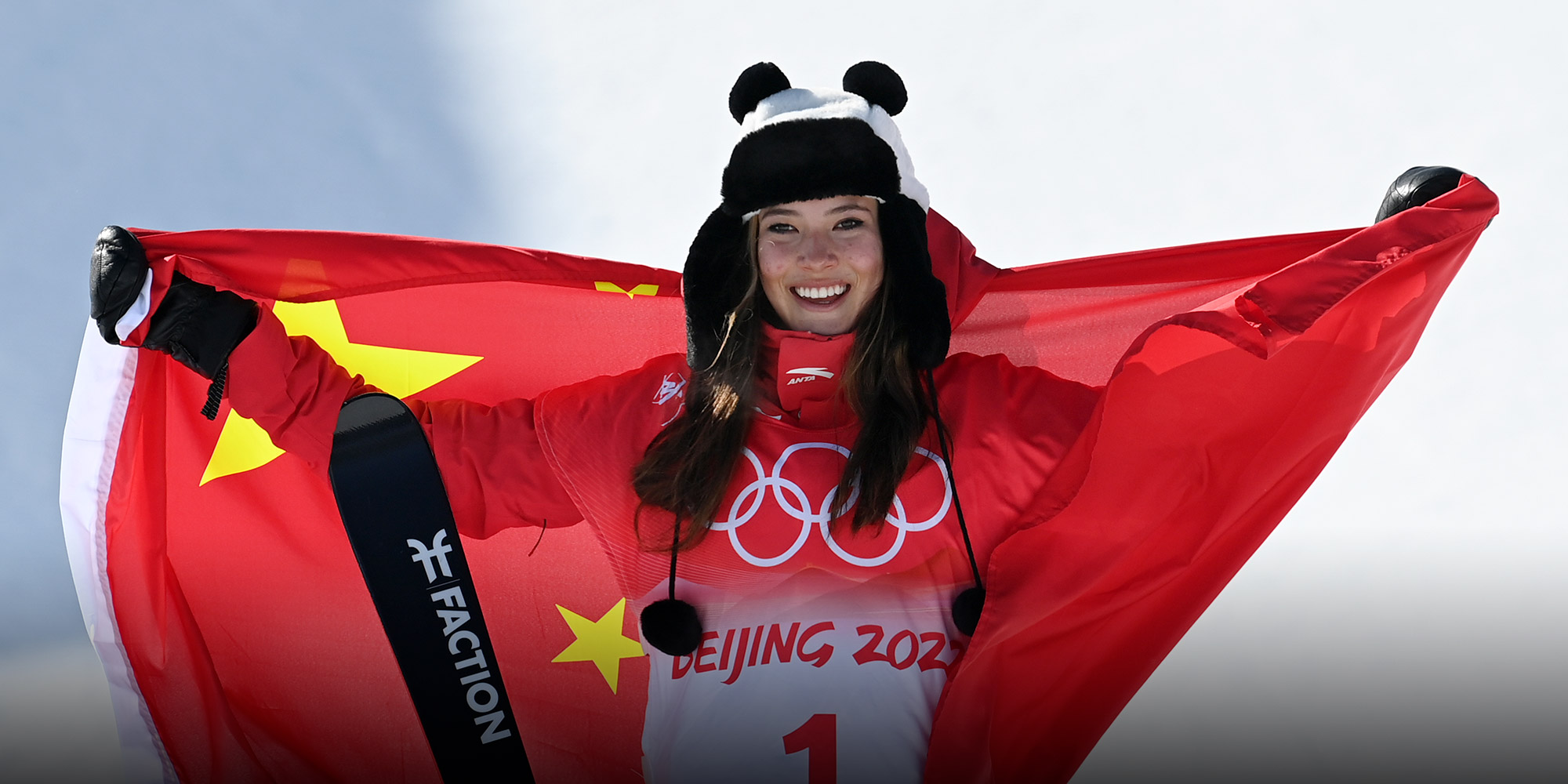 VOICES & OPINION
What Eileen Gu Means to China
The 18-year-old skier has dominated this year's Olympics like no one else.
Depending on your perspective, she's either American as apple pie or the quintessential product of Chinese "tiger parenting" — a traitor or a trailblazer. But if there's one thing we should all be able to agree on, it's that Eileen Gu has dominated the Beijing Winter Olympics like no one else.
Just 18 years old, Gu won two golds and one silver medal in three competitions at this year's games, making her the first-ever freestyle skier to win three medals at the same Olympics. Popular even before her trips to the medal podium — the aspiring athlete and model had signed more than 20 endorsement deals and took home an estimated 200 million yuan ($31 million) last year — Gu just vaulted her way into the country's sports pantheon alongside greats like Yao Ming, hurdler Liu Xiang, and French and Australian Open winner Li Na. Her every move, from which Beijing cram school she attended to her choice of snack on the slopes, is dissected by tens of millions of fans.
Her success has come at a price, however. Across the Pacific, the American-born Gu has been subjected to a much harsher form of scrutiny since choosing in 2019 to compete for China rather than her country of birth. Fox News host Will Cain deemed her "ungrateful"; his colleague Tucker Carlson called her choice "dumb." Attitudes toward Gu on Western social media often reflect a toxic mix of nationalism, racism, Orientalism, and misogyny.
The backlash reminds me of an old Chinese sports story. In the early 1990s, table tennis player He Zhili, a member of the Chinese national team, switched nationalities and began competing for Japan. Playing under the name Koyama Chire, she took home the gold medal in the women's singles competition at the 1994 Asian Games, beating Chinese athletes in successive matches in the process. At the time, Chinese attitudes toward He were vitriolic: She was criticized as a "traitor," with angry fans likening her to the collaborators who assisted the Japanese army during the Second World War.
That was nearly 20 years ago. Today, Chinese sports fans are accustomed to the sight of China-born and trained table tennis players representing other countries at major international competitions. Perhaps, with the benefit of time, the United States — which has long benefited from the influx of top sporting talent from around the globe — will likewise recognize that there is nothing insidious about Gu's choice to represent China.
It's unfortunate, however, that the ongoing firestorm over Gu's nationality has obscured the far more interesting ramifications of her choice within China, including how her massive success is reshaping Chinese attitudes toward everything from winter sports to contemporary womanhood.
Although not the first naturalized Chinese to compete for the country at the Olympics, Gu is easily the most popular and influential to date, in part because she is the most culturally and linguistically fluent. Every summer since she was two years old, Gu has returned to China with her mother, and she speaks fluent Chinese with a strong Beijing accent. When interviewed by Western media or posting on social media in English, Gu comes across as confident, sharp, even aggressive.
But in her interactions with Chinese media, her expressions and voice seem softer, sweeter, and she keeps the conversation focused on inoffensive everyday topics like food. It's a performance that seems calculated to make it easier for Chinese people to accept her, but it also reflects her own mixed identity. As Gu herself puts it, "When I'm in the U.S., I'm American, but when I'm in China, I'm Chinese."
Gu's ability to appeal to audiences in China, even more than her athletic prowess, is what sets her apart from other naturalized athletes. The most direct example of her outsize influence might be her role in popularizing winter sports. Prior to this year's games, Chinese officials optimistically sketched plans for turning the country into a winter sports nation and set a goal to have 300 million people take part in ice and snow sports. At first, that seemed like a pipe dream, but with the emergence of bona fide stars like Gu and her fellow Generation Z icon Su Yiming, there's a real chance that interest in nontraditional sports like skiing and snowboarding won't melt away as soon as the Olympics are over.
Meanwhile, Gu's quintessentially transnational background — and her skillful balancing of her Chinese and American identities — is a powerful rejoinder to the recent resurgence in nationalist sentiments in China and around the world. Although her path is by no means accessible to everyone, the blend of American and Chinese training and education methods that helped produce her is a useful reminder that purity tests aren't the only measures of success.
For my part, however, Gu's most important and positive impact involves the way she's reframing Chinese discussions of femininity and "girl power." A vocal feminist, Gu has repeatedly said that one reason she chose to compete for China is her desire to be a role model for Chinese girls interested in skiing. Admittedly, her popularity is as much a testament to her ability to perform idealized femininity as it is to her athletic prowess. Gu is practically everything a young woman is expected to be: beautiful, confident, strong, fashionable, and academically successful.
That's no mean feat, and on its own seems to reflect the almost impossibly high demands Chinese society places on women. But Gu's rise has also challenged social norms in unexpected ways. Chinese outlets emphasize her mother and grandmother's role in bringing Gu up, educating her, and nurturing her hobbies while still living their own lives. (Gu's mother is a venture capitalist, and media reports often note that her 86-year-old grandmother still runs a mile a day.) Her biological father, meanwhile, is almost invisible. Her success is presented as the product of intergenerational female self-empowerment, of Chinese women pursuing freedom and their own dreams in a matriarchal family structure.
Of course, not everyone buys into this narrative. A number of viral articles, including many from more critical feminists, point out that Gu comes from an elite background, and that most Chinese women enjoy far fewer privileges than she does. Focusing on the structural barriers to success faced by the majority of women, rather than the unique mix of factors that helped Gu become a star, they argue that China needs to spend less time making idols of individual success stories and more time grappling with systemic problems.
It's true that gender equality cannot be achieved through the brilliance of one or two individuals. But attributing Gu's success entirely to her class status and binational background denies her agency and the chance to define and reach her own goals by becoming a role model for other women. It also has its own misogynistic connotations; people rarely undercut the achievements of male elites by bringing up the plight of those less fortunate.
There's something about successful women that makes them magnets for criticism, fair or unfair. But therein lies what may be Gu's most impressive feat at this year's Olympics. Both on and off the track, she has continually shown tremendous mental fortitude, whether by coming from behind to take the gold in her first competition or walking the finest of geopolitical lines between her country of birth and the country for which she competes. Under tremendous pressure — and constricted by the realities of public relations and branding — she has proven herself a born fighter. And that, whatever else you may think of her or whatever else she may accomplish, is why Gu has a chance to be more than just another sports star.
Editor: Kilian O'Donnell.
(Header image: Eileen Gu celebrates her win in the women's freeski halfpipe final in Zhangjiakou, Feb. 18, 2022. Zhai Yujia/CNS/VCG)