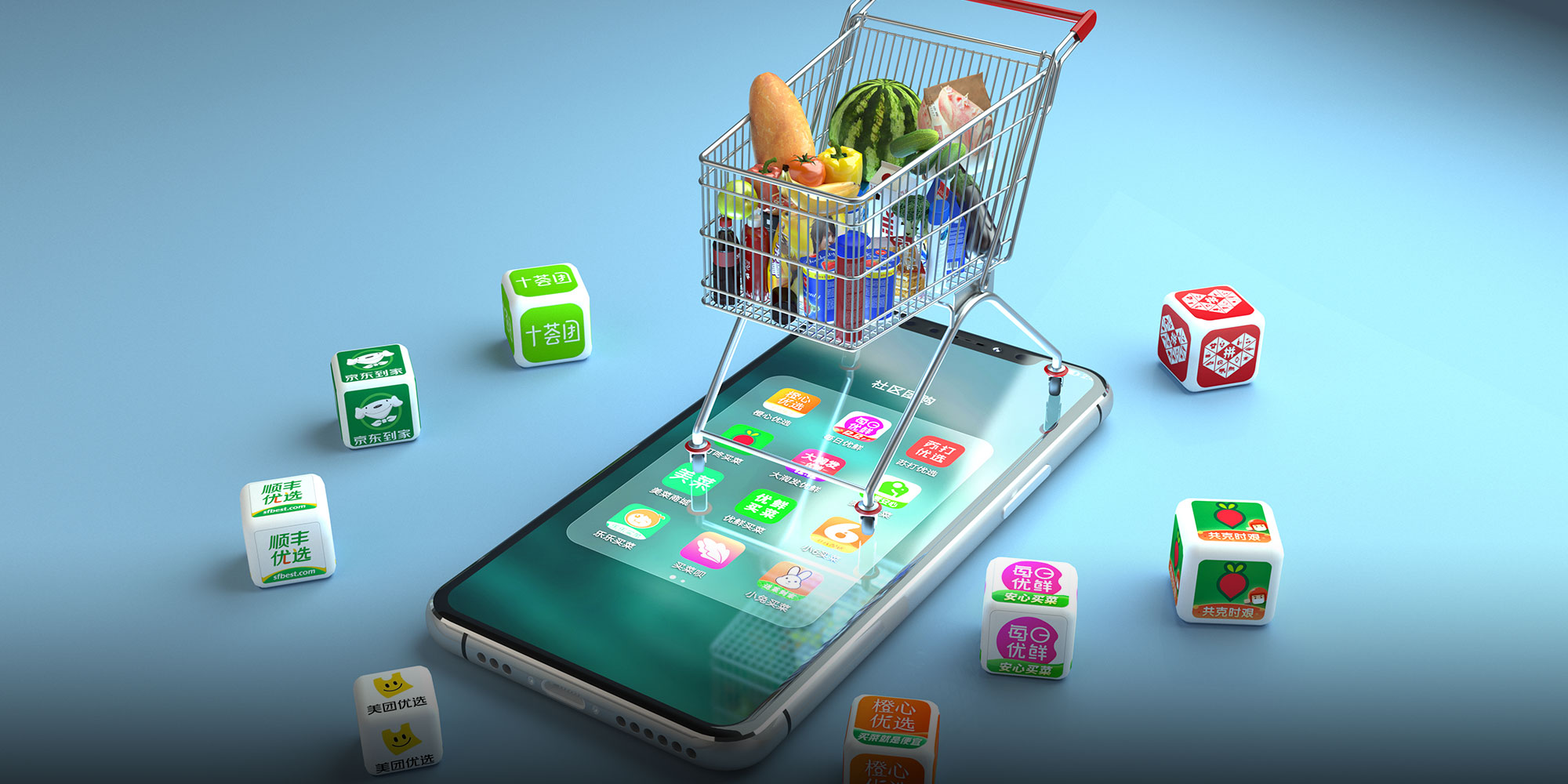 SIXTH TONE ×
The Shake-Out of China's Community Group-Buying Market
"Old-timers" falter as newcomers and tech giants rush in, but regulatory scrutiny and buckets of red ink have cooled a once-booming e-commerce sector.
China's once crowded community group-buying market is getting quieter as it turned into a winners-take-all battleground amid cut-throat competition and intensifying regulatory scrutiny.
Community group-buying services have exploded in popularity in China since 2020 as millions of Chinese consumers shopped for groceries online during pandemic lockdowns. The business model allowed community groups to buy groceries and other daily essentials in bulk at cheaper prices than if members made individual purchases. Tech giants including Alibaba Group Holdings Ltd., Pinduoduo Inc. and Meituan have all dived headfirst into the sector, waging price wars that prompted regulators' anti-competition crackdowns.
"The entire market was burning at least 10 billion yuan ($1.57 billion) every month" at its peak, said an executive from Chengxin Youxuan, the community group-buying unit of Chinese ride-hailing giant Didi Chuxing.
But the sector's boom has been shorter than many expected. The total value of goods sold via community group-buying services rose 65% to 54.8 billion yuan in the second quarter of 2021 from the previous quarter, but dropped to 48.3 billion yuan in the third quarter, according to a December Bain report.
Cash-burning and toughening regulations have squeezed out many players. On Monday, Alibaba-backed community grocery platform Nice Tuan shut down all of its operations after months of struggles and shrinking business, according to the Jiemian News. The 4-year-old startup, which once employed nearly 10,000 people, is now dealing with making payments to suppliers and settlements with employees, Jiemian reported.
Nice Tuan bowed out after rival Tongcheng Life declared bankruptcy in July. With a valuation of $1 billion, Tongcheng Life was the first leading community group-buying company to fail.
Nice Tuan, Tongcheng Life and Tencent Holdings-backed Xingsheng Preference were once touted as market pioneers known as the "old-timers." But as competition intensifies, the early startups are gradually giving way to deep-pocket tech giants.
The newcomers' race
Duo Duo Grocery, the online grocery app of e-commerce platform Pinduoduo; Meituan Select; and Chengxin Youxuan — known as the "three newcomers" — entered the community group-buying market around the same time and embarked on a fierce price war.
After parent company Didi fell under government scrutiny, Chengxin Youxuan began to scale back its business last June and by the end of the year was operating in only 10 provinces. Slowing growth momentum and lower-than-expected customer retention and repurchase rates were the main reasons for Didi to pull back, according to the executive at Chengxin Youxuan. The high growth momentum of the community group-buying market lasted less than six months until April 2021, the person said.
Didi also found it hard to standardize and replicate products on a national level for the business, unlike its ride-hailing business.
"Each region has a different supply chain structure," the person said. "And there may be a most dominant local platform in each region."
The duopoly of Pinduoduo and Meituan each accounted for more than 30% of the market by gross merchandise value as of November, according to a survey by Guojin Securities Co. Ltd. Meituan Chairman Wang Xing once said that community group buying would bring 300 million to 400 million new users to the company over the next few years, a segment that the company couldn't reach via delivery services.
Meituan entered the market in the third quarter of 2020 with heavy spending. In the fourth quarter of 2020, the loss-to-revenue ratio of Meituan's new business segment, including the community group-buying business, jumped to 64.9% from 25% and further rose to 75% in following quarters.
In the third quarter of 2021, Meituan reported operating losses of 10.1 billion yuan. The combined red ink of the new businesses division totaled 10.9 billion yuan, five times the amount of a year earlier, offsetting profits from its core businesses of delivery, travel and pick-up services.
The widening losses reflect the company's heavy investments in building supply chain infrastructure to support the grocery businesses. By the end of September 2021, Meituan's fixed assets, including properties, warehouses and equipment, rose to 22.5 billion yuan from 8.6 billion yuan a year ago, according to company's financial reports.
Meituan is the only major community group-buying player that made such an effort, an equity analyst said.
Compared with Meituan, Pinduoduo has more competitive advantages in the market with deeper experience in e-commerce and an extensive business network, a person close to Pinduoduo said. With an annual active user base of 867 million, Duo Duo Grocery aimed to achieve a transaction target of 400 billion yuan to 500 billion yuan in 2021, about one-fifth of the total transactions on Pinduoduo's main site in 2020, the person said.
Giants' foray
E-commerce giants Alibaba and JD.com are latecomers to the market.
Alibaba entered China's latest online shopping trend at the end of 2020 by setting up business-to-business (B2B) platform Lingshoutong and grocery chain Freshippo while investing in Nice Tuan. It was not until March 2021 that the company consolidated its various grocery business units under a team called MMC, led by Dai Shan, Alibaba's head of B2B transactions. The move integrated Lingshoutong with the company's grocery unit Hema Jishi. However, Alibaba executives told Caixin that they couldn't distinguish the company's different grocery business units. Alibaba officially established Taocaicai in September 2021 by combining Hema Jishi and Taobao Grocery.
Instead of relying on third-party wholesalers and distributors, the company now uses a pool of suppliers from the Alibaba, leveraging the huge traffic of its own ecosystem, according to the Bain report.
Taocaicai missed the era of building market share through heavy subsidies and product dumping as the government tightened scrutiny of the market, the same analyst said. The State Administration of Market Regulation and the Ministry of Commerce met in December with internet enterprises — including Alibaba, Tencent, JD.com, Meituan, Pinduoduo and Didi — and issued a list of group-buying business restrictions. The regulators said that the platforms should not sell below cost for the purpose of monopolizing the market and that a price war has "put pressure on employment."
With the tightening regulations, JD.com swiftly shifted its focus and resources from the community group-buying business to its express grocery delivery business, which focuses on high-end customers in big cities. The community group-buying business has become increasingly marginal.
"The business has heavy losses, while the customer loyalty is low," a JD.com executive said.
JD.com has fewer incentives to build the community group-buying business because customers in the segment are so different from its existing users, according to the person at Meituan. "JD.com didn't really invest in this segment," he said.
The fall of the old-timers
While tech giants double down in the community group-buying market, startups are struggling. The business model built on heavy subsidies couldn't be sustained for smaller players including Nice Tuan, which counted Alibaba as an investor. The company started to scale back with massive layoffs last summer.
"At our high time of subsidies, we lost 5 yuan to 6 yuan on selling every 10 yuan of products," a former Nice Tuan employee told Caixin. "The core strategy now is to narrow the loss to 2 yuan. The so-called reform is to cut down the workforce from above 10,000 to 1,000."
Nice Tuan turned profitable in 2020, two years after its founding, while the vicious subsidy-led competition forced the company to acquire market share by burning more money, according to the company's founder and CEO Chen Ying.
Whenever the subsidies would stop, daily orders would fall significantly, said a former community group leader for Nice Tuan in the city of Changsha, with about 40 daily orders on average.
Amid tightening regulatory scrutiny, China's market regulator slapped a 1.5 million yuan fine on Nice Tuan in May 2021, citing violations including product dumping and deceptive pricing, two months after a similar punishment in March. The company also had to halt operations in East China's Jiangsu province for three days.
While downsizing businesses, Nice Tuan's fundraising effort also fell short. In July, the company said a funding round of $300 million was completed from investors including Alibaba. The amount was much lower than the previous expectation of $1 billion.
The shrinking funding "directly led to the massive layoffs and further business shrinking," said a former employee.
For startups like Nice Tuan, independent development is getting more and more difficult as the industry no longer works for startups, the former employee said.
As Nice Tuan shrinks its business, many former employees and operations were taken over by Alibaba, a Nice Tuan executive said.
Although Alibaba affirmed that it is only a financial investor in Nice Tuan, which has been operating independently, Nice Tuan employees said the downsizing partly reflected pressure from Alibaba.
"To some extent, Alibaba has acquired the businesses that Nice Tuan gave up," the former employee said.
Tencent-backed Xingsheng Preference is the only early player that sought to sustain its business. While most community group-buying platforms are operating at a loss, Xingsheng Preference recorded a net profit margin of 2% in January, according to a widely circulated survey by a brokerage.
The profits came at the cost of forgoing expansion. The company stopped a nationwide push in mid-2021 while it focused on key regional markets such as Hunan province, where the company started.
Xingsheng stopped subsidizing customers with cheap prices and shifted to improving operating and management capacity, a company executive said.
Xingsheng, the only one of the three earliest players remaining competitive, now ranks with Taocaicai in the second tier of community group-buying providers. It had about 180 million monthly active users in January 2022, still well behind top tier players Meituan and Pinduoduo.
Reporters: Yuan Ruiyang, Qian Tong, Du Zhihang and Bonnie Cao.
This article was originally published by Caixin Global. It has been republished here with permission.
(Header image: VCG)