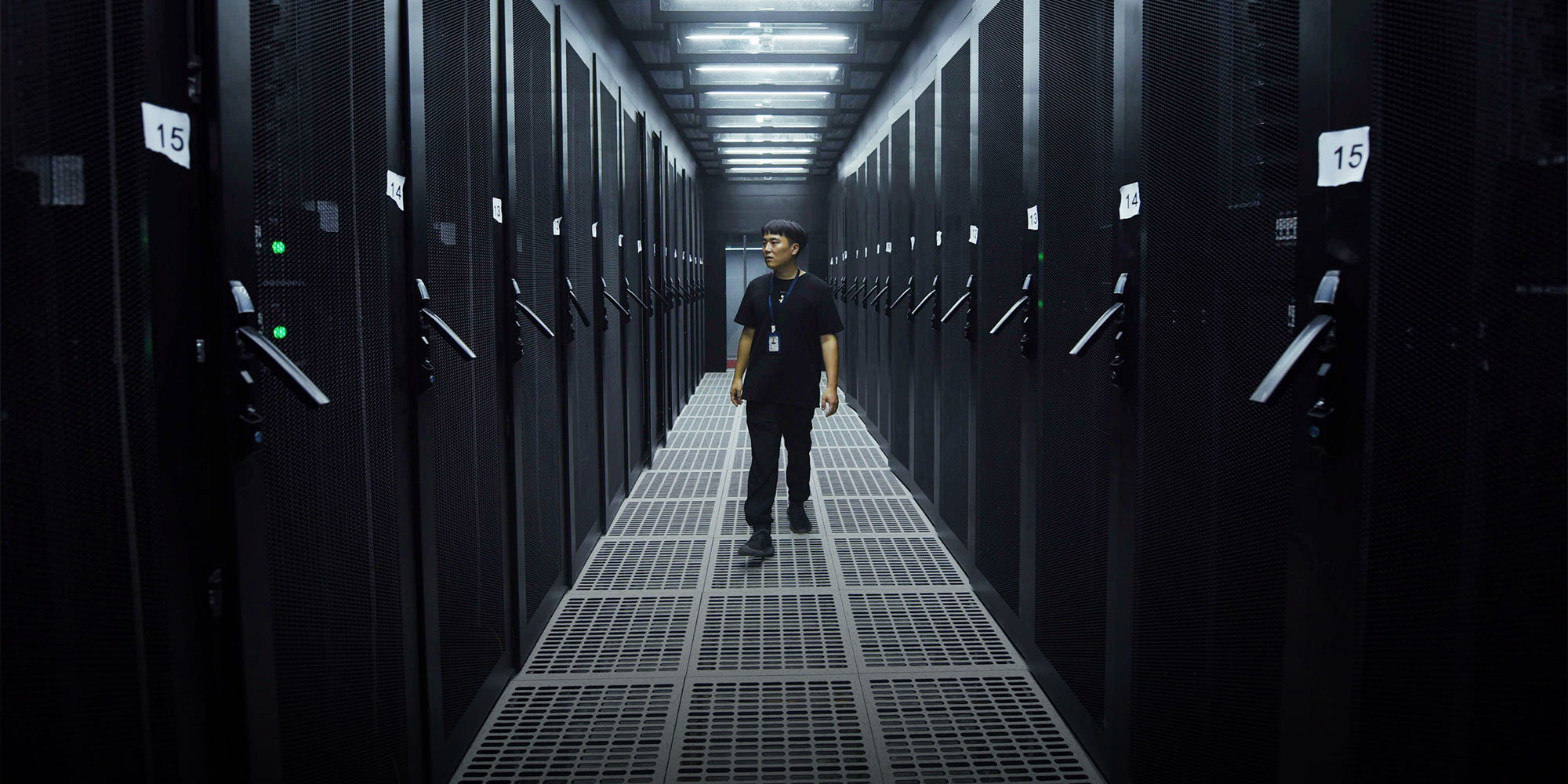 SIXTH TONE ×
Five Things to Know About China's Mega East-West Data Center Plan
The immense project, which the central government sees as critical infrastructure for the future, aims to draw energy-rich western provinces into the digital fold.
China has long been known to undertake ambitious projects that seek to move resources right across the country to develop areas critical to the economy.
Typical of this is the West-East Electricity Transfer Project, which transmits electricity generated in hydropower plants in western China to its southern, central and northern regions. The project has generally been seen as a success, laying the foundation for China's rapid economic expansion in the early 2000s.
Looking to replicate its early successes, Beijing has initiated a similar national resource channeling project. This time around, it is targeting data centers, which are seen by Beijing as critical infrastructure for today's increasingly digitalized economy.
The Eastern Data and Western Computing project was officially launched by the National Development and Reform Commission (NDRC), the country's economic planner, in February. The main idea of the plan is to boost data centers in the country's economically poorer but energy-rich western regions, taking part of the data processing workload currently handled predominantly in eastern facilities, where energy is more expensive.
Here are the five things you need to know about the ambitious project.
What's it about?
The Eastern Data and Western Computing project focuses on the construction of data center and computing network architecture nationwide. To that end, Beijing has designated a total of eight national computing hubs. The first group of these was announced late last year, located in western China — Gansu and Guizhou provinces, as well as the Inner Mongolia and Ningxia Hui autonomous regions.
And in February, the NDRC announced the remaining four: the Beijing-Tianjin-Hebei region, the Yangtze River Delta region, the Guangdong-Hong Kong-Macao Greater Bay Area, and the Chengdu-Chongqing economic circle.
Facilities will be built around each hub, forming a total of 10 data center clusters.
Most significantly, the project puts great emphasis on bridging the east-west divide in terms of both data center infrastructure and data processing demand. According to the government's blueprint, data processing workloads in the east that don't require especially low latency will be shifted to data centers in the west. Accordingly, data centers in eastern regions will be mostly used for real-time services where latency is a concern, such as video streaming and e-commerce.
Why is it necessary to shift workload?
China's digital economy is concentrated in heavily populated eastern regions, including cities like Beijing and Shanghai. Naturally, most of the data centers built to date have been placed in the vicinity. Of the 4.15 million data center racks installed in China by the end of 2021, nearly 80% sit in its eastern provinces, according to data from the China Association for Engineering Construction Standardization (CAECS).
China's digital economy is still expanding at a rapid pace, driving huge demand for data centers. As of February, total computing in China topped 130 exaflops, according to NDRC figures, with an annual growth rate of at least 20% predicted for the coming years.
However, shortages of land and energy resource have made it questionable to build more data centers in the East, necessitating a new national strategy for such facilities.
What are the policy goals?
For starters, efficiency remains mediocre for China's data centers, which in 2021 had an average utilization rate of 50%, according to CAECS. Facilities in the eastern regions fare relatively better with rates ranging from 65.93% to 67.61%, while the ones in the West range between a dismal 30% and 40%.
Amid the "new infrastructure" construction boom in recent years, blind expansion by both data center companies and local governments without national coordination can partly explain the inefficiency, according to a report by brokerage Hua'an Securities Co. Ltd.
By concentrating data centers in designated national hubs, the NDRC argued that it will be able to coordinate resources to improve efficiency, as well as increase the scale of the country's overall computing capacity. Data center companies will not be barred from building facilities in areas that aren't classified as national hubs, but they won't get local government incentives if they do so.
Secondly, the project fits into the central government's strategy of reducing the economic gap between western and eastern regions. By enticing companies to build data centers in the west, new industries such as data labeling will appear, creating new job opportunities.
Meanwhile, transferring computing facilities to China's west will help the country achieve its climate goals to peak carbon emissions by 2030 and achieve net-zero emissions by 2060. That is because the rich sources of renewable energy in the western regions will be fully utilized should facilities be built there, said Zhong Yuanhe, vice president at the cloud computing unit of Tencent Holdings Ltd.
Data centers have accounted for a relatively small portion of China's total carbon emissions so far, but their share is growing fast. In 2020, electricity consumption by data centers accounted for about 2.7% of total consumption. But the sector's electricity consumption expanded by an average rate of 28% a year between 2017 and 2020, according to the China Academy of Information and Communications Technology.
China's data centers are currently powered mainly by electricity generated from coal, with green energy making up just 20% of the mix, according to data provided by Xu Bin, a deputy director at the NDRC. The official said the country aims to increase the data center industry's green energy usage rate to about 80% by 2025.
The government has also called for average power usage effectiveness (PUE) of data centers — a measurement of how efficiently a center uses its power — to below 1.25 for data centers in the eastern hubs, and to below 1.2 for those in the western hubs.
That won't be easy, considering that the average PUE for data centers in China was at a relatively high 1.49 in 2021, according to data from Hua'an Securities.
What are the implications for the data center industry?
The country's state-owned mobile operators are expected to be the major player in the government-initiated project. These companies have rich experience in building and operating data centers in the country's western regions. They also have the technological capabilities because they own the most comprehensive network facilities, according to Hua'an Securities' analysts.
Two of China's three major operators — China Telecom and China Unicom — have announced that they will boost data centers in locations in line with the government guidelines. Of the total data centers China Telecom expects to own by end of 2025, those built in the designated eight national hubs will account for 85%, a spokesperson from the company told Caixin.
The NDRC has not released a specific number for total investment in the project. But brokerage analysts have estimated that each data center cluster will require investment in the billions of even tens of billions of yuan. That could translate to hundreds of billions of yuan in total investment in the next few years.
Companies that will benefit first from the project are those involved in the production and sale of equipment such routers, switches, and servers — the basic components of data centers, according to Hua'an Securities. The brokerage firm estimated such equipment accounts for over half of a data center's total costs.
What are the challenges?
Behind the dearth of western data centers lies significant red tape. For many local governments, building data centers locally is a prerequisite for bidding on government-initiated smart city projects, for example. That's the case even when it's cheaper and more secure to build the data center outside the government's jurisdiction, said an expert in the State Information Center affiliated with the NDRC.
For the program to succeed, policies are needed to eliminate this local red tape. Also, instead of private enterprises, governments will need to take the lead in shifting data to facilities in western regions for processing, according to an analysis by brokerage China Securities Co. Ltd.
Technology poses another challenge. According to government plans, end-to-end latency in a national hub should be under 20 milliseconds, one way. This is seen by industry experts as a tough goal, as there are currently no technologies available to achieve it.
To combat this issue, the NDRC said the government will plow resources into exploring new technologies, such as record-breaking computing transition tech with ultra-fast networking capabilities.
Reporters: Zhang Erchi and Chen Min.
This article was originally published by Caixin Global. It has been republished here with permission.
(Header image: A staff member inspects servers in Hangzhou, Zhejiang province, 2020. Long Wei/VCG)