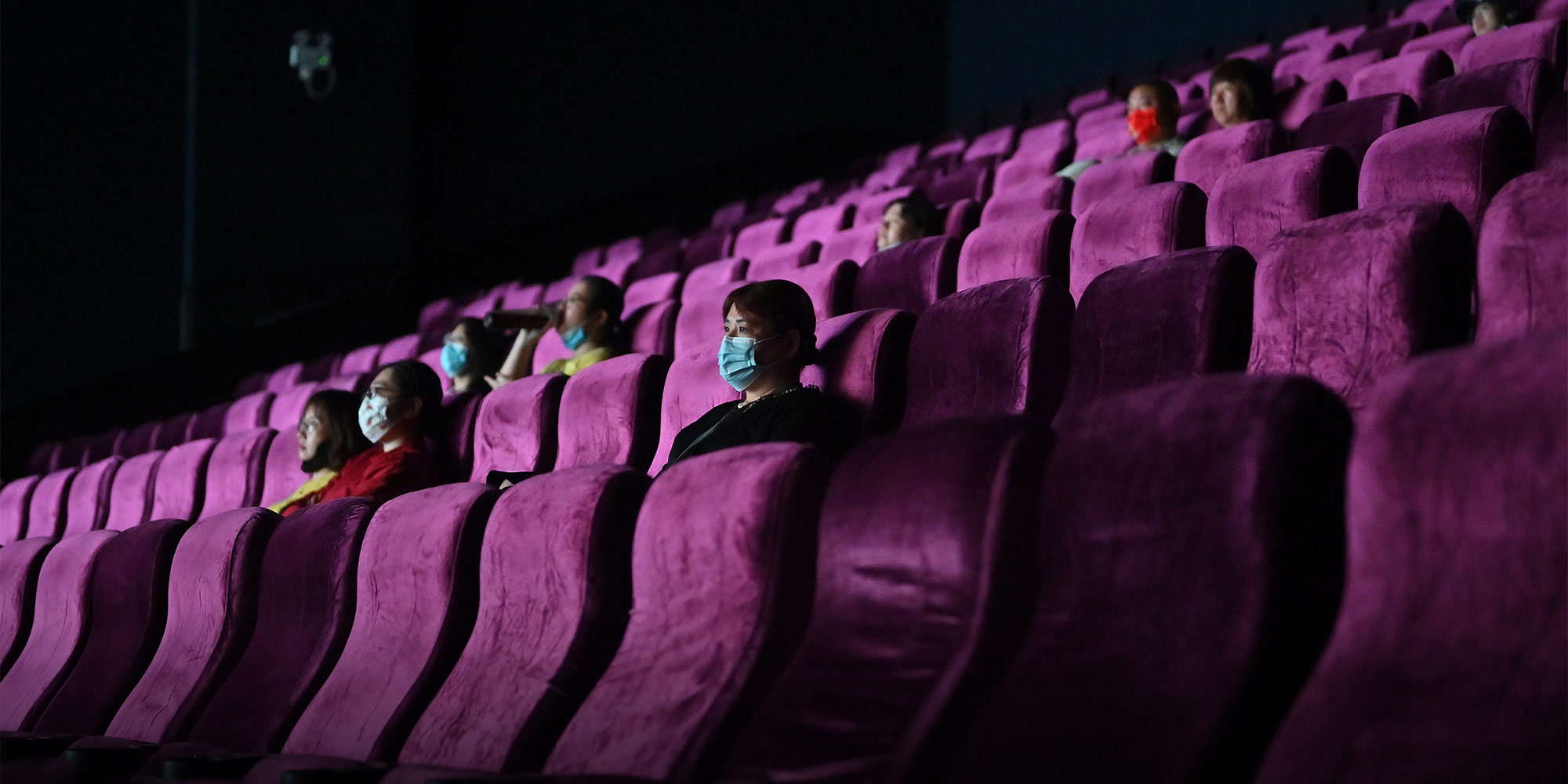 SIXTH TONE ×
China's Silver Screens Lose Their Luster as Pandemic Grinds On
After years of disruption to theater operations and filmmaking, the country's movie industry is nearing the brink.
"After two bruising years, almost every movie theater in China is out of money," says Liu Jianxin, a general manager at a Beijing movie theater management firm.
Liu says many cinemas shuttered due to the most recent Covid outbreaks could struggle to reopen.
From late March to late April, more than half of the country's 12,000 movie theaters were closed due to pandemic control rules, figures from Alibaba-backed ticketing platform Dengta showed.
That same data shows that in the past five weeks, even as more than 3,000 have reopened, box office revenue hasn't bounced back. China is on track to release half as many films this year as it did in 2021. As audiences weigh the consequences of exposure to the virus, they're giving theaters a wide berth.
Over the Labor Day holiday starting April 30 — when the box office usually goes gangbusters — ticket sales came to just 295 million yuan ($44 million), the second-worst taking for the festival since 2013.
Similarly, over the three-day Qingming Festival in April, box office takings were their second-lowest in a decade, with only 2020 recording lower figures.
Industry insiders once expected China's movie industry to rebound to pre-pandemic levels in 2022. But now, multiple sources told Caixin that this year's annual box office might end up being more like the 20 billion yuan taken in 2020 — representing less than one-third of the 2019 figure.
That means many cinemas, especially smaller players, won't be able to turn around the losing streak that began in 2020.
Besides Covid restrictions, movie theaters are also struggling with a dearth of new films, tightened rules on screening foreign imports and ineffective government subsidies.
"This will be a harder year for movie theaters than 2020," said one theater business insider.
Struggling cinema
As a part of a central government blueprint for China to become a cinematic powerhouse, the country is on its way to setting up more than 100,000 screens by the end of 2025. That's the most in the world, and would be a huge increase from around 74,000 today.
But now that rapid expansion is making many companies vulnerable to the impact of the pandemic, costing money for rent and maintenance while underfilled or empty.
"I own three movie theaters, and over the past three years, I've lost 6 million yuan," Hu Chao, the chairman of Henan Xinyang Erdong Cinema Co. Ltd., told Caixin. Even in 2021, when China's annual box office was 47.3 billion yuan — by far the largest of any market — his company still lost over 600,000 yuan.
According to information provider endata.com, over three-fifths of China's cinemas made more than 3 million yuan in box office sales annually in 2019. In 2021, that had fallen to about two-fifths.
Things got even harder in the first quarter of 2022. Guangzhou Jinyi Media Corp. posted a 42 million yuan net loss, reversing tens of millions in net profit a year earlier. In its earnings report, the company said about half of its cinemas were shuttered for some part of the period.
Omnijoi Media Corp. saw its net loss widen to nearly 38 million yuan in the quarter. In the same period last year, it lost 4 million yuan.
Cinemas' rents usually increase by about 10% every three years, so they're under even more financial pressure than at the start of the pandemic, said a source at a Shanghai cinema management company. The only exception would be chains backed by real estate firms, who normally just kick in a percentage of their profits as rent, they said.
While firms with cash on hand might take the opportunity for some bargain acquisitions, there won't be a huge shopping spree as even the best-performing companies aren't flush, the source added.
Liu agreed, saying that some cinema companies' valuations have fallen below what it cost to build their cinemas. "More cinemas are closed down than being transferred to other companies," he said.
Fewer film releases
Yu Dong, chairman and CEO of state-owned film giant Bona Film Group Co. Ltd., warned several times in 2020 that Covid would disrupt movie production, leading to an absence of new releases.
This problem has only grown more intense in recent months, as production in two of the country's biggest film production hubs — Beijing and Shanghai — has been affected by the two metropolises' Covid outbreaks.
Mathilda Shen Yue, the CEO of Shanghai-based movie studio CYFilms, told Caixin that investment has plunged "sharply" since 2020.
A movie producer at a listed studio said many investors are now only willing to invest in so-called "main melody" productions, which are encouraged by government policy. "Main melody" film is an informal name for films with patriotic or pro-Communist Party themes.
Besides disruption to production, studios are reluctant to release films that have already been completed into such a tepid market.
Figures from endata.com showed that China produced 650 domestic films in 2020, a 37% year-on-year drop. In 2021, that rebounded to 740 movies, still below the 1,037 films produced in 2019.
Several domestic movies that were supposed to be released during the Qingming Festival break were delayed including Lian Ray Pictures and China Film Co. Ltd.-backed "Lighting Up the Stars," which tells the story of an ex-con and a little girl, Emperor Motion Pictures-backed "Detective vs Sleuths," and Alibaba Pictures-produced "One Week Friends," a remake of a Japanese teen romance. The situation repeated during the five-day Labor Day holiday in May. Wanda Media Co. Ltd.-backed comedy fantasy "Give Me Five;" Cultural Investment Holdings Co. Ltd.'s "The Procurator," a co-production with the Supreme People's Procuratorate; Alibaba Pictures Group Ltd.-invested "Post-Truth," a comedy around a series of fraud cases; and another three movies were all pulled.
Beijing Enlight Media Co. Ltd. produced "Stay with Me," one of the few movies that did premiere during the May holiday, was the best-performing movie over the period with nearly 88 million yuan in box office. The top film of the 2021 holiday took in 509 million yuan.
No easy solutions
Facing these problems, cinemas have been scrambling to fill the void somehow and get punters back into seats.
Some have tried to import more foreign productions to fill schedules, especially from Hollywood. But Beijing isn't keen on that.
"Regulators encourage us to import more films from smaller countries," a management-level source at a film publisher said. But that makes it hard to find good-quality films that Chinese audiences actually want to pay to see.
Caixin has also learned that the review process for imported films has grown more time-consuming since last year, as regulators are requesting additional materials, including subtitles and translations.
The fact that studios like Walt Disney Co. and Warner Bros Entertainment Inc. have increasingly released films online at the same time as in theaters has also undermined the incentives to import them — which due to the length of the process, usually means a release date well after that in North America.
"Once a movie goes online, it'll be pirated," said the source from the movie publisher, who added that if the film isn't a cinematic knockout, people will just watch it at home.
According to Dengta, over 100 imported movies were released in China for each of the four years through 2019, peaking at 136 in 2019. But it then slid to around 70 in the next two years. As of late May, China has only imported 28 international productions so far in 2022.
As China seems to be sticking with its "zero-Covid" policy, movie theaters have been exploring other ways to earn cash. "Some cinemas have added bars and board games, but in the end that just ended up making them more financially vulnerable because they needed new staff," said the source from the theater management company.
Several in the industry called on the government to help movie theaters with subsidies and tax breaks.
"Most cinemas in China are privately owned businesses, but they have to obey the China Film Administration's request to restrict customer traffic (as a pandemic measure)," Hu said. "The government should help private companies wave their rents, not just those that rent out state-owned properties."
Chinese cities, including Beijing and Shanghai, have waived up to six months of rents for state-owned properties' tenements in 2020 and 2022 due to Covid lockdowns and restrictions.
In 2020, the film watchdog and the Ministry of Finance waived taxes for all cinemas in Hubei province, the region hardest hit in the first wave of Covid infections.
Reporters: Manyun Zou and Guan Cong. Zhou Luqing contributed to the story.
This article was originally published by Caixin Global. It has been republished here with permission.
(Header image: A theater in Nanning, Guangxi Zhuang Autonomous Region, April 22, 2022. Yu Jing/CNS/VCG)