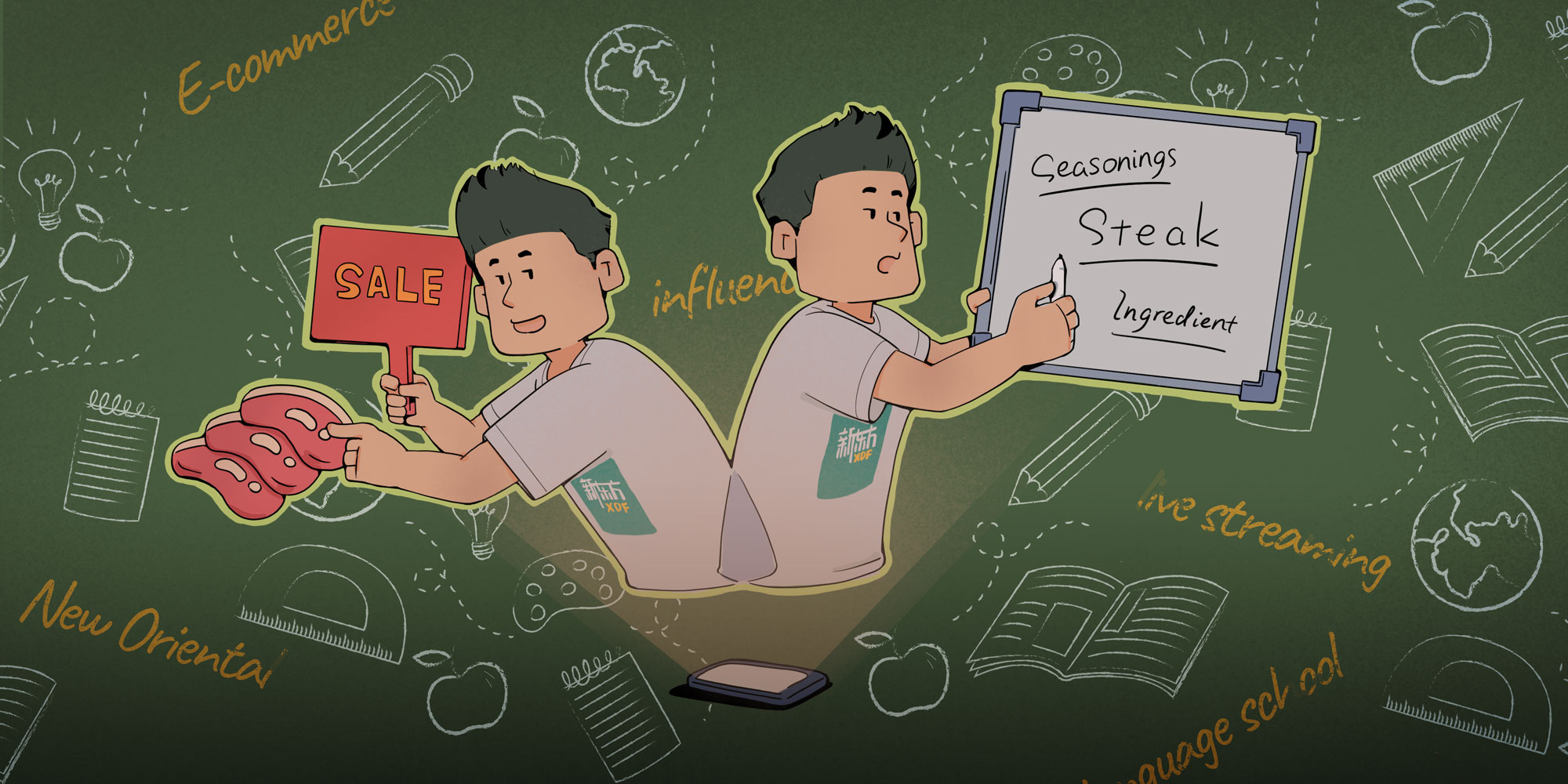 VOICES & OPINION
How a Flailing Tutoring Company Became a National Rallying Cry
Once China's best-known English tutoring company, New Oriental's business evaporated after last year's crackdown. Now it's back with a new business model, and backed by a groundswell of public support.
Dong Yuhui was broadcasting live to an audience of 100,000 hungry customers. He was also way off schedule. As Dong described in minute detail the cuts of beef in the 12-pack of steaks he was selling, he jotted down the corresponding English phrases on a whiteboard, glossing the meaning and usage of each as he talked.
Someone off camera gently tried to steer the streamer back to his sales pitch: "Teacher Dong, this item is sold out, move on to the next." But Dong wasn't finished with his lesson. "No worries," he replied. "Just let me wrap up this word."
This is "Oriental Selection," the livestreaming e-commerce studio built atop the ruins of New Oriental, once China's largest and best-known English tutoring company. Last year, after China cracked down on private tutoring for school-aged children, shares in New Oriental cratered. The company's market valued dropped by 90%, and revenue fell by 80%. Tens of thousands of staff members were laid off. A lucky handful, Dong included, were retained as livestreaming e-commerce hosts, part of company founder Yu Minhong's ambitious pivot to agricultural produce sales.
That plan got off to a rocky start last December, as a much-hyped livestream featuring Yu himself sold just 5 million yuan ($785,000) amid complaints that the company was overcharging customers. But its latest tactic — mixing sales with basic English lessons — has been a surprise hit. On the platform rankings published by Douyin, the version of TikTok available on the Chinese mainland, the channel rose from 229th on June 1 to sixth as of June 11. Its follower count has soared from one million to more than 10 million.
Even more impressive has been the shift in public attitudes toward the company, from ironic detachment to full-throated support. Corporate turnarounds are not unusual in China, but the complete about-face performed by the public and media over the past week is almost unprecedented. Viral clips from "Oriental Selection" are splashed across social networks, and key opinion leaders now acclaim Yu's "entrepreneurial spirit" and never-say-die attitude.
To understand why, it helps to know just how big a deal New Oriental is in China. Built around a Beijing English-language tutoring school Yu founded in 1993, New Oriental thrived throughout the 1990s and early 2000s as an exam bootcamp preparing Chinese students to attend university and graduate school abroad. Yu's famous red-jacketed textbook for the American graduate entry exam, the "GRE Vocabulary Selection," was so ubiquitous that students jokingly referred to it as the "red treasure book" — the same moniker once given to collections of Mao Zedong quotations.
It is only a slight exaggeration to say that almost every Chinese student who studied in the West in the late 1990s and early 2000s attended New Oriental classes or used the company's textbooks. The company's status was such that journalist Lu Yuegang could write in his 2002 book on the company, "The Oriental Carriage," that, "In China, no other enterprise stands at the turning point of the fate of hundreds of thousands of young people, at the turning point of East-West exchange, and plays such a direct and significant role in the progress of Chinese society."
New Oriental's rise is the kind of success story that could only have happened in the 1990s. Founded a year after Deng Xiaoping's Southern Tour reaffirmed China's commitment to a market economy, the company thrived in the ensuing decade's freewheeling business environment. It both catered to the real desire among millions of Chinese to learn about the outside world and exploited them, amplifying the country's rote-memorization and test-centric approach to education.
New Oriental also benefitted from that earlier era's lax regulatory environment. In January 2001, the Education Testing Service, which runs the GRE and TOEFL exams, alleged in a lawsuit that the Chinese company had pirated ETS test questions and sold them to Chinese students. In the highly public settlement negotiations that followed, Yu was forced to admit that, despite his aggressive marketing claims, New Oriental had earned just $15 million in its first eight years of operation — less than ETS wanted to settle the case.
At the time, public reactions toward New Oriental's legal problems tended toward schadenfreude. Although the company bounced back and later went public on the New York Stock Exchange in 2006, new competitors and a changing business climate ensured it never recaptured the glory of its 1990s heyday.
Then came the events of the past year. On July 24, 2021, the Chinese government issued its "Opinions on Further Reducing the Burden of Homework and Off-Campus Training for Students in Compulsory Education." The policy described in the document, popularly known as "double reduction," essentially wiped out China's 330 billion yuan extracurricular tutoring market overnight.
This time, New Oriental has far more supporters in its corner. At a moment when many Chinese businesses feel particularly vulnerable to forces beyond their control — such as the pandemic or the gradually slowing economy — New Oriental's attempts to reinvent itself seem to have struck a chord.
Many current business owners and white-collar professionals came of age in the '90s, and they worry that the open and aspirational China that birthed success stories like Yu's is vanishing. The unexpected success of New Oriental's "bilingual sales" model has given them a rare reason for excitement — like watching an exhausted marathon runner make a final, determined push toward the finish line.
The positive coverage the company has received in recent weeks has likewise been colored as much by sympathy and nostalgia as its actual accomplishments. Media industry veteran Lian Qingchuan summed up the prevailing sentiment when he wrote: "From becoming a sad sack hero to making a desperate counterattack, Yu Minhong's relentless fighting spirit in crawling back from the brink of death is like something out of the movies. In an otherwise bleak economic environment, Yu seems to show us that 'brushing the dirt off and starting again' is possible."
For its fans, both new and returning, the company offers a ray of hope — proof that the spirit of the '90s isn't dead yet.
Of course, hope is a fragile thing. No one knows that better than the teachers-turned-livestreamers staffing "Oriental Selections." Although the response to their work has been positive, with many commenters highlighting the high quality of their sales pitches, it's hard to get excited at the sight of such talented young teachers, who clearly miss the classroom, forced to shill steaks on camera.
Earlier this week, Dong Yuhui — whose insistence on finishing his English lesson turned him into an internet sensation — went viral again. While talking up the benefits of freeze-dried durian, he began reminiscing about his former coworkers, the ones who didn't survive New Oriental's layoffs. Overcome by emotion, he began to choke up on camera.
"When New Oriental is better, we should welcome them back," he said through tears. "I miss them so much."
Editor: Kilian O'Donnell.
(Header image: Wang Zhenhao for Sixth Tone)