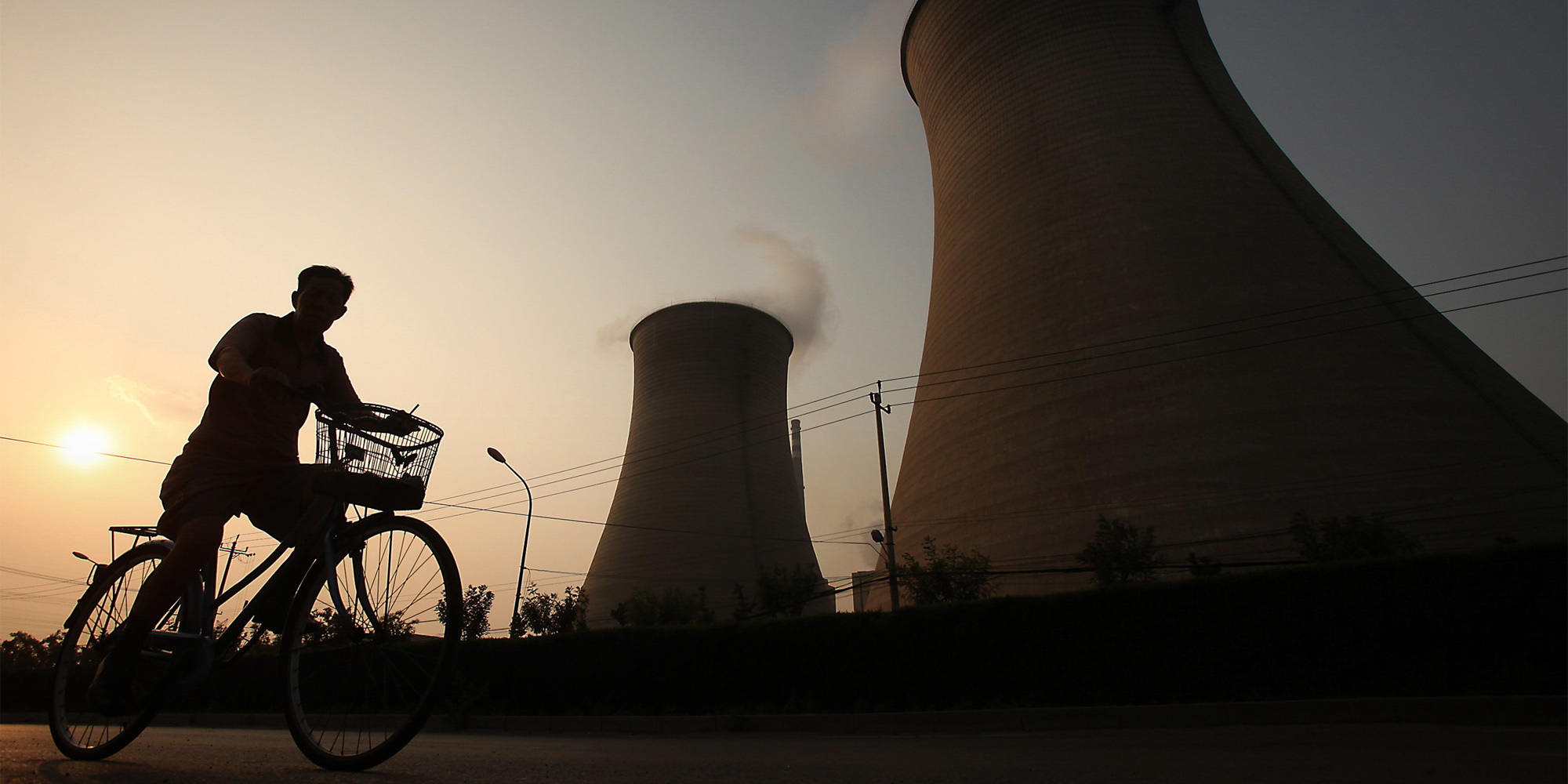 SIXTH TONE ×
Does China Really Need That Much More Coal-Fired Electricity?
Following two summers of power shortages, authorities make an about-face on coal generation, but critics argue that China really needs electricity-market overhaul.
Southern China's Guangdong province approved construction of six coal-fired power plants in less than a month with generating capacity of 9.7 million kilowatts, more than the total of capacity installed from 2016 to 2020.
The projects were previously considered impossible under the 14th Five-Year Plan through 2025 as China aims to reduce carbon emissions by increasing the use of nonfossil fuels, a person familiar with Guangdong's coal-fired power projects told Caixin. As part of the fight against climate change, the central government charted a course to dramatically reduce greenhouse gas emissions by substituting renewable sources such as wind, solar and hydropower for coal.
"The policy is sharply reversing now," the person said.
Guangdong is the epitome of China's about-face on coal power. Stung by electricity shortages over the past two years, China cranked up production of coal to record levels and tweaked its energy strategy by reemphasizing coal as the country's dominant energy resource.
Since mid-July, provinces and regions including Anhui, Xinjiang, Guizhou, Shaanxi, Jiangsu, Jiangxi and Guangxi put new coal projects under environmental impact review and social risk analysis, according to statistics compiled by Caixin from government websites. The total planned capacity adds up to nearly 17 million kilowatts. Many more coal projects across the country are in the early stages and have yet to be disclosed, people familiar with the matter told Caixin.
This policy reversal sparked widespread debate. Supporters argue that severe power shortages are detrimental to China's economy, and increased coal-fired generation can ensure that there will be no more power cuts. But opponents maintain that the real issue is managing peak demand that occurs a few dozen times a year and lasts no more than a few hours at a time. It would be more economical and better for meeting climate goals to overhaul China's electricity system to make it more market-oriented so that higher prices can help regulate demand, this group says.
At the same time, some electricity-generating enterprises worry that they might not get a return on their new investments in coal generation if the policy switches back again toward renewable energy.
"We don't want to build new coal power plants," one electricity producer said bluntly. Coal generating plants need personnel on duty daily and maintenance, raising costs. If coal plants eventually become just backup suppliers for a predominantly renewable-energy power grid, they couldn't even survive financially, another generating company official said.
Coal peak after 2025
From 2022 to 2024, new coal-fired power projects with total capacity of 80 gigawatts are expected to start annually, a level that will top the peak of heavy-industry construction during the 11th Five-Year Plan from 2006 to 2010, multiple industry participates told Caixin. Given two- to three-year construction periods, most of the new plants approved in 2023 and 2024 would start operation after 2025. That means China could hit a historic peak in coal power installations in three years, a power industry insider estimated.
Over the past decade, coal-fired generation has been giving way to renewable energy sources in China. Since 2016 as China scrapped several coal projects, approved installed capacity of thermal power plants declined significantly. From 2016 to 2020, annual domestic investment in coal-fired electricity generation plunged by more than half, from 117.4 billion yuan ($16.5 billion) to 55.3 billion yuan, according to the China Electricity Council, a national trade association of power companies.
As of the end of 2021, cumulative installed capacity of renewable energy in China accounted for 44.8% of total capacity, and coal power's share declined to 46.7% from 66.9% a decade ago.
The trend reversed in the second half of 2021 when many provinces experienced power shortages. This summer, another power crunch after much of China was hit by the worst heat wave in at least 60 years and a drought that dried up reservoirs and crippled hydropower stations in Sichuan province sparked calls for a rethink of coal's role in the nation's energy mix.
In Sichuan, the local government cut power supplies to some businesses and households. The province didn't lift power rationing until September after temperatures cooled and electricity demand for air conditioning fell. Yunnan province continued to order aluminum smelters to cut energy consumption until mid-September as the drought disrupted hydropower generation.
Devastating power crunch
For Guangdong province, one of China's key manufacturing hubs, the power shortage in 2021 was devastating. The province implemented days of "orderly power rationing." Many enterprises could operate only two days a week. Electricity shortages swept the country, affecting more than 20 provinces, and lasted nearly five months.
After the 2021 power crunch, the Guangdong government analyzed its electrical supply situation. One-third of the province's electricity consumption depends on power transmitted from generators in western provinces, especially the southwestern province of Yunnan. Since 2018, Yunnan attracted a large number of electrolytic aluminum enterprises to invest and build factories in the province, which consume large amount of electricity. In the future, Yunnan may have no surplus power to sell.
Meanwhile, Guangdong had hoped for offshore wind power to make up the shortfall, but reality fell short of expectations. "When Guangdong was experiencing the most severe power shortage, there was no wind in the ocean," an industry insider said. "At that time offshore wind turbines accounted for only 2% of the province's total installed capacity."
In July 2022, more than half of the 31 provinces in China had a power supply gap, according to the National Bureau of Statistics. Power shortages might be a norm during the 14th Five-Year Plan period, and six provinces will face tight electricity supplies in 2023, the China Electric Power Planning Engineering Institute estimated.
Unreliable renewable energy sources
The power load on the electrical grid must be balanced so that supply can continuously meet demand. Electricity demand fluctuates on a daily basis, depending on external factors such as weather, time, seasons, events and so on. Peak load is typically a shorter period of time with high demand.
Like hydropower which fluctuates seasonally, other renewable energy sources such as solar and wind power also rely on weather conditions, and their intermittent nature poses challenges to the power system. How to keep the flow of electricity stable when the breeze dies during summer and the sun hides at night are problems new-energy operators face.
Some provinces with a high proportion of renewable energy have encountered peak demand regulation problems. In solar-rich Gansu province, for example, local renewable energy generation fluctuates dramatically within a day. In extreme cases, power generation reaches 13.34 million kilowatts around noon, but less than 1.2 million kilowatts are available during the nighttime peak consumption period. The maximum fluctuation of 12 million kilowatts creates a significant management problem for the grid.
Unexpected weather condition also add to the pressure. In February, when a cold wave caused wind turbines to suspend operation in Hunan province, its 8 million kilowatts of installed capacity generated less than 200,000 kilowatts of electricity.
Renewable energy sources such as wind and solar need to be equipped with large storage banks to meet the needs of peak regulation. However, at present, less than 6% of such generators in China have installed regulating capacity such as hydropower pumped storage and electrochemical energy storage, much lower than the 15% level in developed countries.
Considering the high cost of electrochemical battery storage and technical limitations, the cheapest long-term energy solution is still coal power, said Li Peng, deputy director of strategic planning at State Power Investment Corp.
Debates on solutions
In fact, the total time of peak load per year does not add up to much. Peak demand in the five southern provinces of Guangdong, Guangxi, Yunnan, Guizhou and Hainan accounted for about 5% of the total load in past years. That means the peak load generally does not exceed 100 hours a year, occurring 10 to 40 times annually. The longest duration of a single peak load is generally no more than 6 hours.
To cover a peak load gap of less than 100 hours a year, it isn't necessary to add so much coal capacity as demand-side management could handle the challenge, many industry insiders said. This would mean letting market forces play a significant role — raising electricity prices during periods of shortage to reduce demand.
"Price signals in the electricity market can give the demand side at least 5% to 10% room for peak load regulation," a power industry veteran said.
Since 2015, China has been seeking to establish an electricity market, but it is still in a state of "half market, half plan" with a considerable portion of electricity generation and pricing still subject to government control.
Many supporters of electricity market restructuring say that under a market mechanism, profit-seeking coal power enterprises would continue to improve efficiency. In periods of high electricity prices, some enterprises would naturally choose to use less electricity, they say.
But overhauling the electric power market is slow and may take several years, said Yuan Jiahai, a professor at North China Electric Power University in Beijing.
Many in the industry say they are concerned that the large-scale construction of coal-fired generators across the country may lead to a new round of overcapacity, which could make a large amount of investment impossible to recover.
When China set the goal of building a new, clean, low-carbon, safe and efficient power system with renewable energy as the mainstay, coal power units were designated to gradually become standby power sources to augment renewable electricity supplies during periods of peak load. This role may lead to wide income fluctuations for coal power generators and low utilization rates, eventually resulting in losses.
Domestic coal prices have been at a high level over the past two years. In October 2021, the spot price of coal once exceeded 2,000 yuan a ton. In the second half of 2021, almost the entire coal power industry reported losses. As the price of coal fell to about 1,100 yuan per ton this year, about 60% of the industry still recorded loses in the first half.
Reporters: Wang Jing, Fan Ruohong and Denise Jia.
This article was originally published by Caixin Global. It has been republished here with permission.
(Icons: Corbac40/VCG)
(Header image: A cyclist rides by a coal-powered energy plant in Beijing, 2010. Stephen Shaver/UPI via VCG)