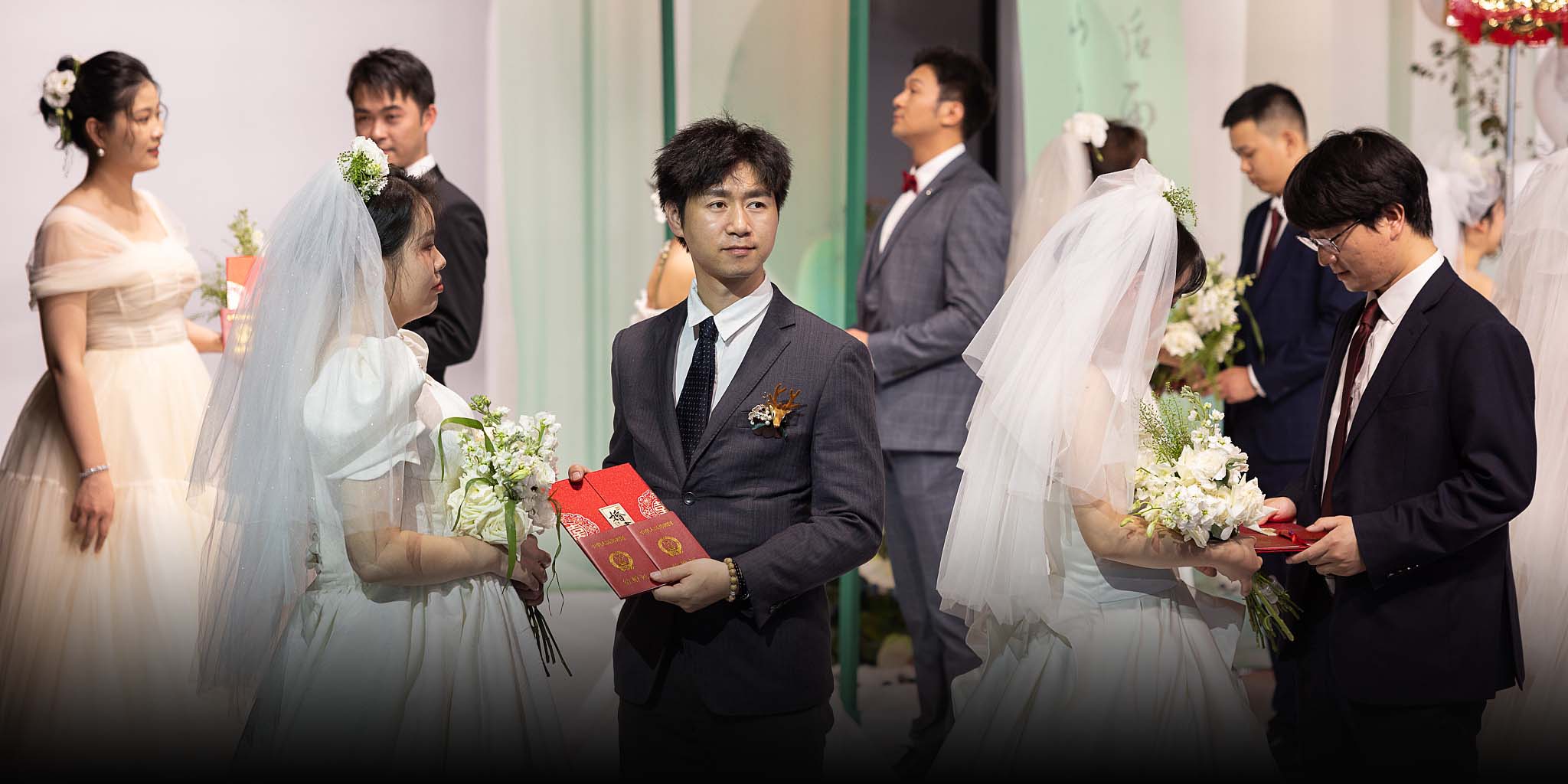 NEWS
After Falling Births, China's Marriage Rate Sees New Low — Again
The number of people registering for marriage last year is the lowest in nearly three decades.
Young Chinese are just not in the mood to marry.
China's marriage rate slumped again in 2021, with the country recording the lowest number of nuptials since 1985, financial outlet Yicai reported Thursday, citing data from the National Statistics Bureau. Only 11.58 million people tied the knot for the first time last year, down by 0.71 million from 2020.
The figures, which aren't yet available on official websites, add to growing concerns over the country's ability to avert the population crisis plagued by low birth rates and aging. Demographers worry that China will be unable to reverse the falling birth rate, which also plunged to its lowest level since the early 1960s last year, with several provinces recording negative population growth for the first time in the country's modern history.
"It's also expected that the aging ratio will continue to rise due to the decline in marriages," Dong Yuzheng, dean at the Guangdong Academy of Population Development, told Yicai.
As of 2021, people aged over 65 accounted for 14.7% of China's total population, well above the level of 7%, which the United Nations defines as an aging society. Next year, neighboring India is set to overtake China as the world's most populous country, indicating the country's demographic quandary.
In the wake of the looming crisis, Chinese authorities at all levels have introduced a raft of policies, encouraging people to marry and have children. Such provisions usually aim to reduce the burden of childbirth and parenting by offering an extension of parental leave, tax rebates, and other financial benefits.
Meanwhile, to save marriages from breaking down, authorities instituted a 30-day "cool-off" period for divorcing couples into the country's first-ever Civil Code in 2020, which they claim is working. In recent years, some experts have also proposed lowering the minimum age for marriage — it's currently 22 for men and 20 for women — to better sync with the change in family planning policy.
However, such incentives are often met with lukewarm responses, especially among the urban younger demographic, who prefer to delay marriage due to commitment issues or costs associated with starting a family. In 2020, the average age for those marrying for the first time was 28.7 years old, an increase from 24.9 years old in 2010, according to the latest national population census.
"At this stage, I just want to focus on my career and gain more financial freedom for myself," a 24-year-old woman surnamed Li told Sixth Tone, adding she wouldn't consider marriage for the next five years. "If I can't even take care of myself, how can I take care of another person and a family?"
And the reluctance toward marriage is likely to continue this year, too. Official data showed that only 5.45 million couples tied the knot in the first three quarters of this year, down 7.5% from last year and its lowest number since 2007.
Editor: Bibek Bhandari.
(Header image: VCG)