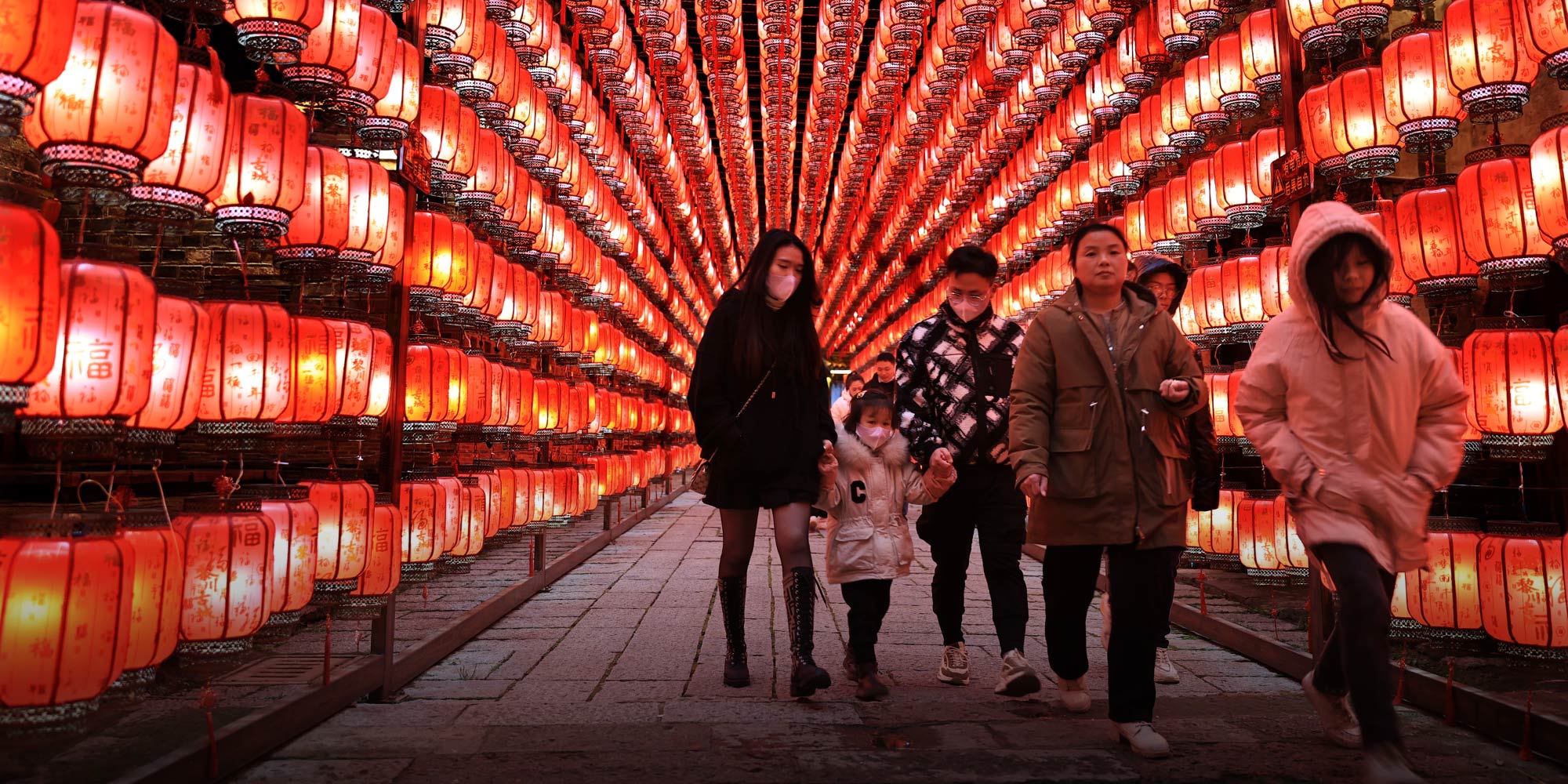 FEATURES
After 'Zero-COVID,' China's Families Face a Lunar New Year Dilemma
For the first time in years, people across China are free to return to their rural hometowns to celebrate the Lunar New Year holiday. Many fear they'll bring COVID-19 with them.
For decades, the Lunar New Year holiday has only meant one thing for Wen Guoqiang: a family reunion at his mother's house in east China's Jiangsu province.
The 63-year-old and his four siblings live in cities across eastern China these days, but the trip back to their hometown has always been sacred.
The family, however, has been forced to break with tradition this year. With COVID-19 spreading like wildfire in China, they felt gathering over the holiday would be too dangerous.
"It was a hard decision to make," Wen told Sixth Tone. "It's the first time the reunion has been canceled since I can remember."
Families across China are facing the same dilemma ahead of the Lunar New Year, which falls on Sunday.
This year's holiday is taking place amid unprecedented uncertainty. Just weeks ago, China abandoned its strict "zero-COVID" policy, and ordered local authorities to get rid of restrictions on intercity travel.
For millions of people, this means they're now free to visit their hometowns over the Spring Festival for the first time in years. But many are hesitating over whether to do so, fearing they might accidentally expose elderly relatives to the virus.
COVID-19 has spread explosively across China in recent weeks. Many cities believe their outbreaks have already peaked, as the majority of residents have been infected. Hospitals have struggled to cope with a surge of patients in critical condition, and nearly 60,000 deaths have already been confirmed.
Yet experts fear the holiday will bring greater risks. The virus has taken longer to reach China's less-developed rural areas, but that is changing as large numbers of city dwellers travel back to their hometowns.
Xu Zuping, a physician at a hospital serving a number of villages outside central Shanghai, has seen firsthand how family reunions can cause waves of infections in the countryside.
"Many old people living in villages could have escaped being infected, or at least could have avoided being infected in the first wave," said Xu, who spoke with Sixth Tone using a pseudonym for privacy reasons. "But when their children went back to see them, they inevitably brought the virus to the villages."
China's villages are particularly vulnerable during outbreaks: They often have high elderly populations, low vaccination rates, and a severe lack of health care resources. Local people, meanwhile, are less likely to follow public health guidelines, according to Xu.
"Villagers are unwilling to wear masks, let alone wear masks properly," said Xu. "It wasn't until their neighbors died one after another that they started to realize how serious the issue is."
The issue of whether people should avoid visiting their elderly relatives over the holiday has become a heated debate on Chinese social media in recent days. Many argue that family reunions are unethical during such a major public health crisis.
The story of one young woman from north China's Hebei province in particular has attracted huge attention. The woman began trending on microblogging platform Weibo earlier this month, after posting that she had unwittingly given her grandmother COVID-19 — an infection that proved fatal. Her parents were blaming her for the death, she said.
"My mom kept crying. No one in the family is willing to talk to me," she wrote, in a post that was later removed from the platform.
While many commenters tried to comfort the woman, others criticized her for being selfish and failing to prioritize her grandmother's health. The danger COVID-19 poses to seniors was being underestimated, they said.
Concerns about the virus appear to be having a real impact on the chunyun — China's annual travel rush around the Lunar New Year holiday, which is often described as the largest human migration in the world.
China's state transport authority estimates that 2.1 billion trips will be made during this year's chunyun. That's nearly double the total in 2022, when "zero-COVID" was still in force, but only 70% of the figure recorded in 2019.
Wen said he agonized for weeks before calling off his family reunion in rural Jiangsu province. He knew his mother, who recently turned 90, would be devastated.
"It's a moment my mom looks forward to all year, to see all the children," said Wen. "Most of them only return home once a year."
But Wen started to worry in late December, when two of his siblings got infected. At first, he wasn't sure how serious a disease COVID was — some said it was just like a cold. He soon realized, however, that it was not to be taken lightly.
In early January, Wen heard that one of his distant relatives had died of pneumonia after contracting the virus. His family said that the funeral had been delayed for weeks because so many others had died. It was then that he decided it was too risky to have 30 guests visiting his elderly mother over the holiday.
"My mom was extremely unhappy when she heard my decision," said Wen. "She insisted that the reunion should be held as usual and that she isn't afraid of getting infected. But we are afraid."
Other Chinese seniors, however, are proactively shielding. Ma Huili, a 37-year-old who lives in Shanghai, said she had originally planned to visit her parents over the Spring Festival, but they had refused to see her.
Ma's parents — who are from east China's Zhejiang province — are both in their 70s and have underlying health conditions: Her mother has a chronic lung condition and her father suffered a stroke two years ago. When cases began spiking in Shanghai in December, they made it clear that Ma should stay away for a few weeks at least.
"My mom said she wanted to live longer — instead of a family gathering, she prefers to spend the week normally, with my father at home," said Ma. "I was surprised by their attitude, but I didn't try to argue with them. If we accidentally infected them, I would blame myself and I don't think they'd ever forgive me … Reunions can be arranged at another time, when it's much safer."
Feng Haorao, a 45-year-old who lives in Jiangsu province, is still unsure whether he should visit his relatives in central China. He worries that he'll face criticism whatever decision he makes.
"If I unfortunately infect my parents or in-laws, I would definitely feel guilty. But they're the people I'm closest to and they'd surely forgive me," Feng said. "But what if I infect my uncles? And if I return home but don't pay them a visit … it could bring other troubles and my filial piety would be questioned."
With days left before the holiday, Feng is leaning toward staying at home in Jiangsu. He also didn't visit his family during last year's holiday due to similar concerns: He travels often for business, and worries he's at a high risk of catching COVID. Still, he feels guilty for disappointing his parents — who are both in their 70s — once again.
"We hired a maid to take care of them at home," he said. "But they still feel lonely. Even though I give them a video call every day, they talk on and on for an hour each time."
But Feng said he will definitely visit his parents soon, maybe even as early as March if the outbreak eases. "We'll soon get our lives back," he said. "Hope is right there around the corner." 
Editor: Dominic Morgan.
(Header image: Tourists walk past red lanterns in Fuzhou, Jiangxi province, Jan. 16, 2023. VCG)