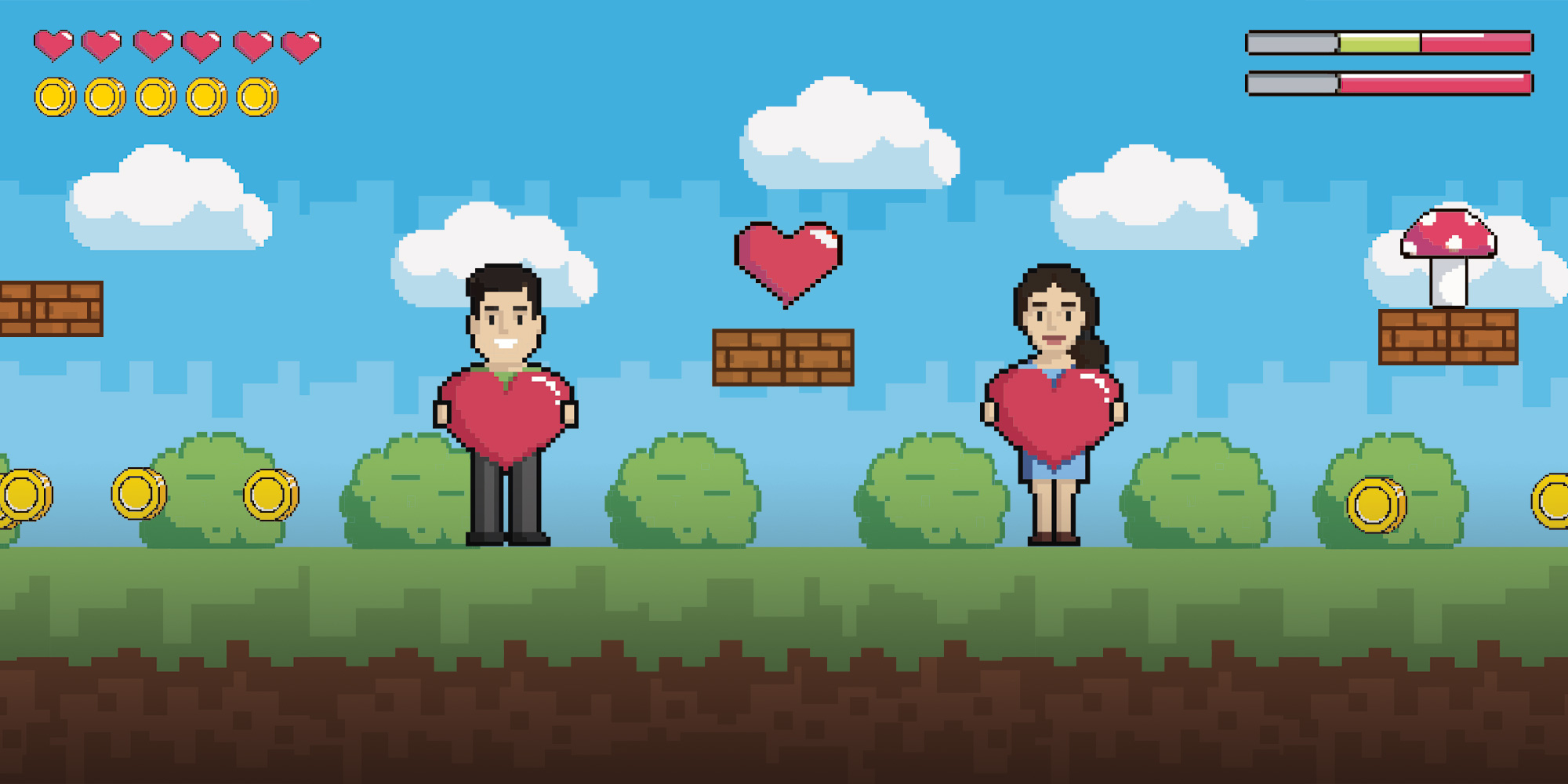 FEATURES
Looking for Love in China? Get Into Esports.
China has seen a steep decline in the number of young people willing to get married in recent years. But one surprising group bucks the trend: esports fans.
For many couples, a relationship starts with a swipe of a finger or a glance across a crowded room. For Gao Yuchen and Li Zhaoxuan, it all began with a bloody battle on the online shooter game "Apex Legends."
The college students admired each other's ability to slaughter their rivals inside the game's digital battlefield. After a few games, they began chatting, and then Gao took the plunge. "I played it cool," he says. "I waited and added her after a few days."
Four months later, they finally met in person. On their second date, standing on the beach in the eastern Chinese city of Qingdao, Gao asked Li to be his girlfriend. This time, she was the one who played hard to get.
"She said it would depend on my performance," Gao recalls with a smile. "I told her this is your only shot, and then she agreed."
Ever since, video games have remained central to their relationship. The pair attend universities in different cities over 400 kilometers apart, but they often meet up online to play "Fling to the Finish" — a game where two players have to navigate a series of obstacles while tethered together by a super-stretchy elastic rope.
Gao says working together to solve the challenges in the game has helped the couple communicate better, and confirm they're a good match. One day, once they're more financially secure, they hope to get married and have children.
The pair are far from the only young Chinese finding love through online video games. In China, gaming fans are often stereotyped as nerdy singletons, but recent surveys suggest that the opposite is the case.
There has been a steep drop in the number of young Chinese willing to start families in recent years, with the number of couples getting married falling over 6% in 2021 alone. But gamers appear to buck this trend. A 2022 study by the Renmin University of China found that esports fans are 7.8% more likely than other Chinese college students to plan to marry and start families in the future.
Esports are massively popular in China, especially among students. The country's esports market was worth an estimated 167 billion yuan ($24 billion) in 2021, up 13.5% year-over-year. Big wins by Chinese esports teams have been known to trigger wild celebrations on campuses across the country.
Liao Lanfang, a Shanghai-based psychological consultant, suggests that gaming can make young people more likely to want to marry. On the one hand, role-playing within games can trigger a person's desire to start a family; on the other hand, gaming together can help strengthen a couple's relationship, making it more likely they'll eventually tie the knot.
"People's interactions through online games and esports — when they have common interests, get together to play, and keep each other company — can teach them how to build good relationships," says Liao. "Developing love, respect, and communication skills in the virtual world can enhance interpersonal relationships in the real world."
Mission complete
Professional esports players are especially likely to settle down early, according to Liao Feiyu, a former esports pro. He is a classic example: At the age of 27, he is already married and has a 9-month-old baby.
Things come fast to esports players. Liao, who isn't related to psychologist Liao Lanfang, began playing the massively popular mobile battle game "Honor of Kings" while still a teenager. By the age of 20, he was one of the top players in his area and had turned pro — forming a team with a group of other elite players.
By 23, he was already retired. The pressure of training from 1 p.m. to 11 p.m. every day had worn him down, and he already felt that age was slowing his reflexes. He quit playing and turned to coaching.
Soon after, he met his future wife, Wang Pan. Wang's parents were working in the canteen at Liao's esports school in Chongqing, southwest China, and her mother was impressed by Liao's good looks and politeness. She kept sending photos of him to Wang, and asking her if she wanted to meet him. In early 2021, the pair met for the first time. 
"I remember having a crush on him," recalls Wang. "I was shy and blushed when I saw him."
But the date went well. Shortly after, they added each other on the social app Wechat, and then began dating officially. Within a year, they were married. The couple now live together in Chongqing, and share their daily lives with their fans via Wang's account on the lifestyle app Xiaohongshu.
For Liao, esports players find it easier to get married early because they start their careers at such a young age. They also tend to be impulsive: Whereas other young Chinese might be put off marriage by reading negative news online, esports pros are more likely to jump right in.
"Nowadays, college students are exposed to too much information online," Liao says. "They are self-conscious about the fact they aren't perfect enough to get married and have children."
Liao Lanfang, the psychologist, believes the main factor is the fact that esports players tend to earn a high salary. Recent surveys suggest that many young Chinese are putting off starting families because they don't feel they are financially secure enough to do so.
"Esports players have less economic pressure … since they have more work experience and higher incomes than their peers," says Liao Lanfang. "After you've overcome the financial pressure, you can start thinking about getting married and having children."
Crossed wires
Li Yizhi, a college student in Shanghai, says that her peers have far less desire to start families than earlier generations. Most of her female friends aren't interested in getting married and having children, while men tend to want to marry but remain childless.
"Young people today really value their own feelings and happiness, and don't see marriage and childbearing as 'the end' in the way their parents did," Li says.
Li herself wants to get married but doesn't plan on having kids. As an online gaming fan, she says she has an impatient personality — a common trait among esports players, she says. 
At the moment, Li spends most of her free time gaming. She believes online games can be a good way to meet new people and find love. But if her partner isn't interested in video games, she says she can deal with that.
"Playing virtual dating games has given me happiness and satisfaction," she says. "But it's better to get to know someone offline."
Jie, another gaming enthusiast, also longs to get married. But unlike Li, he doesn't believe that gaming can help people build true social connections. He has no intention of meeting anyone via online games.
Though Jie sometimes "falls in love" with the virtual characters in his favorite video games, this doesn't bring real "satisfaction," he says. He suspects this is why so many gamers want to get married: The experience of playing games alone for long periods heightens their desire for deeper social connections in real life.
"People in the gaming world are virtual and fixed, whereas people in the real world are developing, changing, and concrete," says Jie, who spoke with Sixth Tone using a pseudonym for privacy reasons. "Family life brings me a kind of happiness … that I can't get from online games."
For Hu Ying and Naqing, gaming has helped them find just that kind of connection. The pair, who both have bipolar disorder, first met in a specialist group on the Chinese social platform Douban.
Sharing their experiences of being bipolar in the group, Hu and Naqing both felt they'd found their soulmates. But shortly after getting together, the students were forced to split up for a while: Naqing was struggling with depression, while Hu was experiencing extreme mood swings. It was online gaming that brought them back together, as they reconnected through their shared passion.
The couple particularly enjoy playing "It Takes Two," a popular cooperative game about love and marriage released in 2021. The game requires two players to work together to overcome both fantastical obstacles and emotional hurdles keeping them apart. 
"When I don't play well and become anxious — for example, if I can't pass a level — he will help me," says Hu.
The 20-year-old recalls meeting Naqing for the first time, and already feeling that he knew her well. They went to a movie theater in the evening, and after the picture had finished came back outside to find it was pouring down with rain. Unable to find a taxi, they held hands and hugged for the first time. "It was romantic," Hu says.
Though still in college, Hu and Naqing are already convinced they want to marry each other one day. "There is nothing to lose," says 21-year-old Naqing. "We will see each other every day."
Editor: Dominic Morgan.
(Header image: Visuals from Stockgiu/VectorStock and Ekaterina_Vitchenko/VCG, reedited by Sixth Tone)