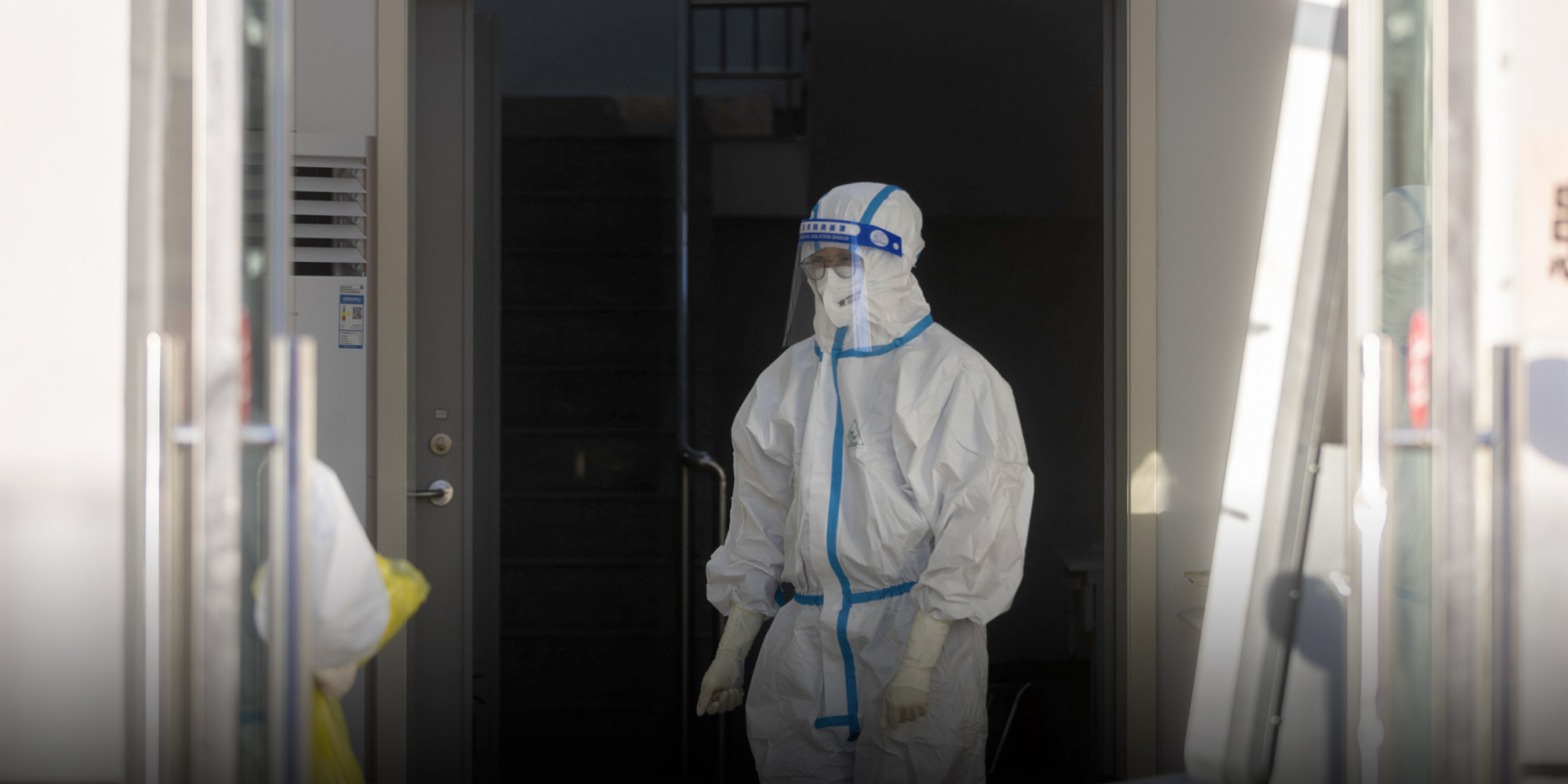 FEATURES
In China's COVID Battle, Medical Students Bear a Punishing Burden
As COVID surged in China last December, hospitals drafted in medical students to prop up understaffed wards. Many were unprepared for what awaited them.
When China abandoned its "zero-COVID" policy in December, Chen — a third-year trainee doctor at a top Chinese hospital — knew that he was in for a rough ride. But nothing prepared him for the extreme hours, stress, and physical exhaustion that lay ahead as infections began to spike.
Within days, the 26-year-old had caught COVID-19 and was running a fever. His supervisor, however, told Chen that the hospital was understaffed and needed him. After just one sick day, he was back on the wards. "My body was sore, and I couldn't sleep the whole night," said Chen, who gave only his surname for privacy reasons.
China's health system struggled to cope as a massive wave of coronavirus cases swept across the country last December. But student doctors and nurses like Chen often faced the toughest situations — working on the front lines alongside senior staff, but without the same level of training, pay, and protective equipment.
Soon after "zero-COVID" ended, China began to tap medical students as an auxiliary workforce to prop up understaffed wards. Students in many regions reportedly received notices from their schools asking them to report to local hospitals. Those who refused might be forced to delay their graduation, the documents suggested.
But students drafted into hospitals have complained of harsh treatment. Several told Sixth Tone they received almost no salary for their work, and in some cases were not even provided with face masks. Yet they were pressured to work grueling hours, and like other health workers had to continue working even while sick with COVID-19.
The issue received national attention in December, after a trainee health worker died of cardiac arrest while working in a hospital in the southwestern city of Chengdu. Chat logs and medical records circulating online indicated that the student had tested positive for COVID-19, but his mentor had told him to keep working.
Yet the incident only led to changes in the way students were treated in some hospitals, according to the students. The experience has left many of them disillusioned, and pushed some to consider moving elsewhere or quitting medicine entirely.
'Everyone is overworked'
Medical students' pay and working conditions were a source of intense debate in China even before the current COVID wave. 
The country launched a standardized training program for trainee health care workers in 2014, under which medical students complete three years of clinical training at a hospital. But ever since its creation students have argued the program fails to fulfill its goals.
Many say hospitals fail to provide adequate training and essentially use trainees as cheap labor. In some cases, this is literally the case. In 2014, China's health authorities announced that trainees would receive 20,000 yuan ($2,935) per year in subsidies. But a survey of over 3,000 Chinese hospital trainees in 2020 found that nearly 30% had a monthly income of under 1,000 yuan, and 8% had no income at all.
Tensions rose further in December, when medical students suddenly found themselves on the front lines during an historic public health crisis. For Chen, the working conditions many health workers experienced inside hospitals were dangerous.
"Those infected with COVID-19 who work overtime at this intensity are at risk of sudden death," Chen says. "Everyone is overworked. Everyone is walking a tightrope and taking risks. It's just that the ones who are alive are lucky."
After the medical student's death in Chengdu, some hospitals sent their trainees home, while others required them to continue taking on intense workloads, according to Zhao, a trainee nurse in Chengdu, who spoke with Sixth Tone using a pseudonym.
In Zhao's hospital, medical trainees were asked to work 36-hour shifts during the peak of the COVID wave in late 2022. One week, a colleague of Zhao's had to work two day shifts and four night shifts inside an intensive care unit, she said.
"This is beyond imagination," Zhao said. "This is the most extreme workload I have heard of recently."
The hospital, meanwhile, failed to provide trainee doctors and nurses with adequate protective equipment, Zhao said. Medical students at hospitals in several other cities made similar complaints. 
"As China ended its 'zero-COVID' policy, the hospitals were overwhelmed with patients and there weren't enough masks to go around," said Zhao. "Interns basically had no protective equipment whatsoever."
In December, Chinese authorities announced that rural medical workers would receive extra payouts during the peak of the COVID-19 wave, and over the following weeks several provinces said they would hand out special bonuses worth several thousand yuan to frontline medical staff. 
In some cases, however, medical students did not qualify for these payments, and appear to have received little or no extra compensation for their work. In January, Sixth Tone interviewed 26 trainee doctors and nurses based in 10 different Chinese provinces, and found that their average monthly salary was just 1,443 yuan — far below China's average income level. Zhao has been paid nothing at all.
"I haven't been paid during the standardized training period," said Zhao. "Before the 'zero-COVID' policy ended, I was asked to conduct nucleic acid tests in my spare time but I didn't receive any compensation."
Xin, a 36-year-old doctor based in Shanghai, said that many Chinese hospitals cannot afford to improve conditions for trainees. The pandemic has placed the health system under greater financial strain. According to a report published by China's National Health Commission last July, 43.5% of surveyed tertiary hospitals made a loss in 2020, up from 25.9% the previous year.
"Hospitals are suffering financial trouble, so it's even harder for them to pay the trainees," said Xin, who spoke using a pseudonym for privacy reasons.
Feeling the squeeze
For Zhao, the ordeal of the past few weeks has been dispiriting. She was already frustrated with her job, but the COVID wave has convinced her that she needs to make a change. After finishing her training in Chengdu, she plans to pursue a master's degree overseas and continue her career outside China, where she feels junior medical staff are treated better.
"I'm a human, not a god," Zhao said. "Ultimately, it's about the training system itself, and the pandemic was just the final straw."
Many others are likely planning similar moves, according to Zhao. A significant number of medical trainees are considering changing careers or dropping out of medical school, she said, and more are likely to join them after the COVID wave subsides.
Peng, another trainee doctor based in the eastern Jiangsu province, has also seen many of her peers change careers. Many medical students are preparing to sit the civil service exams in the hope of getting a secure, lower-pressure administrative job, she said.
Like Zhao, Peng has also been working on the front lines during the COVID wave, but her frustrations long predate the pandemic. Trainees like herself receive little valuable clinical experience, as hospitals rarely invest effort in their training and instead use them to complete routine tasks, she said.
"It's mostly typing up medical records on the computer and filling out prescriptions," said Peng, who also used a pseudonym for privacy reasons. "These are operational activities, not clinical diagnoses or treatments."
This is a common complaint among Chinese medical students. There have been widespread reports in recent years that the standardized training system is not working as intended, with trainees receiving little specialist training and mostly being used in auxiliary roles. The lack of an effective evaluation system, meanwhile, leads to huge variations in training outcomes.
The training system has had some positive effects, health care workers say. Tan Husheng, a former trainee doctor who now works at a health tech company, says that the system has helped improve standards of care at hospitals — especially outside China's major cities.
"There are always medical students who cannot go to large hospitals after graduation, but are sent to grassroots hospitals instead … That group of people benefit from the training system," Tan said. 
Major hospitals have also benefitted. The training system has given them access to a large pool of cheap manpower, allowing them to reduce their labor costs significantly, Tan said. This has enabled hospitals to expand their services.
"With the support of the training system, super hospitals can admit more patients and provide more Chinese people with relatively high-quality medical care," said Tan. "But this also results in trainees being severely squeezed."
This strategy of "squeezing" trainees, however, risks creating long-term staffing problems for China's health system. Zhao and Peng are far from the only people who have noticed medical students quitting their programs: It is a problem that many within China's health system are concerned about.
A 2021 report by Dingxiangyuan, a major Chinese health industry portal, noted a "severe" exodus of medical students. More than 60% of medical students were considering changing careers, the report found, with 65% saying they were underpaid relative to their workloads.
Ding, a nurse at a top Beijing hospital, told Sixth Tone that she understood why so many medical students were choosing to leave. Many Chinese health workers feel underpaid relative to their workloads, but trainees face by far the toughest conditions, she said.
"They are the ones who work the hardest and receive the lowest amount of money," said the 29-year-old, who also used a pseudonym for privacy reasons. "Their monthly income doesn't even cover their day-to-day expenses, and they basically rely on their parents to support them."
Li is one of the young physicians who have decided to get out. After completing his medical training in the eastern province of Shandong three years ago, he moved to Europe to study for a doctorate.
The decision was a no-brainer, according to Li. During his training period, he normally worked over 10 hours a day, and was paid just 1,133 yuan per month. After graduating, he is considering becoming a clinical doctor in Hong Kong. He won't work in the Chinese mainland as a clinician, because the salary is simply too low relative to the workload, he said. In hindsight, he regrets pursuing clinical medicine as a career.
"I wouldn't pick this major again if I could go back 12 years," said Li, who gave only his surname for privacy reasons.
Peng, however, is still weighing her options. She is open to switching careers if a good opportunity presents itself, but for now she suspects that it will be easier to stay in clinical medicine. Finding a job elsewhere might not be easy.
"The medical industry is currently facing a lot of challenges, and many of us become unemployed after graduating," said Peng. "After eight years of hard work and dedication, if I just gave up, I'd have regrets." 
Editor: Dominic Morgan.
(Header image: A medical worker stands outside the entrance of a fever clinic in Tianjin, Dec. 23, 2022. VCG)