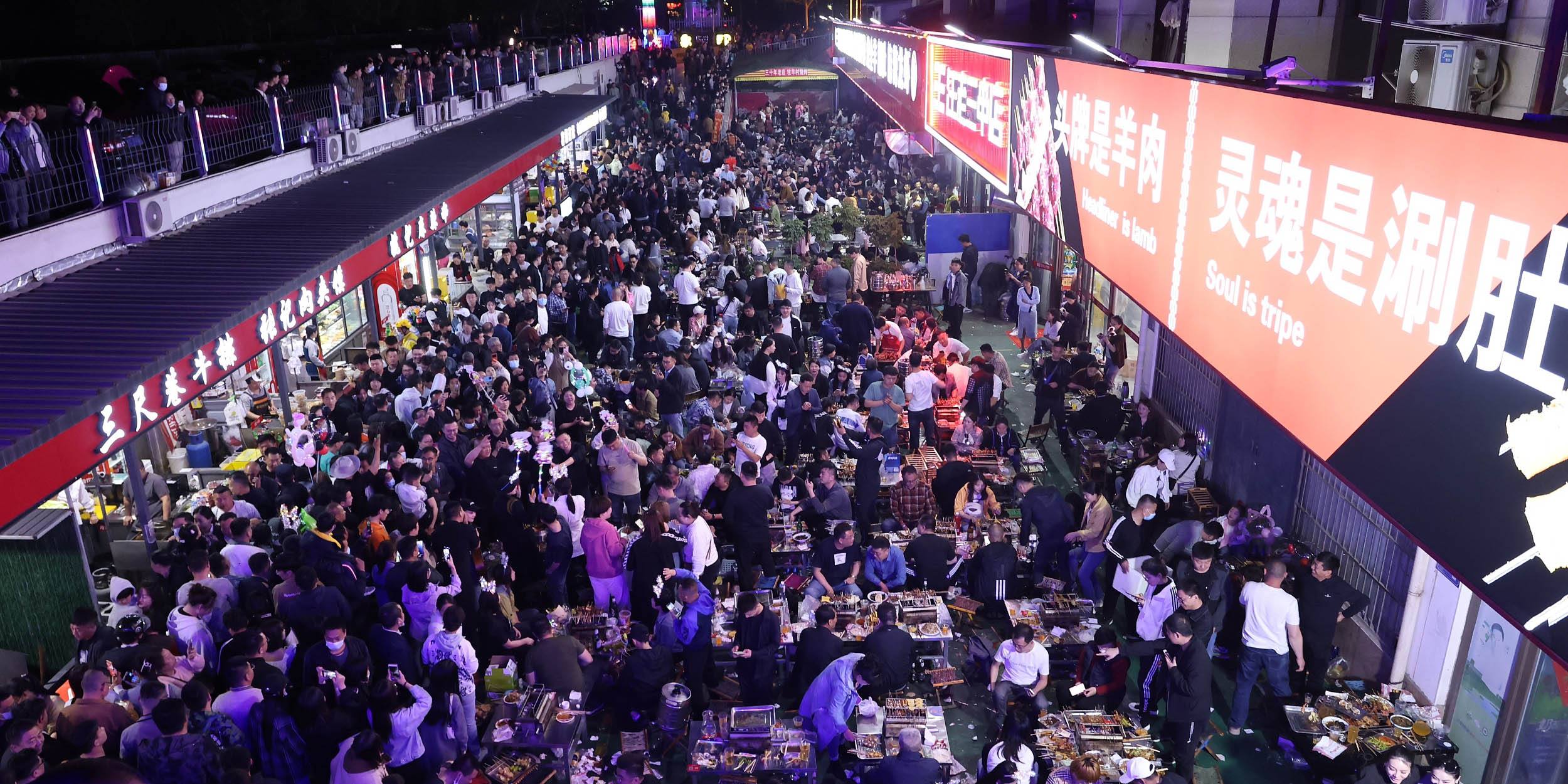 NEWS
An Industrial Town Is Now China's Hottest Barbecue Spot
The city of Zibo has received a record number of visitors, putting it at the center of a social media frenzy.
The eastern Chinese city of Zibo, mostly known for its manufacturing industries, has emerged as one of the country's most popular tourist spots — thanks to its barbecue.
Favored by swarms of so-called internet influencers, the city in Shandong province has gone viral on Chinese social media platforms. Videos on sites such as Xiaohongshu show thousands of people traveling to the city to savor local barbecue, which they say is wrapped in a pancake, has a "distinct taste," and offers an immersive dining experience.
"The food was awesome, though the restaurant I visited was not one of the most-recommended ones," said a Xiaohongshu user who traveled two hours from the eastern Jiangsu province to the city last week. "The barbecue ingredients were very fresh, and the pancakes were crispy."
As domestic tourism picks up following the lifting of pandemic control measures, several cities are trying to lure in tourists, with some local officials even cosplaying to promote destinations. Zibo barbecue became an online buzzword last month after it was first popularized by university students who were finally able to travel freely.
Its barbecue is now so popular that thousands of people are making a culinary trip to Zibo — the city's train station received a record 83,635 inbound and outbound passengers on Friday. Railway authorities have even added two additional high-speed trains between the provincial capital Jinan and Zibo on weekends to meet growing passenger demand.
In light of the sudden influx of tourists, local authorities in Zibo have now released a map of barbecue joints and added 21 new bus routes to facilitate urban transportation. Tourists can even visit some scenic spots in the city free of charge, according to media reports.

Local media reported that some of the popular restaurants have seen their revenue rise three to four times, but some businesses were overwhelmed by the sudden influx of tourists. Some restaurants even had to shut briefly during business hours so their staff could have a break.
Zibo resident Cui Chunyang said he was happy to see people visiting his hometown, even though he hasn't benefited from the barbecue boom.
"We, local residents, all cherish this valuable opportunity for our old industrial city to develop its travel industry," he told Sixth Tone.
But some tourism experts say that the popularity of places that have found fame on social media tends to be short-lived and that it would be challenging to transform Zibo's image from an industrial town to a tourism hub.
"In addition to further consolidating the reputation of Zibo's barbecue, it's important for the municipal government to answer tourists' questions about what else the city can offer," Sun Xiaorong, a member of the China Tourism Reform & Development Consulting Committee, told local media.
Editor: Bibek Bhandari.
(Header image: Crowds at a barbecue street in Zibo, Shandong province, April 16, 2023. VCG)