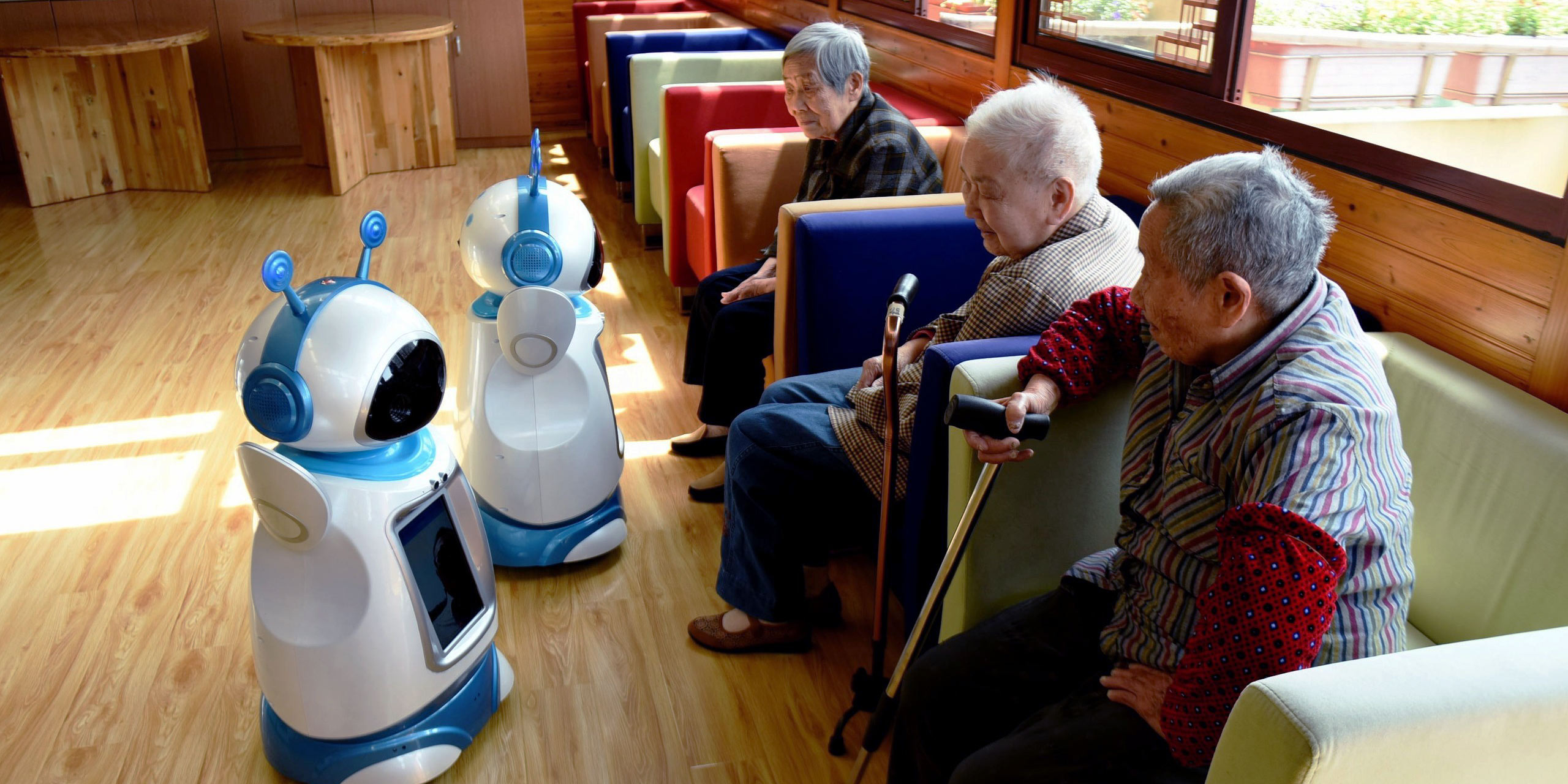 FEATURES
China's Solution for a Growing Senior Care Crisis: Millions of Robots
As China's population rapidly ages, the country faces a critical shortage of health and social care workers. Authorities hope an army of AI-enabled robots can plug the gap.
SHANGHAI — Inside a senior care center in downtown Shanghai, Gao Hongjun is busy preparing the day's entertainment: a singing robot named Duobao, or "many treasures."
The machine — a squat white companion robot — often performs for the elderly residents, usually rousing revolutionary songs from the Mao era. The seniors love it, Gao says, and it also gives the staff a much-needed break.
"As the number of elderly grows but care resources don't keep up, smart machines are needed to reduce people's workload," Gao, the center's director, tells Sixth Tone as he charges up Duobao. "Otherwise, everyone will get tired and be unable to take care of the elderly well."
Gao and his colleagues have been under severe pressure in recent years. In Beixinjing Subdistrict, where the care center is located, more than 40% of the population is over 60 years old. Most of the center's residents have dementia and are in their mid-70s or older.
To cope, the center has been installing as much smart technology as they can. In addition to Duobao, they have invested in smart mattresses that monitor the residents' vital signs as they sleep, as well as a games machine. Later this year, two disinfection robots are due to be delivered.
China is betting big on robots to care for its ballooning elderly population. As Chinese society rapidly ages, the country plans to deploy technology on a massive scale to plug a critical shortage of health and social care workers.
The number of over-60s in China is predicted to soar from 280 million in 2022 to 402 million by 2040. The country's social care system is already severely overstretched, and things are likely to get worse unless urgent action is taken.
The biggest issue is a lack of care staff. According to China's national standards, there should be one care worker for every four residents inside senior care facilities. But there are currently only 320,000 carers serving the country's 8.1 million care home residents — a shortfall of over 1.7 million.
Chinese authorities hope technology can offer a solution. In 2021, the National Health Commission published a landmark plan for developing smart elderly care, which aims to "significantly" grow the industry by 2025. In March, a number of policymakers at China's main political meeting of the year — known as the "two sessions" — called for renewed efforts to accelerate the industry's development.
Several Chinese tech giants have already gotten the memo. iFlytek, a major artificial intelligence firm, released its "Ultra Brain 2030" plan last year, which focused on developing new kinds of senior care robots. "Let the robot go into every home to solve elderly care, emotional companionship, and health management," the plan stated.
Baidu, the Chinese search giant, has also been promoting its Xiaodu smart displays, which seniors can use to make doctors' appointments, access weather reports, and play games. Beijing authorities gave subsidies to provide hundreds of households with Xiaodu devices in 2020.
As elsewhere, by far the most widely adopted smart elderly care technologies in China are currently wearable devices like smart bracelets and watches. These can provide a number of useful functions, such as monitoring seniors' vital signs, reminding users to take their medication on time, and tracking their locations.
But industry insiders believe that robots are the future of senior care. Many expect China to follow the example of Japan, where robots are widely deployed in care homes — from Robear, a bear-shaped device that assists seniors with sitting and standing, to Paro, a furry pet robot that offers elderly people companionship and mental stimulation.
There are already around 100 Chinese robotics startups specializing in rehabilitation, companionship, and nursing robots. But the industry is still struggling to scale up. Robot prices remain high, most companies have yet to achieve mass production, and local authorities are not providing enough funding to roll out robots in nursing homes at scale, industry insiders say.
Hangzhou Lewan Science and Technology, based in east China's Zhejiang province, is one of the companies finding it difficult to attract customers. The firm has developed a food delivery robot capable of delivering more than 20 meals to different rooms inside a building. But few nursing homes can afford the product, which costs 60,000-80,000 yuan ($8,400-$11,200).
"If the price were 10,000 yuan, I expect that many would buy one," Jiang Gancheng, CEO of Lewan, tells Sixth Tone. "But without a higher volume of orders, the price cannot drop. This is a contradiction."
Chinese nursing homes often struggle to turn a profit: Most need to have occupancy rates above 90% to make money, Jiang says. As a result, few have the cash available to invest in robots. Lewan's main customer base for its delivery robots is government-run facilities that are almost fully occupied.
"The technology is there, but the awareness is lacking," Jiang says.
Sunshine Nursing Home is a private care facility in the eastern Anhui province. The center's co-founder, surnamed Dong, says he is keen to invest in smart health care devices, but he has had to shelve the plan because the center is not yet profitable.
There are around 30 elderly people at Sunshine, which can accommodate 100 people in total. Dong wants to install smart mattresses and bathing robots to take the pressure off his staff, but he feels unable to raise the center's 2,000-3,000 yuan monthly fee to pay for them.
"If we invest money in smart devices, our prices will go up and fewer people will come in," says Dong.
Yet some robotics companies are starting to gain momentum. Zuowei Tech, a robot startup based in the southern metropolis of Shenzhen, has attracted booming sales for its smart bathing devices. The company sold 40 million yuan of the devices in 2022, and has set a target of achieving 100 million yuan of sales this year.
"We spent a lot of time educating and promoting the market, and now things are improving with each passing day," says Tu Chaorong, vice president of Zuowei Tech. 
Demand for bathing devices is particularly strong, as they are valued by both care workers and the seniors they look after, according to Tu.
"Many people think that carrying urine and feces for the elderly is the most degrading job, but nursing staff feel more dignified if they use high-tech equipment," he says. "And without smart equipment, many people lying in bed feel that there's no dignity."
Analysts, meanwhile, remain upbeat about the long-term prospects for China's smart health care industry. In April, a research firm in Guangdong province released a report predicting the market would "explode" over the next decade, as Chinese authorities increase funding, new products are developed, and consumption patterns change. By 2027, the market will be more than three times larger than it was in 2021, the firm estimated.
Firms say demand for robots is starting to spread nationwide. A representative from an AI company based in east China's Anhui province says that the company's robots are mainly used in hospitals in wealthy parts of the country like Shanghai and Zhejiang province. But it has recently started receiving more inquiries from nursing homes in lower-tier cities.
"Our market price is 100,000 yuan, and we also offer leasing options considering nursing homes' financial struggles," the manager says.
Gu Jie, CEO of Shanghai Fourier Intelligence, a robotics company that specializes in rehabilitation devices, has noticed a similar trend. The company mainly partners with hospitals in major Chinese cities, but it is now seeing growing demand from senior care facilities.
"No matter where the elderly live, they all hope their limbs can be flexible and their mental state improved," says Gu. "And after purchasing the devices, multiple people can use them, which greatly improves efficiency. This is exactly what AI is about."
Jiang, the CEO of Lewan, believes there is a lot of potential for growth in companion robots. The company recently put a product on the market for 10,000 yuan, which can patrol an elderly person's home, sing songs, play movies, and help them video call their children.
"Elderly people who are in good physical shape are reluctant to install cameras in their homes, seeing it as an invasion of privacy," says Jiang. "But if an intelligent robot accompanies them like a family member, they won't feel so lonely if they live alone."
Zheng Yongping, a 68-year-old Shanghai resident, is a huge fan of this idea. Since retiring, he has been living alone with his dog in his downtown home, as his only child lives abroad. He already has a smart watch to monitor his health, and uses a smart speaker to manage his schedule. But his dream is to have a robot of his own one day.
"I can't imagine a better option than intelligent robots when I'm old, vulnerable, and in need of assistance," says Zheng. "While it lacks the warmth of a human being, it's the general trend in an aging society."
Editor: Dominic Morgan.
(Header image: Seniors use a pair of companion robots at the Hangzhou Social Welfare Center, Zhejiang province, May 2016. IC)