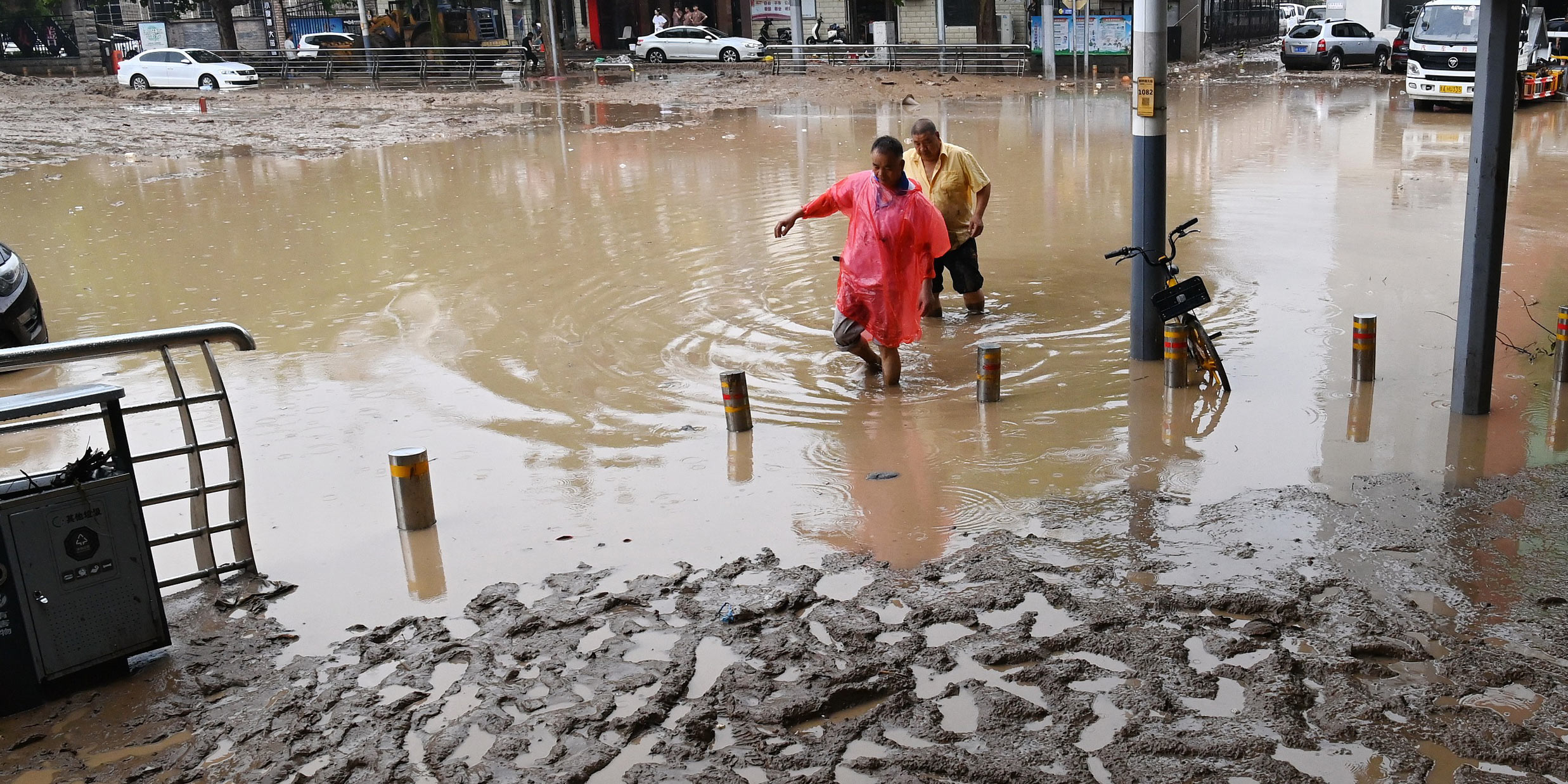 NEWS
After the Rains, Beijing Residents Begin Counting Their Losses
In Beijing's districts hit hardest by the unprecedented rainfall of the last few days, residents say they were unprepared for the scale of the floods that they saw.
BEIJING — Residents in two outer districts in Beijing are picking up the pieces after the capital was hit by the highest rainfall since records began. As they tally up damages to their homes and business, many Sixth Tone spoke to say the scale of the floods took them by surprise.
From July 29 to 31, extreme rainfall caused by Typhoon Doksuri flooded the capital's outer districts of Mentougou and Fangshan. The Beijing Water Authority issued a red flooding alert for the Dashi River in Fangshan at 11 a.m. on Monday, with around 5,000 residents in the mountainous areas of Mentougou evacuated the same day.
As of Wednesday, the flooding situation in both districts has largely come under control and the rain has stopped. Following emergency repairs by several telecoms companies, communication has been restored in several villages in both districts, although service remained patchy in some areas.
The rainfall was Beijing's highest ever since records began 140 years ago, the city observatory announced on Wednesday. Extreme flooding is currently hitting cities in the neighboring Hebei province. Officials have announced a death toll of at least 20 people so far. 
In Beijing, residents are now returning to their homes and businesses to assess their losses. At Longquan Primary School, one of the temporary relocation sites in southeast Mentougou, some evacuated residents have returned home while dozens still remain at the site. 
A woman surnamed Tan, 47, at the school told Sixth Tone that she received an evacuation notice around 10 a.m. on Monday. She said she has never witnessed such serious flooding in her hometown having lived there all her life. 
Though the floods have receded, the streets near the Yongding River in Mentougou still bear the scars of the events of the past few days. Sidewalks are covered with mud and gravel, and abandoned cars are dotted around the area. Residents are clearing up the streets themselves. 
Several underground car garages are still flooded, with residents working to pump the water out. As of Tuesday, car insurance claims in Mentougou and Fangshan have reached over 80 million yuan, according to domestic outlet Caixin. 
An owner of a wine and cigarette store near the river told Sixth Tone that he was at his store at around 11 a.m. on Monday. Soon after, water quickly rushed into the store and rose rapidly. A video on his phone showed water rushing into his store at 11:34 a.m. and reaching ankle level, disabling his elevator and making it impossible to move his products.  
Around 400 boxes of cigarettes were soaked by the water. Though he plans to dry them and sell them at a low price, he is still estimating losses of around 60,000 yuan ($8,355), with insurance likely to cover just a few hundred yuan. 
At a nearby clothing store, the owners estimated losses of around 10,000 yuan as the floods also damaged many of their products. 
Several other merchants told Sixth Tone that they received notice about the incoming floods from their property management office, by which time it was too late to pack and take their products to a safe place.
In Fangshan, residents told Sixth Tone that their building manager alerted them of the flooding risk but it was already too late to evacuate. They then spent the next three days without power and water, which have yet to be restored.  
The Beijing Water Authority lifted the red flooding alert on Wednesday morning for the area after opening the sluice gates of the Yongding River for floodwater to recede the day before. 
In Dingjiatan Village, an area of Mentougou still affected by flooding, one of the last families were evacuated on Wednesday afternoon. Family members told Sixth Tone half the village was submerged in water, and they did not have time to pack their belongings. 
On Wednesday afternoon, local police blocked the road entering the village, and only villagers were allowed to enter. 
Additional reporting: Fu Beimeng; editor: Vincent Chow. 
(Header image: Residents walk down a muddy street in Beijing,  August 1, 2023. VCG)