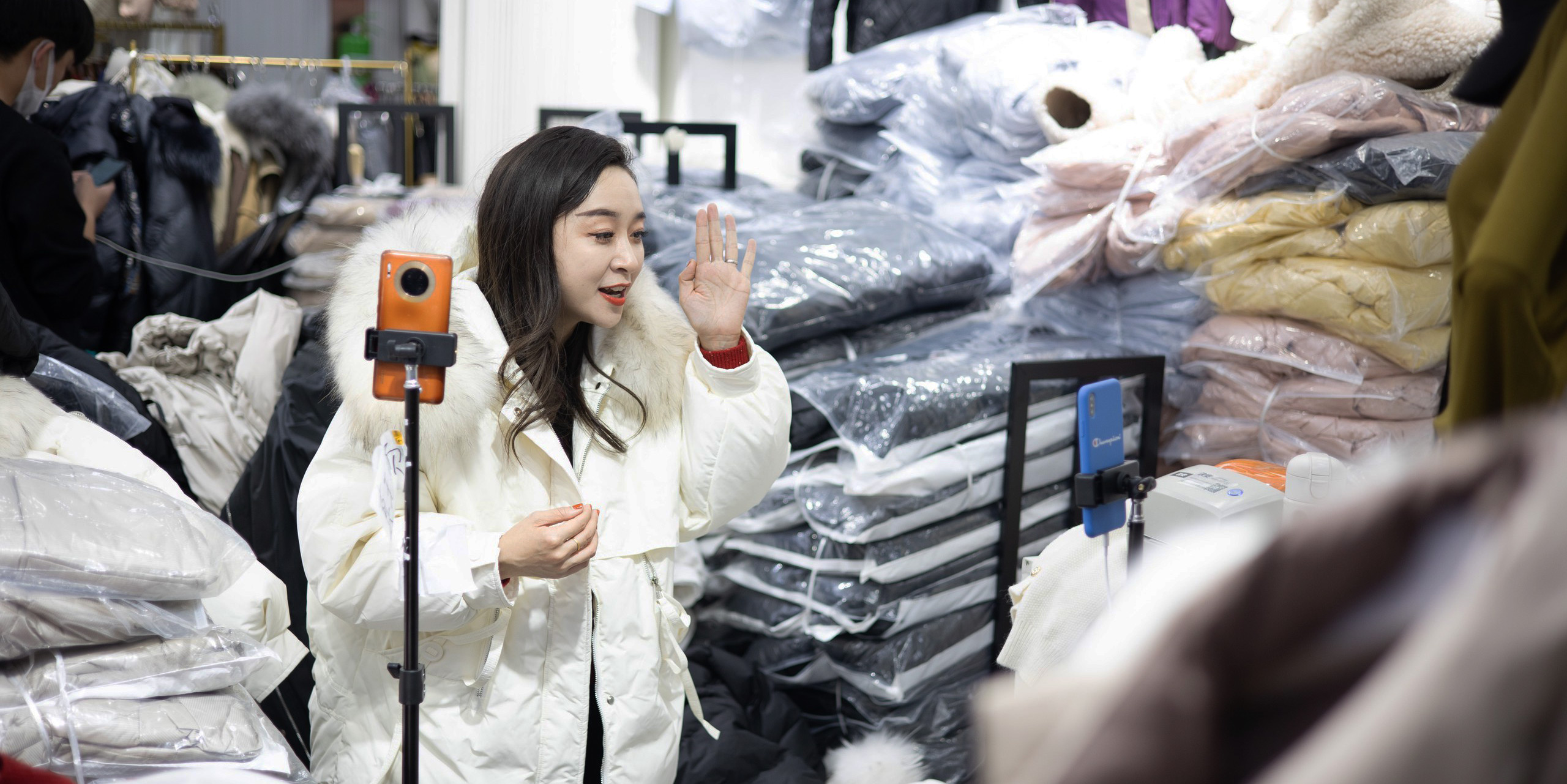 FEATURES
In China's Clothing Markets, a Battle Over the Future of Livestreaming
During the pandemic, Chinese wholesalers turned to livestream e-commerce in a desperate bid to revive flatlining sales. Now, a growing number are trying to return to business as usual — and kicking the livestreamers out.
ZHEJIANG, East China — The air was still thick with heat and humidity as darkness descended on a July evening in Hangzhou. Nannan, however, looked like she was dressed for winter.
The 28-year-old was standing on a crowded street in front of her phone, trying her best to sell the outfit she was wearing: sweater, jeans, and a thick scarf. Beads of sweat formed on her brow, as she promised her followers "a once-in-a-lifetime discount."
A few months ago, Nannan likely would have been hosting her show from inside one of the air-conditioned markets that line Sijiqing — a huge cluster of wholesale businesses in central Hangzhou known as "China's No.1 clothing street." 
But, like thousands of other livestreamers, she is now banned from setting foot inside the venues.
Sijiqing has become the center of a power struggle that has captivated China in recent months, as the country's most famous clothing hub attempts to take on the trillion-yuan livestream shopping industry.
In March, one of the markets at Sijiqing announced that any form of livestreaming would be strictly prohibited in future. Violators would face a fine of up to 60,000 yuan ($8,350) and have their equipment confiscated, according to the notice.
The announcement went viral across Chinese social media, and has since inspired several other markets to announce similar bans. In the process, it has sparked a fierce debate about whether China's vendors can — or should — move on from relying on livestreamers to boost sales.
In China, wholesalers and livestreamers have always been uneasy bedfellows. Many businesses turned to commercial livestreaming only reluctantly during the pandemic, when China's strict lockdown policies made traditional retail almost impossible.
Selling goods via livestream on platforms like Douyin, China's version of TikTok, helped a large number of companies get through that tough period. It also propelled an extraordinary boom in China's livestream e-commerce industry.
By the end of 2021, the country had over 1.2 million livestreamers broadcasting to 800 million users, according to Chinese government data. Over 10 billion items are sold each month on Douyin alone.
But the wholesalers have never been happy about the arrangement. Many complain that livestreamers offer steep discounts that undercut their retail clients. They also have a habit of barging into stores and broadcasting without permission.
A large number of businesses would love to kick out the livestreamers and return to a pre-pandemic normal. The question, however, is whether they can afford to — especially now that live commerce has grown to become such a massive market.
So, many are paying close attention to what happens in Sijiqing. The area has long been a barometer for China's clothing industry. The 1.6-kilometer-long street is lined with more than 20 wholesale markets housing an estimated 15,000 different vendors. Traders at the markets often claim that each of China's 1.4 billion people has at least one piece of clothing that originally passed through Sijiqing.
Businesses at Sijiqing have had to make a number of changes to adapt to China's online shopping revolution over the past 15 years. This is even more the case because the markets are located in Hangzhou — the home city of e-commerce giant Alibaba.
Thousands of vendors at Sijiqing have collaborated with internet celebrities, or wanghong, to open stores on Taobao, Alibaba's main e-commerce platform, in recent years. According to one estimate, 70% of China's wanghong clothing stores are based in Hangzhou, and 90% of them get their clothes from Sijiqing.
However, wholesalers perceive the livestream e-commerce industry as a far more disruptive force. That's because the success of commercial livestreamers is largely based on one tactic: offering consumers the kinds of discounts they can't get anywhere else.
At Sijiqing, several traders told Sixth Tone that their collaborations with livestreamers had affected their retail clients' pricing strategies. A typical wholesaler, for example, might sell shirts for 50 yuan a piece, and then retailers — both online and offline — sell them on to consumers for 200-300 yuan. But livestreamers often allow their followers to buy the same shirts for just 100 yuan, or even less.
"A livestreamer, if they want to be competitive, has to sell clothes at the lowest price," explains Li Yu, 30, who owns a store in Sijiqing. "Otherwise, they wouldn't be able to turn these strangers on the internet into their potential customers."
When livestreamers started offering to work with Li a few years ago, she saw the collaborations as a useful way to clear out old stock. And it worked perfectly at first. Li was amazed by the livestreamers' ability to seemingly sell as many outfits as they wanted.
But things quickly started to turn sour. Li became more and more annoyed by having livestreamers inside her store, as they often spent hours broadcasting at a high volume. Some rude influencers even set up their phones and started hosting shows without her permission.
"It's too chaotic," said Li, who spoke with Sixth Tone using a pseudonym to protect her privacy. "They were affecting my own business."
The biggest problem, however, was the livestreamers' sales tactics. Unlike retailers, livestreamers have almost zero overhead costs: They don't pay design fees, rent office space, or run warehouses. So, they are able to sell at a profit margin that retail businesses are simply unable to match.
What's more, the old rules of wholesaling — no refunds, no exchanges, no trying on — weren't respected by the livestreamers. Instead, they would try on items in different sizes for their customers, and always offered a seven-day, no-questions-asked refund and exchange policy.
Unsurprisingly, Li's retail clients hated all of this. Li began receiving complaints from retailers, who perceived her collaboration with livestreamers to be a direct threat to their businesses.
"Later, new retailers would ask me in advance whether I was cooperating with any livestreamers," Li recalled. "If I said yes, they would just turn around and leave."
Similar conversations were happening all over Sijiqing. Eventually, even the markets' leadership teams realized that the more livestreamers came to the markets, the more retailers stayed away, according to Li. Once that happened, a livestream ban became inevitable.
"When there's a conflict of interest, it's the markets' responsibility to protect their old wholesale clients," Li said. "Commercial livestreaming only benefits the livestreamers themselves."
Managers at several markets in Sijiqing declined Sixth Tone's interview requests. But Wang Jiahui, a manager at Changqing Market, the first venue in Sijiqing to issue a livestream ban, previously
told
domestic media that the policy had been a "stressful decision" to make. The market had actually been considering a ban for four years, but it had been forced to shelve the idea during the pandemic as so many vendors were struggling to survive, she added.
Vendors in Sijiqing repeatedly emphasized that they had only turned to live commerce as a last resort to get through the pandemic. The owner of a jeans store in the clothing hub, surnamed Mao, described 2020 as a desperate period, when his clients were unable to travel freely and the market itself was often under lockdown.
"We were forced to try the livestreaming business at that time," said Mao. "We had to seek help from the livestreamers to sell the products, and we delivered the packages from our stores."
The owner of the store next door, surnamed Zhou, said she'd been in Hangzhou for 30 years, and had seen many ups and downs in Sijiqing. But the pandemic was unlike anything she'd experienced.
"The last three years were the most difficult time for physical stores that I have ever experienced," said Zhou, 47.
The livestreamers brought businesses much-needed relief during that emergency period, Zhou recalled. "But it only worked a little," she added. "As the delivery services were limited, it was still hard for us to deliver the products to those online consumers."
Even if the livestreamers sold hundreds of items during one show, Zhou and Mao said a huge amount of those orders would later be canceled because they were unable to deliver the products on time. And of the packages that were delivered, many would end up being returned by consumers who didn't like the size or style.
This year, however, Zhou and Mao said that their old retail clients have gradually been returning to the market, and they didn't appear overly concerned by the livestream ban. "I still prefer the offline business," said Zhou, adding that she liked having face-to-face interactions with her clients.
Sijiqing is not the only market that has had enough of livestreamers. In April, another clothing market in the southern city of Guangzhou issued a similar ban targeting individual livestreamers.
Other public venues have also tried to restrict livestreamers' activities, with the Palace Museum and the National Museum of China — two of Beijing's most popular tourist attractions — announcing livestream bans in June and July, respectively.
Meng Chao, the owner of a clothing factory in Guangzhou, told Sixth Tone that many livestreamers from Hangzhou had moved to Guangzhou's wholesale markets in the months following Sijiqing's ban. But they often haven't found it easy to find new partners.
"Local wholesalers have already sensed that the (live commerce) business is cooling off, and they have become more conservative and cautious," said Meng, 29.
However, experts warned that wholesalers would not be able to completely shield themselves from the impact of new e-commerce channels. If they're not careful, the livestream bans may end up being a pyrrhic victory.
Pan Helin, co-director of the Digital Economy and Financial Innovation Research Center at Zhejiang University's International Business School, told Sixth Tone that live commerce is overwhelmingly superior compared with traditional sales channels.
"It's like in the age of muskets, these people are still carrying machetes on the battlefield," Pan said.
Based on Sijiqing's previous sales performance, Pan said he understood why large wholesale businesses still looked down on online retail. But he added that traditional vendors should be wary of these emerging technologies' potential to change the market.
"Commercial livestreaming could still be an important tool for brick-and-mortar entities to expand their client base and attract more attention," said Pan. "Manufacturers shouldn't be limited to a single sales model, but work with both offline wholesalers and online retailers."
"The ultimate goal for vendors is still to sell all their products," he added.
For Meng, the clothing factory owner, there are still opportunities to combine wholesaling with livestreaming. In her view, Sijiqing's livestream ban should serve as a lesson for both industries that they need to be willing to meet each other halfway on price.
"These two parties were supposed to coexist, but it was ruined by their greed," said Meng.
Ultimately, the live commerce industry's obsession with offering massive discounts benefits no one, Meng added. Instead, it just triggers a harmful race to the bottom.
"Livestreamers provide their customers with lower prices, but manufacturers aren't stupid — they'll also cut costs, lower quality, and stop wanting to waste time on original design," said Meng. "It will eventually hurt the interests of consumers."
"The wheels of history can't be reversed, but its direction can be corrected," added Meng. "Behind the livestream ban, we should learn that what consumers actually need is not blind price wars, but high-quality services."
Contributions: Wang Zihan; editor: Dominic Morgan.
(Header image: A woman hosts a livestream show in Sijiqing, Hangzhou province, Zhejiang province, Jan. 25, 2022. Chen Nian/IC)