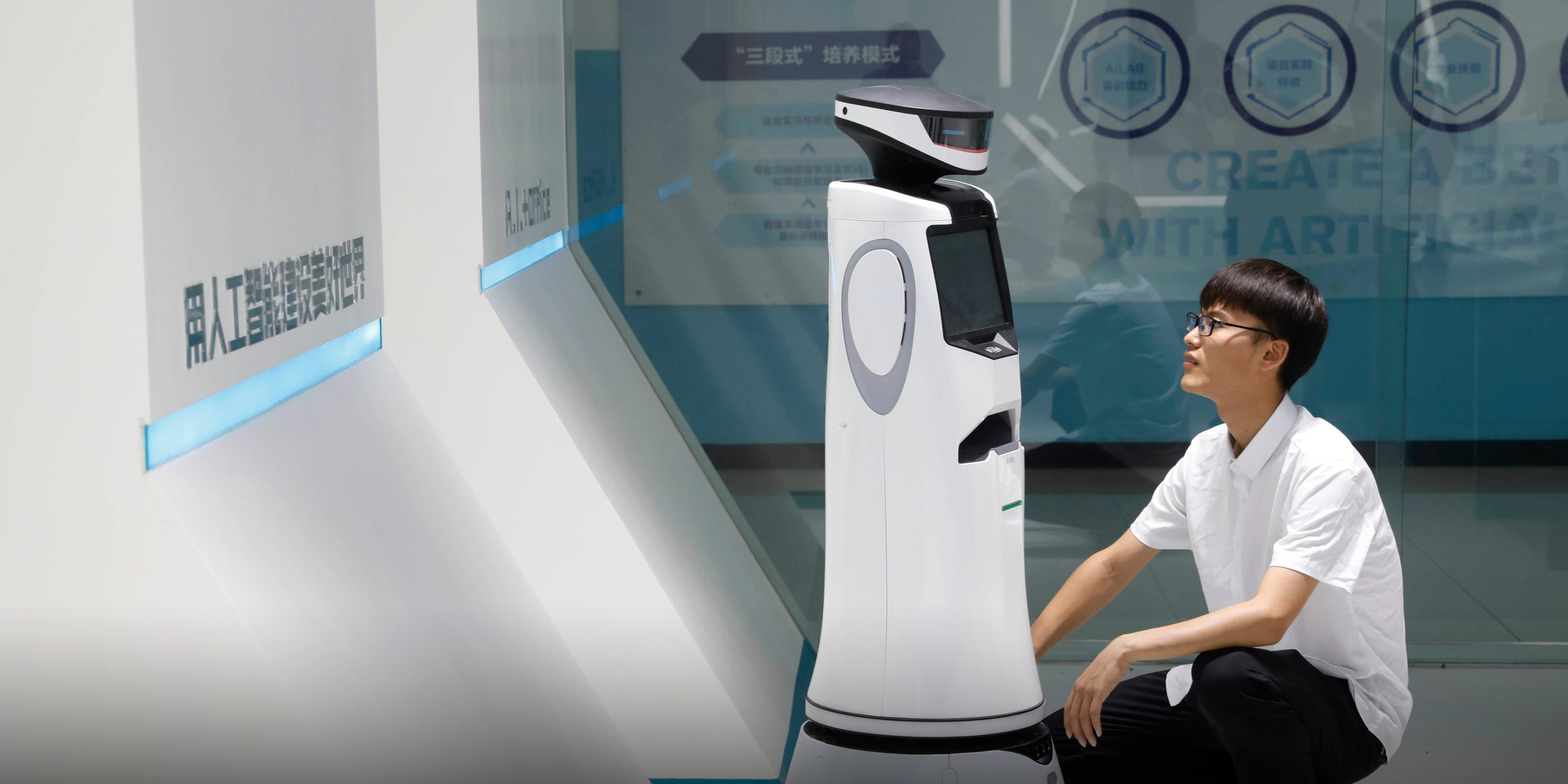 FEATURES
AI Is Booming in China, But Its Grads Are Trapped in a Talent Gap
Despite a talent shortfall in China's tech industry, fresh graduates from AI programs across the country say they're stuck in the mud amid the mismatch in skills and job requirements.
SHANGHAI — Armed with a master's degree in the red-hot field of artificial intelligence, Zeng Jingyun had anticipated a smooth transition into China's trillion-dollar tech industry. But on the cusp of graduating, the 24-year-old finds himself in limbo.
Despite weathering ten grueling interviews in recent months for numerous AI jobs advertised on multiple recruiting platforms, Zeng, from Hong Kong Baptist University, tells Sixth Tone that he often faces a lack of responses to most applications.
"For AI jobs, it's already a buyer's market," says Zeng, underscoring the challenges that fresh AI graduates currently face in landing entry-level jobs. 
On one occasion, he felt he was close to a breakthrough but was rejected after sharing his salary expectation. "I assume there's not a shortage of job candidates and they tend to choose the one asking for the lowest wage," he rues.
Zeng's predicament reflects a broader trend in China's rapidly growing AI industry: That despite a surge in demand for talent, particularly after the release of ChatGPT, fresh graduates are finding it increasingly difficult to secure relevant jobs. 
And with major tech companies scaling back entry-level hiring in recent years, competition for AI positions has intensified, leaving many just out of college uncertain about their career prospects.
Recruiters and insiders are now showing a notable preference for candidates with prior work experience and graduates primarily from elite universities, particularly in the emerging generative AI sector, where advanced technologies demand greater technical expertise.
This shift has left thousands of Chinese students, especially undergraduates, at a significant disadvantage. Yu Yuanlin, an undergraduate majoring in AI at Hainan University, puts it bluntly: "It's nearly impossible to secure an AI-related job with just a bachelor's degree." 
Part of the reason is the course structure and syllabus itself. In 2018, hundreds of Chinese universities rushed to establish AI undergraduate majors, but recent graduates, those enrolled in current programs, and professors voice concerns with the teaching system's shortcomings. 
Yet some educational and industrial experts are optimistic about the future, believing that those equipped with the necessary AI skills will have promising job prospects as the technology infiltrates various industries. Others attribute the anxieties to unrealistic job expectations. 
For now, fresh graduates say it's easier to pursue jobs at smaller companies or roles in other fields such as development and testing, rather than highly competitive algorithm-related jobs. 
Buyer's market
Three years into her postgraduate studies in AI, He Qiqi, 26, was finally hired as an algorithm engineer at NetEase this summer. While a coveted position, few realize it was a compromise.
Before that, He interned at ByteDance, the company that owns TikTok, for six months, but the job offer that was to follow was unexpectedly revoked last October. She faced a similar situation with Tencent soon after. 
Eventually, after a year of job-hunting while studying at Shanghai's Fudan University, one of China's best, the current job at NetEase materialized.
"It was heartbreaking hearing them (supervisors) say they really want you but the company has no available positions. And you can't really do anything," says He, with a wry smile. "It's not the end of the world, but it's not exactly what I had in mind either." 
She still fared better than others from Fudan University. In 2022, her seniors from college received an average of three job offers, but this year, some are still unemployed even after leaving the campus.
He puts this down to the delayed effect of the economic slowdown in the past few years on internet companies. She explains companies have become less willing to allocate hiring budgets for fresh graduates, leading to a decrease in the number of suitable jobs available in the market this year.
He's argument has merit. Starting 2022, major internet companies such as ByteDance, Meituan, and Baidu have adopted a more cautious approach, trimming cash-burning departments and implementing workforce layoffs as they grapple with operational challenges from regulatory curbs and a sluggish economy.
Consequently, they significantly cut down on hiring during the fall recruitment season, with headcounts being slashed by at least half. 
With the trend continuing in 2023, students and fresh graduates have taken to social media to voice their frustrations about failing to secure coveted "algorithm positions" — an umbrella term for roles such as algorithm engineers, machine learning engineers, and computer vision engineers. 
One viral post in particular vividly illustrates the change. Pretending to be a fresh graduate, an algorithm engineer applied for jobs at major tech companies using the same résumé that had earned him his current role. However, this time, he was eliminated by most of the companies in the very first phase. Sixth Tone could not verify the authenticity of the post since it has been deleted. 
Despite fewer jobs on the market, universities have been churning out more graduates since 2020 amid a government-backed expansion of computer science programs, particularly majors focused on AI.  
University enrollments in such majors have since surged, with over 380,000 students enrolling in 2022, an 8% rise from the previous year. 
It's resulted in cutthroat competition, says He, as students with mediocre grades face greater challenges in securing a promising offer. "In the past few years, senior schoolmates might have been able to find a good job without having to publish papers, but this year it's definitely not possible," she says. 
According to Zeng, competitors now also include "transcoders" — students from non-computer sciences majors such as mathematics, statistics, and finance — who are also gunning for the limited pool of AI jobs. 
Isolated
Paradoxically, a report published by the Chinese Academy of Labor and Social Security this year highlighted a talent shortfall of 300,000 people in the AI industry. 
In technical posts, particularly those related to AI chips, machine learning, and natural language processing, there are more job openings than the number of qualified job seekers intending to join. 
And according to online recruiting platform Liepin, the number of new job openings in the AI sector in the fourth quarter of 2022 has nearly tripled from four years ago.
Penny Xu, a headhunter specializing in recruiting talent for algorithm-related positions at Chinese tech companies, underscores that employment demands differ across various roles. 
While many job opportunities have emerged in the market, Xu tells Sixth Tone that a significant portion of them target mid-level and senior-level talents, necessitating candidates to possess higher technical and research skills from the outset.
"While job offerings have increased overall, opportunities for fresh graduates haven't," says Zeng. "There's a sense of alienation when you see many job postings for generative AI positions online, and you know you can't apply for them. And they'll never be available unless you study further." 
According to Xu, the fundamental challenge lies in the complexity of the technology itself — it sets a high bar for entry. Insiders assert that this aspect is particularly pronounced in the nascent generative AI technologies, where increasingly sophisticated large language models further elevate the standard of talent.
A report from professional networking site Maimai shows that over 80% of professionals employed in the AI-generated content sector have at least three years of work experience, more than half hold a master's degree or higher, and many have published papers. 
"An ordinary person cannot easily manage projects, conduct research, and publish papers," says Xu. As a result, companies are less inclined to prioritize fresh graduates, especially from non-elite universities, due to the challenges in delivering expected results.
But on the other hand, both major internet companies and smaller firms actively pursue the cream of the talent pool, which gives students from elite schools and those with strong skills an even greater advantage. Using a popular metaphor, Xu says, "A good horse should be equipped with a good saddle."
Lab rats
The shift in hiring patterns convinced Yu Yuanlin, 22, and his peers at Hainan University to pursue postgraduate programs. In his dormitory, only one out of five students chose to enter the workforce directly after graduation. 
Yu was among the first batch of undergraduate students studying AI as a major, following the program's approval at 35 elite universities in 2018. By 2022, nearly 440 Chinese universities offered the same major. 
Yu's academic plan includes a significant portion of courses related to electronics, as the major is offered by the university's information and communication engineering school. 
Courses more directly associated with AI, such as machine learning, deep learning, and natural language processing, are elective courses, giving students the flexibility to choose based on their specific interests.
Following a year of study, Yu noticed that the course syllabus changed a lot for juniors studying the same program, leaving him with a sense of insecurity. "Sometimes, it feels like we are lab rats," says Yu. 
Simultaneously, he also discovered that not all professors were experts in the nascent AI sector. Many had academic backgrounds in electronics and automation but shifted their research focus to AI in recent years. 
In the optimization course, for example, Yu says the instructor admitted to learning the material himself beforehand so that he could teach the class. 
Studying a similar major at the renowned Renmin University in Beijing, a student surnamed Wu —  who spoke with Sixth Tone using a pseudonym to protect his privacy — presents a different perspective. 
While his program boasts professors from various universities and researchers, the latter have fallen short in teaching techniques. Additionally, most of them pay little attention to their teaching responsibilities as they are often overwhelmed with research projects. 
The situation has left both undergraduates with a sense of dissatisfaction and the realization that the AI program's curriculum falls short of their expectations.
"The content taught is mostly geared towards passing exams," rues Yu, adding that it had prompted him to rely more on online open courses to reinforce his understanding and broaden his knowledge. 
He underscores that concepts such as large language models seem like a distant notion, as they were only briefly mentioned in some courses like natural language processing.
After spending the first year learning the basics, Wu says he'd finished learning the vast majority of the curriculum — 60% of which was theoretical — by his third year. "My undergrad course has finished, but it feels incomplete," says Wu. 
Qi Peng, an associate professor at Tongji University — one of China's best — believes the AI programs were designed to cultivate industry-specific talents, but so far, students have not gained a competitive edge in the job market. "Universities lack the experience to improve their courses," he says. 
Managing expectations
Over the last decade, China has made AI a strategic priority, aiming to become the world's leading AI innovation center by 2030 and harness the technology as a significant driver for industrial upgrades and economic transformation by 2025. 
The country is projected to increase its AI spending to $27 billion, accounting for 9% of global investment, by 2026, according to a 2022 report by the International Data Corporation.
But with concerns rife over the alignment between skills taught at universities and industry demands, Qi emphasized the importance of universities establishing comprehensive AI programs that keep up with developments. 
He urged universities to leverage online course resources and collaborate closely with the industry to better meet the growing demand for talent in light of the expanding AI applications across various industries. "It shouldn't be difficult for students with AI degrees to find a job," he says. 
On the flip side, Xu, the headhunter, believes the job anxieties felt by graduates primarily stem from issues related to expectation management.
"In the wake of ChatGPT's popularity, domestic companies have started developing their own large models. I believe that opportunities will undoubtedly increase for both graduates and professionals," says Xu, adding that students should stick with their field of expertise as it will prove its worth in the long term.  
Yet students aren't convinced.  
He Qiqi acknowledges that the commercial success of ChatGPT will likely lead to increased investment in the sector. "However, there are also significant risks involved in this," she says. 
And Yu expresses concerns over the increasing number of people entering the field. "With such high requirements from big companies, some people will fall by the wayside. Such candidates may have to compromise and join smaller firms, but even there, the qualifications needed will still be relatively high in the end," he says. 
Four years ago, Yu chose to study AI after a consultant warned of a downturn in the IT sector. Ironically, now he plans to shift his focus back to computer science. 
Additional reporting: Jiang Zuer; editor: Apurva.
(Header image: A student interacts with a robot at a college in Zhengzhou, Henan province, 2021. VCG)