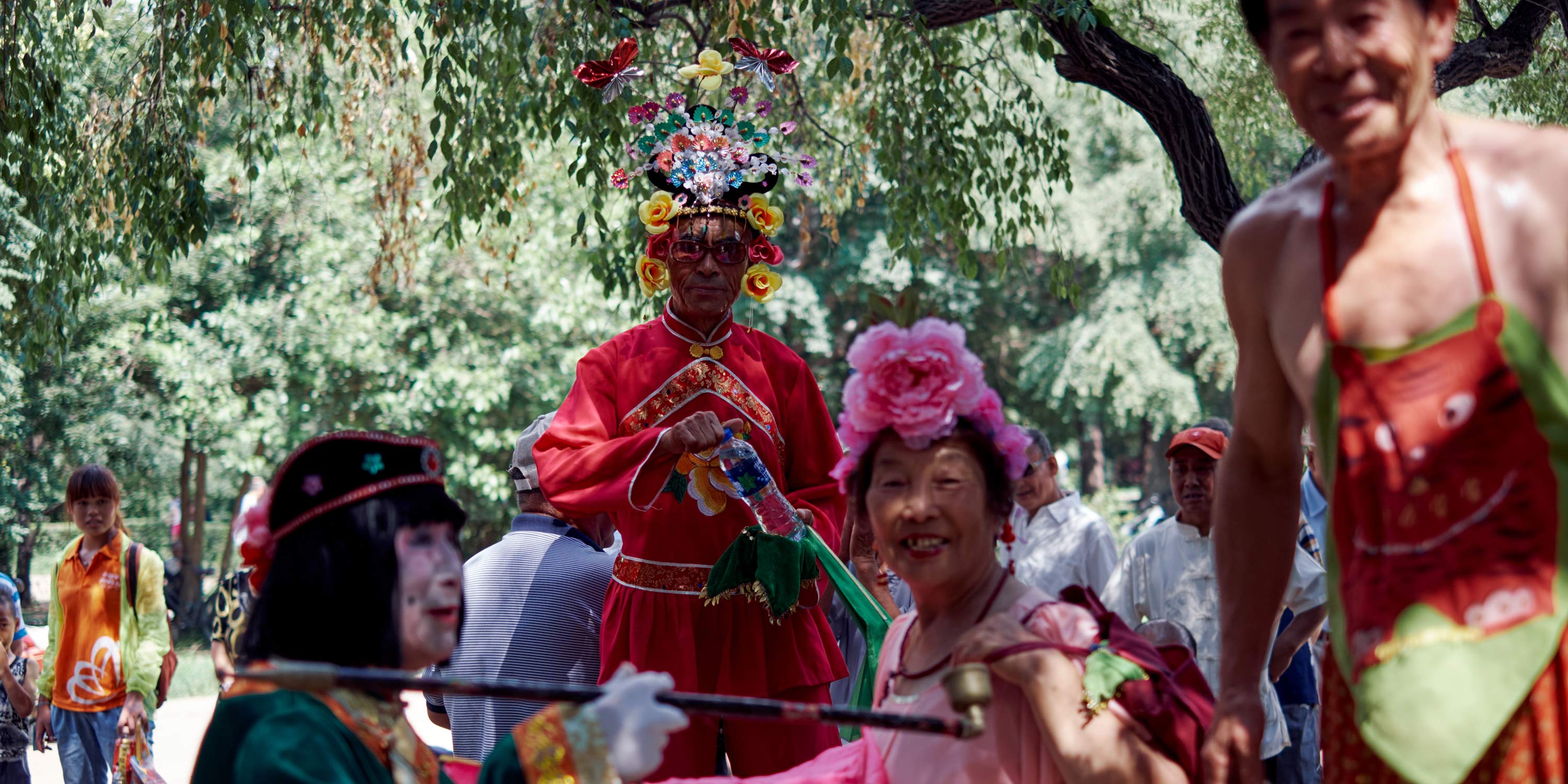 VOICES & OPINION
What's So Funny About China's Rust Belt?
A short history of the country's unlikely comedy capital.
This is the third piece in a series on the "Dongbei Renaissance." The second can be read here.
Over the past three years, China's northeastern rust belt has seemingly taken over the country's pop culture scene. Evidence of this "Dongbei Renaissance" — a reference to the Chinese word for the three northeastern provinces of Heilongjiang, Jilin, and Liaoning — can be found in literature, music, short videos, reality TV, film, and stand-up. At least in the case of comedy, however, the term is somewhat misleading: Despite the region's struggles over the last several decades, it never lost its distinct sense of humor.
Any discussion of Dongbei humor has to start with Zhao Benshan. Zhao — who got his start in errenzhuan, a traditional northeastern theatrical form — rose to fame beginning in the early 1990s thanks to a series of Spring Festival Gala sketches about the typical Dongbei farmer. Not long after, he jumped from the stage to the silver screen, starring in a number of comedic TV shows about rural Dongbei alongside other rising comedians from the region such as Fan Wei and Gao Xiumin.
These series defined the landscape of Dongbei comedy in the early 2000s and had an immeasurable influence on Zhao's successors. Though his calling card was no doubt the heavy Dongbei drawl in which he delivered his zingers, Zhao's comedic style can be best summarized as a combination of razor-sharp wit, overwhelming optimism, and ironic boasting. Some of his most famous nuggets of wisdom are still quoted: In 2019, after "The Joker" won prizes at film festivals around the world, a Bilibili video called "Zhao Benshan Convinces the Joker to Change His Ways" splicing together footage from Zhao's work with scenes from the film was viewed more than 10 million times.
Errenzhuan-influenced sketches about rural-to-urban migrants have only more over-the-top in recent years. In the massively influential "Siping Youth" series of films, the back alleys of the region's small cities are inhabited by a cast of comically exaggerated ruffians and toughs.
Yet, if we rate these works according to the strict criteria of the artform that heavily inspired them — errenzhuan — it's clear they're missing something. For all their facility with wordplay and physical comedy, Zhao and his heirs' use of errenzhuan techniques is superficial and misses the tragedy and black humor that define the genre. Not only do they often take a reductive, idealized approach to the hardships faced by Dongbei farmers throughout the process of industrialization and modernization, but they also overlook what was going on in the region's factory towns in the late 1990s, where workers were laid off in droves from state-owned companies while single-industry cities ran to seed.
Fortunately, Dongbei-born directors have begun to shine a light on this neglected chapter of the region's history. Beginning with Zhang Meng's "The Piano in a Factory" in 2010 and Geng Jun's "Free and Easy" in 2016, films have explored the adversity of this period through black comedy and even magical realism. Although Zhang and Geng have received critical attention, it wasn't until this spring's hit online series "The Long Season" — starring longtime Zhao collaborator Fan Wei — that this new approach to Dongbei's history captured the public's imagination.
Blending light comedy and suspense, "The Long Season" makes prolific use of the Dongbei dialect's colorful and evocative vocabulary to amplify the humor of every scene. The actors' artful delivery adds to the authenticity of the script, with proverbs, slang, and xiehouyu (a type of two-part allegory in which the punchline, much like in Cockney rhyming slang, is often left unsaid) skipping off their tongues.
What's remarkable about the characters is not the tragedies they've experienced, but the way they process these experiences through humor. They're all a bit at odds with the times: lifelong workers stranded in a post-industrial age. In line with philosopher Henri Bergson's theory of the comic, they've become outsiders whose "rigidity" in the face of change inspires ridicule. But they also call to mind sociologist Robert E. Park's writings on people who have been left behind by the course of urban development.
After the sense of community fostered by the planned economy was eroded by the layoffs of the 1990s, these characters were left disenfranchised and disillusioned. Even so, their cultural background has instilled them with the ability to laugh in the face of tragedy; through self-deprecation, they come to terms with and overcome their difficult circumstances.
Outside of TV and film, however, Dongbei comics are ironic without being acerbic. They often attempt to maintain an appearance of impartiality, echoing different sentiments without directly endorsing them. They'll gently poke fun at the privilege and prestige granted to local officials in Dongbei culture, but rarely do they take on institutions or mainstream values, in part due to those same cultural norms.
A good example is Li Xueqin, who has risen to stand-up stardom in the past two years and who, like Zhao Benshan, hails from the minor city of Tieling in Liaoning province. In her sets, she often sends herself up as a "Peking University loser" whose background didn't prepare her for the unforgivingly competitive world outside her hometown. Instead, she grew up believing that Tieling was, in her words, "the center of the universe" — a modern update on a classic Zhao skit calling Tieling the "big city." It's comedy that evokes the optimistic worldview of small-town, ordinary northeasterners as well as their sentimental ties with their hometowns. It's funny, and maybe that's enough.
Translator: Lewis Wright; editor: Wu Haiyun.
(Header image: A performance at Labor Park in Shenyang, Liaoning province, 2014. Wu Huiyuan/Sixth Tone)