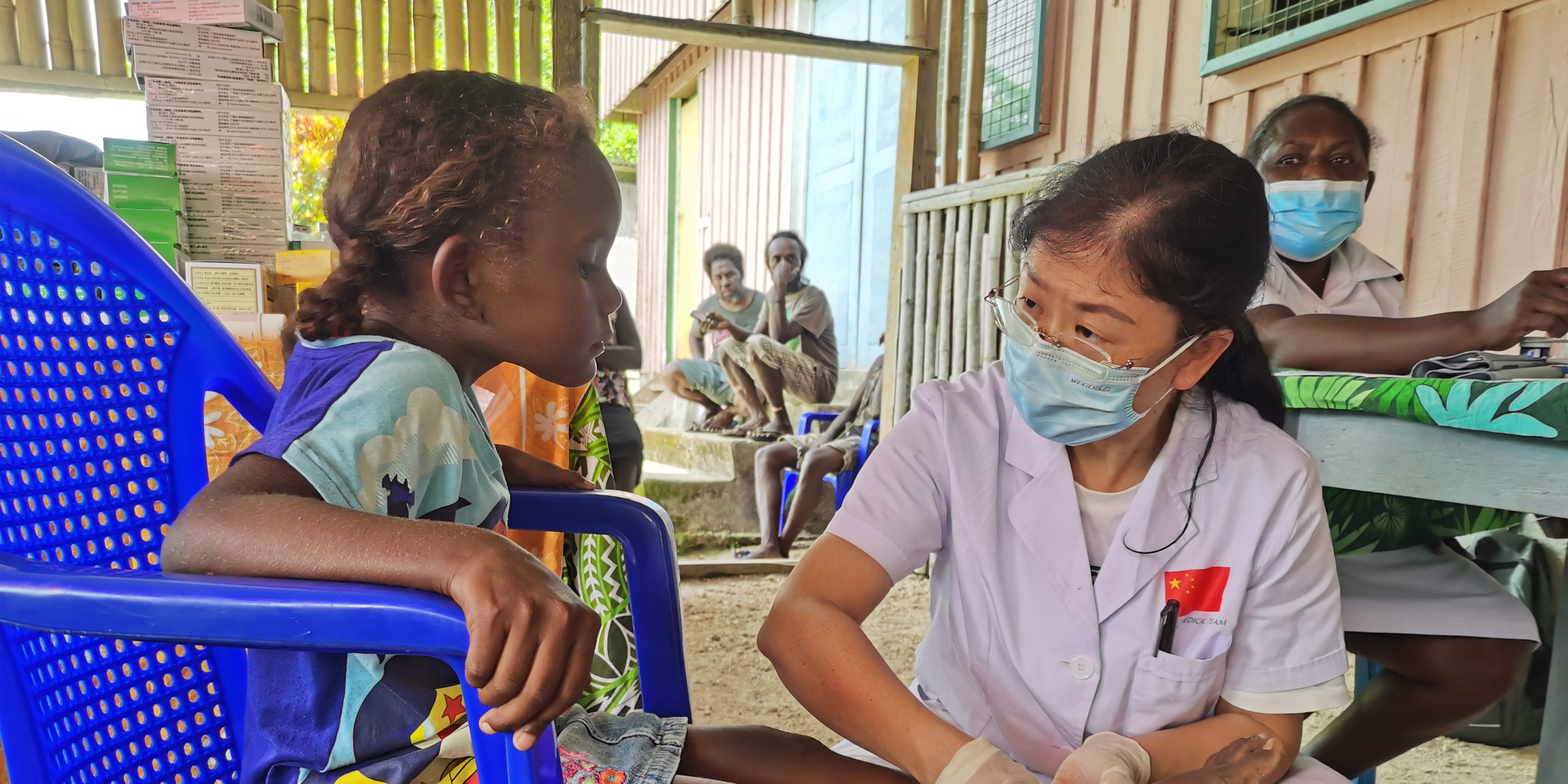 VOICES & OPINION
How the BRI Reshaped China's Medical Aid Spending
After decades focused on Africa, the rise of the Belt and Road Initiative has refocused Chinese aid closer to home.
This February, doctors from the top-ranked Ophthalmic Center at Sun Yat-sen University traveled to the Maldives to inaugurate the first state-funded standardized ophthalmology center built by China outside its borders. In the six months since, the new center has received over 4,400 patients and performed 402 surgeries; Chinese state media has hailed it as a way to stop "giving people fish" and start "teaching them how to fish."
Chinese international medical aid has come a long way since the 1950s, when it was narrowly focused on the country's near abroad, most notably Vietnam and North Korea. Although the country offered humanitarian assistance to countries across Asia, Africa, and Latin America through the Red Cross, it did not send a team of health professionals abroad until 1963, at the request of the newly formed Algerian government.
That experience set the stage for the next 50 years of Chinese medical aid, the bulk of which was sent to Africa. In the mid-1990s, China decided to ramp up its foreign medical assistance, including through the construction of more than 20 health care initiatives in Africa. From 2000 to 2013, China provided more than $2.1 billion in aid to the continent, accounting for 57% of all Chinese international medical aid spending during this period.
Since the establishment of the Belt and Road Initiative in 2013, however, China's health care aid programs have pivoted back to Asia as it seeks to deepen ties with neighboring nations. A recent study conducted by my research team found that China provided $1.1 billion in medical aid to Asia between 2014 and 2017, accounting for roughly 53% of all international medical aid during those years. The biggest recipients were Cambodia, Myanmar, Laos, and Indonesia — all BRI members.
Proving a correlation between the BRI and Chinese aid decisions is difficult — both because of the challenges involved in quantifying foreign policy preferences and the lack of official data on aid. It could also be argued that China's renewed focus on Asia merely mirrors longstanding practices in Japan and South Korea, both of which have used aid to strengthen ties with the continent's rising economies. Regardless, we can't exclude the possibility that China has used aid to bolster its diplomatic ties in Asia.
Apart from a shift in its regional focus, China's international medical aid has also undergone a sea change in methods, participating bodies, and scale over the past decade. In addition to more traditional forms of assistance like medical corps, health care facilities, pharmaceutical equipment, and human resources, China has placed increasing emphasis on South-South collaborations in the fields of public health, humanitarian disasters, and population planning and reproductive health — all while more actively including private enterprises and other civil society actors in aid provision.
Perhaps the most notable shift has been in the scale of aid provision. Based on our analysis, China's annual spending on health care development in BRI nations rose from $20 million in 2000 to $880 million in 2017. During the COVID-19 pandemic, China launched its largest ever global humanitarian mission, sending 38 teams to 34 countries and shipping more than 2.2 billion vaccines around the world.
Unsurprisingly, given the speed at which the aid sector has grown, the effectiveness of some of these projects has come into question. Many overseas Chinese health care facilities have struggled to operate effectively and have yet to form effective ties even with official Chinese medical corps stationed nearby. Medical equipment is often left idle due to a lack of qualified health care technicians. The fact that China has yet to produce a uniform set of evaluation mechanisms for aid projects only makes it more difficult to quantify China's influence in the global health sector or compare Chinese assistance to other aid-providing nations.
In the 60 years since it sent its first medical corps abroad, China has dispatched 30,000 medical professionals, constructed more than 130 health care facilities, diagnosed 290 million people, and trained over 100,000 health care personnel in 76 countries and regions. Some China-constructed hospitals now rank among the most important of their region. But as the country scales up its assistance programs — and as the health care systems of recipient nations continue to improve — the old infrastructure-focused approach to giving will no longer be sufficient. China should prioritize education and training as a means of increasing recipient nations' self-sufficiency and building momentum for their future socioeconomic development.
This article was co-authored by Xia Yi, a master's student at Fudan University.
Translator: Lewis Wright; editors: Cai Yiwen; portrait artist: Zhou Zhen.
(Header image: A Chinese doctor checks the condition of a girl's foot, Solomon Islands, Dec. 1, 2022. Zhao Yi via Xinhua)