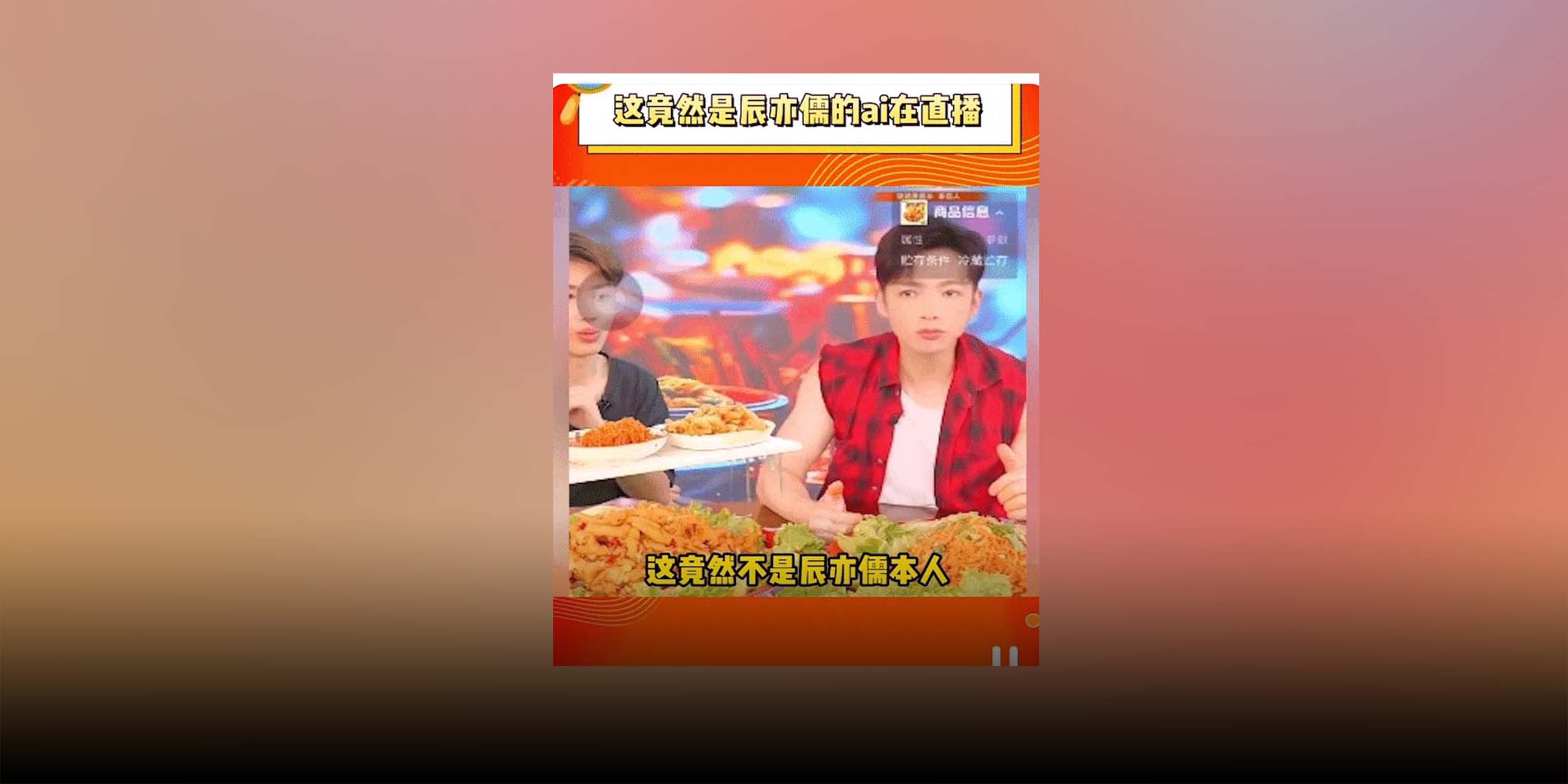 NEWS
Chinese Livestreamer Uses Stock Footage, Sparks Debate on Trust
During a recent broadcast, viewers noticed livestreamer Chen Yi-ru tasting food non-stop during a 15-hour broadcast as well as an apparent glitch where a table leg seemed to "pierce" his forearm.
At a time when the livestreaming e-commerce industry in China is under increased scrutiny for its business practices, a prominent music artist's decision to use seemingly pre-recorded, commissioned footage for livestreams earlier this month has triggered public debate and concerns over fairness and authenticity.
Initially, fans believed Chen Yi-ru, a popular livestreamer also known as Calvin Chen, with over 6.7 million followers on Douyin, the Chinese version of Tiktok, was genuinely hosting his streams. But shortly after, doubts surfaced when they noticed him tasting various food non-stop during a 15-hour broadcast and an apparent glitch where a table leg seemed to "pierce" his forearm. 
Building on his fame from the 2000s as a member of the pop group "Fahrenheit," Chen transitioned to e-commerce livestreaming in 2021. He experienced rapid success, recording sales of 103 million yuan ($14 million) within just a month of his debut. Despite the Taiwanese star's reputation for dedication and hard work, he drew some criticism for allegedly staging dramatic bargains to enhance sales.
While some viewers speculated Chen's on-screen figure during the livestream was an AI-generated avatar, industry insiders argued that it was pre-recorded footage used for the stream. Domestic media reports highlighted a visible label on the screen that read "Authorized by Chen Yi-ru," with a smaller disclaimer below stating, "For display purposes only, not a real person." 
This further triggered debate online, with some arguing that it allowed artists to capitalize on their fame for easy profits, while others found the tactic contentious and urged more scrutiny. 
"Does this mean they can earn money without being on the show for real?" a highly-upvoted comment on Douyin stated. "In the past, they had to pretend to eat; now, they don't even need to eat," quipped another.
In recent years, top Chinese e-commerce livestreamers sought more novel methods and patterns to spur business growth in a highly competitive market. While some influencers have granted permission for the use of their personal image, others have allowed third-party accounts to use footage from their livestreams to boost their e-commerce activities. This recent trend, which emerged last year, is referred to as qiepianzhibo or "snippet livestreaming" in China.
However, these methods have drawn concerns over potential risks and arbitrary endorsements. Recently, Yu Minhong, the founder of the prominent live e-commerce firm New Oriental, issued an apology for employing snippet livestreaming with its signed livestreamer Dong Yuhui, after drawing criticism from fans.  
Meanwhile, others have faced criticism for the inappropriate use of AI in their livestreaming ventures. In May, several live commerce firms were accused of fraud and infringing on portrait rights after companies used deep fake images of renowned female celebrities to boost their promotions.
In response to these concerns, Chinese authorities last year took a firmer stance on endorsement activities involving celebrities and artists. New guidelines emphasized that product promotions in e-commerce livestreams are considered endorsements. 
Consequently, artists faced restrictions on endorsing items like medical products, dietary supplements, extracurricular tutoring services, and tobacco products. These guidelines underscored that artists must be "fully" familiar with advertisers' business backgrounds and must have "sufficiently" used the products before making any recommendations.
Editor: Apurva. 
(Header image: A screenshot of Chen Yiru during a livestream. From Douyin)