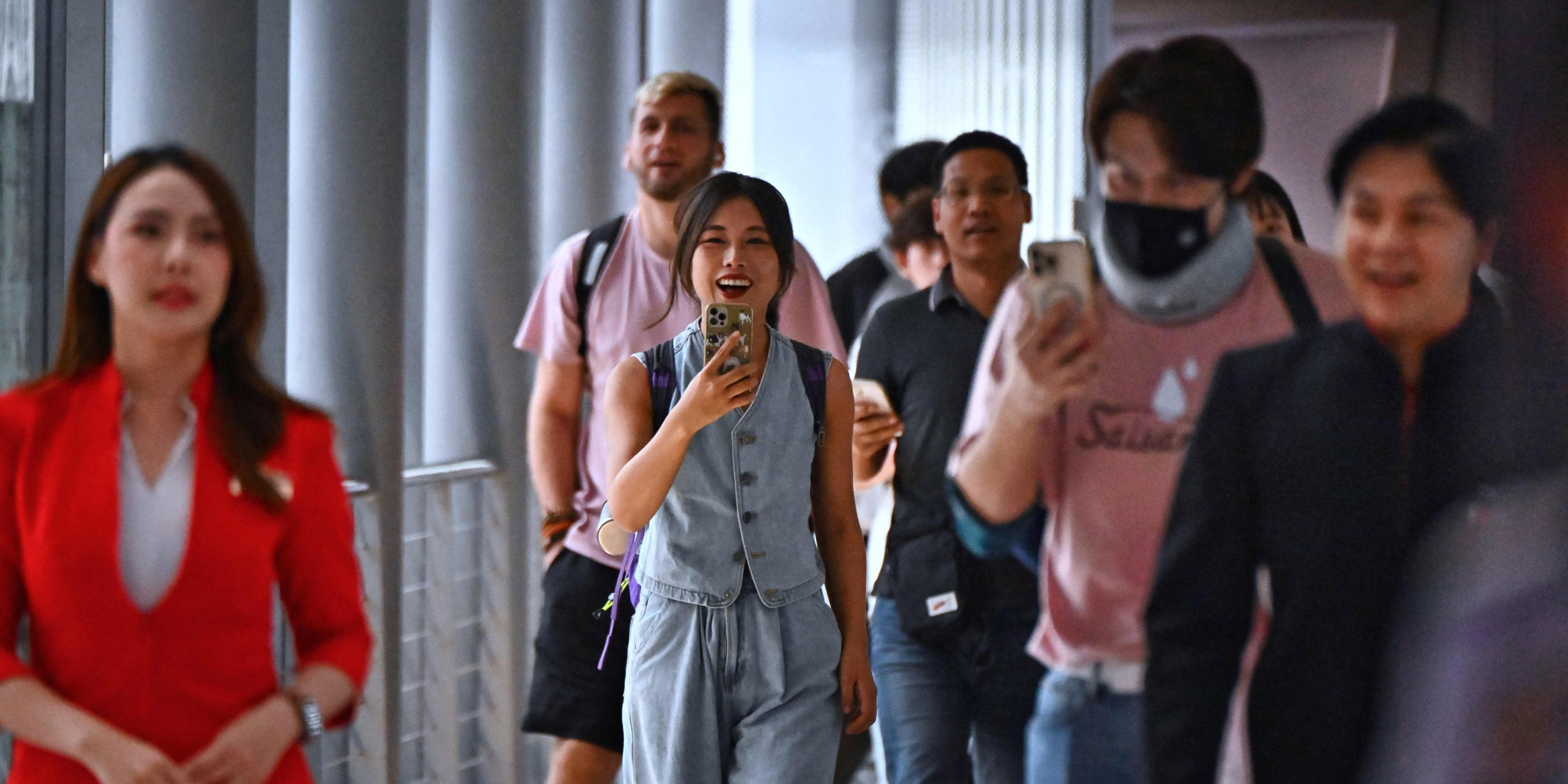 NEWS
Golden Week: Chinese Tourists Flock to Destinations Near and Far
Amid the first Golden Week without travel restrictions, Chinese tourists are seizing the opportunity to explore the world: From nearby Asian hotspots to distant European locales.
China's Golden Week holiday is seeing a marked uptick in foreign travel, with travel platforms like Trip.com and Fliggy noting an almost 20-fold increase in outbound bookings. 
This year's Golden Week, running from Friday to Oct. 6, combines both the Mid-Autumn Festival and National Day, and is the first extended break in this season without pandemic-induced outbound restrictions. Amid the festivities, WeChat, China's most popular social app, is awash with photos of travelers exploring overseas, from close locales like Japan and South Korea to farther destinations such as Australia and New Zealand.
Among the global destinations favored by Chinese travelers, Trip.com lists Thailand, South Korea, Malaysia, Singapore, Australia, and the United Kingdom as the top picks. Thailand, in particular, has become an even more attractive destination recently, particularly after the Thai government announced that Chinese tourists would be exempt from visa requirements for five months starting Sept. 25. 
Searches for Thailand on Trip.com have since skyrocketed, with an 800% increase from the previous week. On Sept. 25 alone, nearly 11,000 Chinese tourists landed in Thailand, while October travel bookings for the nation are already surpassing 650,000.
There's also a growing appetite among Chinese travelers for more unique and authentic experiences. Trip.com data highlights this evolving trend, noting a clear shift towards spending on high-quality services and immersive travel experiences. Additionally, private group tours and bookings for less popular destinations such as Sri Lanka, Azerbaijan, and Georgia have increased.
Chinese travelers are also broadening their horizons, beyond the "4-hour flight circle." On Trip.com, searches for countries such as New Zealand, Switzerland, Egypt, the United Arab Emirates, and Turkey have significantly surged.
Data also indicates that during this year's National Day holiday, outbound air ticket searches recovered nearly 100% compared to the same period in 2019, and outbound hotel searches went up by nearly 20% compared to the same period in 2019. 
Local media outlet Jiemian News reported a surge in demand for European tours. By mid-September, Chinese travel company Spring Tour nearly sold out its European packages. Similarly, another leading tour operator, CYTS, projected its order volume and revenue from outbound travel during this year's Golden Week holiday to match or even surpass the figures from 2019.
Chen Yifan from Shanghai, who often ventured abroad before the pandemic, is among the many eager to fly abroad during the holidays. She began her Golden Week trip preparations for Sri Lanka as early as July. "With the world returning to normal, I believe it's high time to start exploring again," she said, adding that she has already booked flights to Thailand for the upcoming New Year holiday. 
Editor: Apurva. 
(Header image: Tourists from China and other countries at the Suvarnabhumi International Airport in Bangkok, Thailand, Sept. 25, 2023. Lillian Suwanrumpha/VCG)