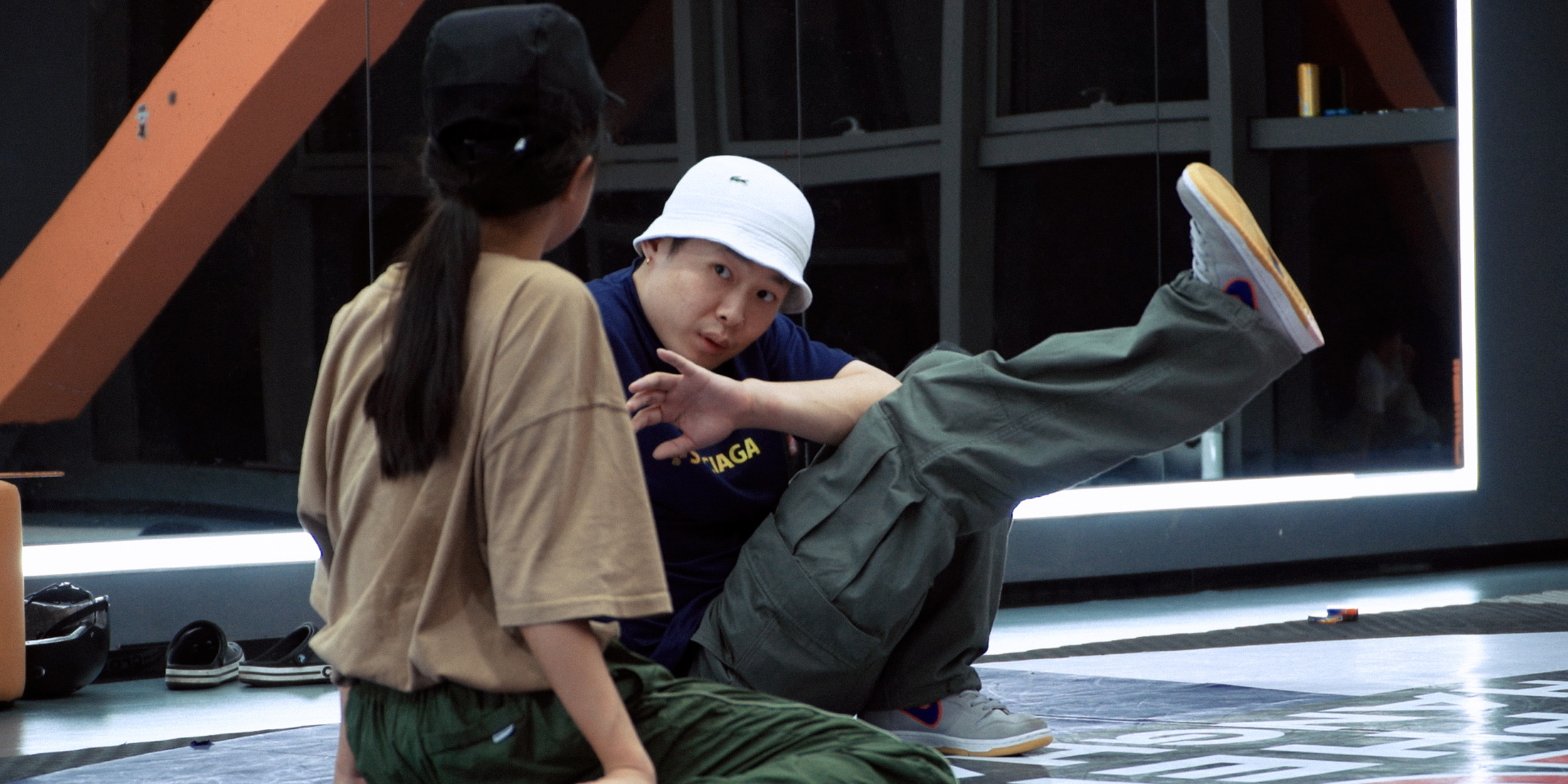 FEATURES
Olympic Stage Set, Young Chinese Dance to the Breaking Beat
In China, Olympic aspirants usually emerge from structured state systems. Yet, the recent addition of breaking has inspired a grassroots surge, with young enthusiasts setting their own pace and direction in the dance scene.
SHANGHAI — Just one year ago, 12-year-old Ni Shiyun was mastering the rhythms of traditional Chinese dance and the fluidity of jazz. Today, she's busy perfecting toprocks, power moves, drops, and freezes — all the hallmarks of a breakdancing prodigy. 
Three months after her audacious switch to breakdancing — also called breaking, b-boying, or b-girling — in September 2022, Ni won top honors at the prestigious Shanghai Sports Games. In addition to that gold, she's also won two bronze medals in other major competitions across China. 
"My wish is to give each of my LinaBell dolls a gold medal," she says with a laugh, referring to a Disney character popular in China. "I have around 20 of them at the moment."
In the wake of her rapid success, she's also setting her sights even higher: Joining Shanghai's first-ever breaking team. 
China sports insiders believe this team will be established shortly after this month's Hangzhou Asian Games in the eastern Zhejiang province, where breaking made its debut. At the Games, more than 40 athletes from 13 different countries and regions showcased their skills.  
Initially introduced to China in the 1980s, breaking has gained significant traction only since 2020, when the International Olympic Committee announced its inclusion in the 2024 Olympic Games in Paris, France. 
In January this year, China unveiled a national breaking squad comprising four B-boys and four B-girls ranging from as young as 15 to as old as 30.
While Olympic hopefuls in China are typically selected and trained through a robust, state-supported training system, breaking has seen a grassroots surge of enthusiasts honing their skills independently. 
Although there's no official tally of breakdancers nationwide, Zhejiang alone is home to over 20,000 competitive breakers. (The province was one of the first in China to aggressively promote the sport.)
Building on this momentum, several prominent Chinese sports universities have rolled out programs dedicated to breaking. For instance, Beijing Sport University launched its first breaking class in 2020, hoping to produce well-rounded dancers. 
"Students here aren't limited to learning just breaking; they also acquire proficiency in various other dance styles," says Bai Lu, a coach with the program. "They also delve into scientific training methodologies and their underlying principles. Consequently, their grasp of breaking often surpasses that of their peers."
Yet, Bai admits there's room for improvement, noting that the current students in the program haven't quite reached the standards of the national team. He says most students in the inaugural class, set to graduate in 2024, are instead keen on becoming dance instructors or pursuing advanced studies.
He underscores, however, that Chinese breakdancers have made remarkable progress over the past three years. "In the past, it was rare to spot Chinese dancers in top-tier international competitions, but now they are much more active on the international stage."
But while breaking's popularity in China is rising, it isn't without challenges. In a society where academic excellence is prioritized, parents typically steer their children's focus toward their studies rather than extracurricular activities, especially ones as unconventional as breaking. 
Moreover, despite the global recognition the dance form is garnering, there's still a lingering stigma attached to it in China, where older generations, unfamiliar with the origins and ethos of breaking, may still perceive it as mere rebellion. 
Balancing act
When Zhang Fei first ventured into breaking in 2010, opportunities were few and far between. With limited resources for learning and competitions scarce, sustaining an interest in breaking was challenging. 
"It was hard for people to persist in breaking because there was simply no foundation for the sport here," rues Zhang, the founder of the WINOF Dance Studio in Shanghai. 
But in 2018, a reality show named "Street Dance of China" turned the tide. "That was when investment poured into the sector, and thousands of street dance studios sprouted up across the country," says Zhang. 
Not all breakers from those early days persisted. Before 2020, Zhang recalls, several talented teen dancers from his studio clinched titles in major Shanghai competitions. Yet, over time, many drifted away. 
An exception is Tang Yihan, a 13-year-old who is now on the six-member Zhejiang provincial breaking team. 
Joining the team in early 2020, soon after its inception, Yihan's skills quickly caught the attention of provincial coaches, and he's won over 30 gold medals at various national competitions. In August, he was selected to participate in a training camp organized by the national team, which gathered over 30 teenagers seen as potential representatives for China in future international competitions.
"The reason Yihan still dances is his sheer love for it. He's not willing to give it up," says his father, Tang Ruiqi. "He revels in the music, and the moves. And now, his dedication to dance has made him more disciplined in his academics as well. He knows he has to carve out time for daily practice."
Now in the eighth grade, Yihan spends at least two to three hours on school days and five to six hours on weekends practicing breaking. Despite being a member of the provincial team, he also attends a regular public middle school in the eastern city of Ningbo. 
Yihan's daily routine isn't in line with the typical regimen for athletes in traditional state-run sports. Currently, young breakdancers have the autonomy to mold their schedules, but this flexibility exists only at the provincial team level. At the national level, rigorous training often comes at the expense of academics. 
As bright as Yihan's future in breaking might appear, his father remains grounded. "Our goal is to strike a balance between his dance training and his academic education," he stresses. "While we support his passion, we'd never compromise on his academic growth. Discontinuing education at such a young age isn't an option for us."
Rising stars
This tightrope walk between tradition and passion, academics and art, is familiar for many young breakdancers in China. While some enjoy unwavering parental support, navigating the demanding worlds of both dance and academics isn't easy.
After training for three years, 13-year-old Shanghai resident Kang Xiaojun has already won major accolades, including an under-18 breakdancing competition held in August for breakers living in the Yangtze River Delta area.
His family hopes that, like Ni Shiyun, Kang might soon join Shanghai city's inaugural breaking team. "I don't prioritize academics above all else," says Kang Chunyan, his father. "It's essential to respect my child's choices. Both my wife and I believe Xiaojun should chart his own course, not one strictly dictated by parental expectations."
Despite having no arts background, Kang's parents enrolled him in multiple extracurricular classes as a child, most of them in traditionally popular subjects like piano. Yet, he showed little enthusiasm. They decided to introduce him to breaking in 2020 — and that's when Kang found his calling. 
"As soon as Xiaojun started dancing, we saw a change. He became more confident, started performing on bigger stages, both in and out of school, and made new friends through dancing," says his father. "I believe breaking has instilled core values in Xiaojun: confidence, effort, and perseverance." 
Yet, for Xiaojun, the appeal is much more straightforward.
"It's the thrill of nailing challenging moves unique to breakdancing; it's so stylish," explains Xiaojun. "Pulling off these moves earns me admiration. When I dance in front of classmates, it's like I'm introducing a different world to them. They're blown away. And when I combine breaking with a classmate's traditional Chinese dance, well, my popularity skyrockets," he adds with a grin.
Ni concurs, but adds that it takes strength and patience to be a good breakdancer. "It takes months to master one big move," she says, adding that she spends about 20 hours a week practicing, all while balancing her passion for dance with academics.
"In Shanghai, most parents focus on preparing their children academically," says Ni's mother, Gao Fei. "Breaking demands an intense physical and mental commitment. Not many children in Shanghai are ready for its rigors, and many parents are hesitant to put their kids through such demanding training."
To support her daughter's ambitions, Gao ensures Ni has access to the best training resources. This summer, the family journeyed to Nanning in south China's Guangxi Zhuang Autonomous Region for a specialized three-day course, which cost over 3,000 yuan ($415). Their annual expenditure on training alone sets the family back by approximately 30,000 yuan each year.
Nevertheless, Gao remains determined. "As long as she loves it, we'll do everything to support her," she says.
Carpe diem
Parents like Li Li see this as the perfect time for children passionate about breaking. She believes it's easier for girls to excel in competitions right now because there are still very few B-girls in the scene. 
Li's daughter is in the sixth grade — just like Ni — and juggles her academics with her passion for breakdancing.
Li underscores that children who manage podium finishes in major competitions will have the opportunity to register as national-level athletes. "This means they can benefit from special policies for university enrollment," says Li. "I would say this is a path many parents overlook. We learned more about it after our child began practicing dance."
But breaking isn't free from stigma, especially among the older generation, who according to some dancers, are overly focused on the tension that characterizes breakdancing battles.
"We exchange hand gestures and perform forcefully on the floor," says Kang Xiaojun. "It may seem confrontational, but we harbor no hostility towards each other. This kind of 'tension' serves to inspire one another to deliver their absolute best in the competition. Ultimately, at the end of the 'battle,' it's all about peace."
Tang Ruiqi, Yihan's father, acknowledges his son's class teacher remains opposed to Yihan's breaking. "In Ningbo, there's an emphasis on academic performance in schools, and teachers often concentrate solely on their students' studies," the elder Tang says. 
"Yihan's class teacher still maintains certain reservations regarding this form of street culture, believing that those involved in dancing may develop undesirable habits. She has discussed this with me on a couple of occasions."
To dispel the stigma and attract more enthusiasts to breaking, Kang and his friends have taken to the city's streets to showcase their breaking skills and introduce passers-by to the art form. 
Kang says, "Passers-by often pause to watch us perform. They are captivated by the dance and sometimes even approach us to ask where they can learn it."
Recently, he's been engrossed in mastering the air-flare, a visually captivating move in which the dancer rotates their body horizontally mid-air while supporting themselves on one hand and kicking their legs in the air. 
In the long run, he hopes this move will help him win more titles. 
But it's also the kind of crowd-pleaser that can win the medium new fans. "It's important that I can dance to my heart's content and also make friends and connect with people from all walks of life through this mesmerizing art form," he says. 
Editor: Apurva.
(Header image: A breakdancing instructor demonstrates dance techniques to Ni Shiyun in Shanghai, September 2023. Lü Xiao/Sixth Tone)