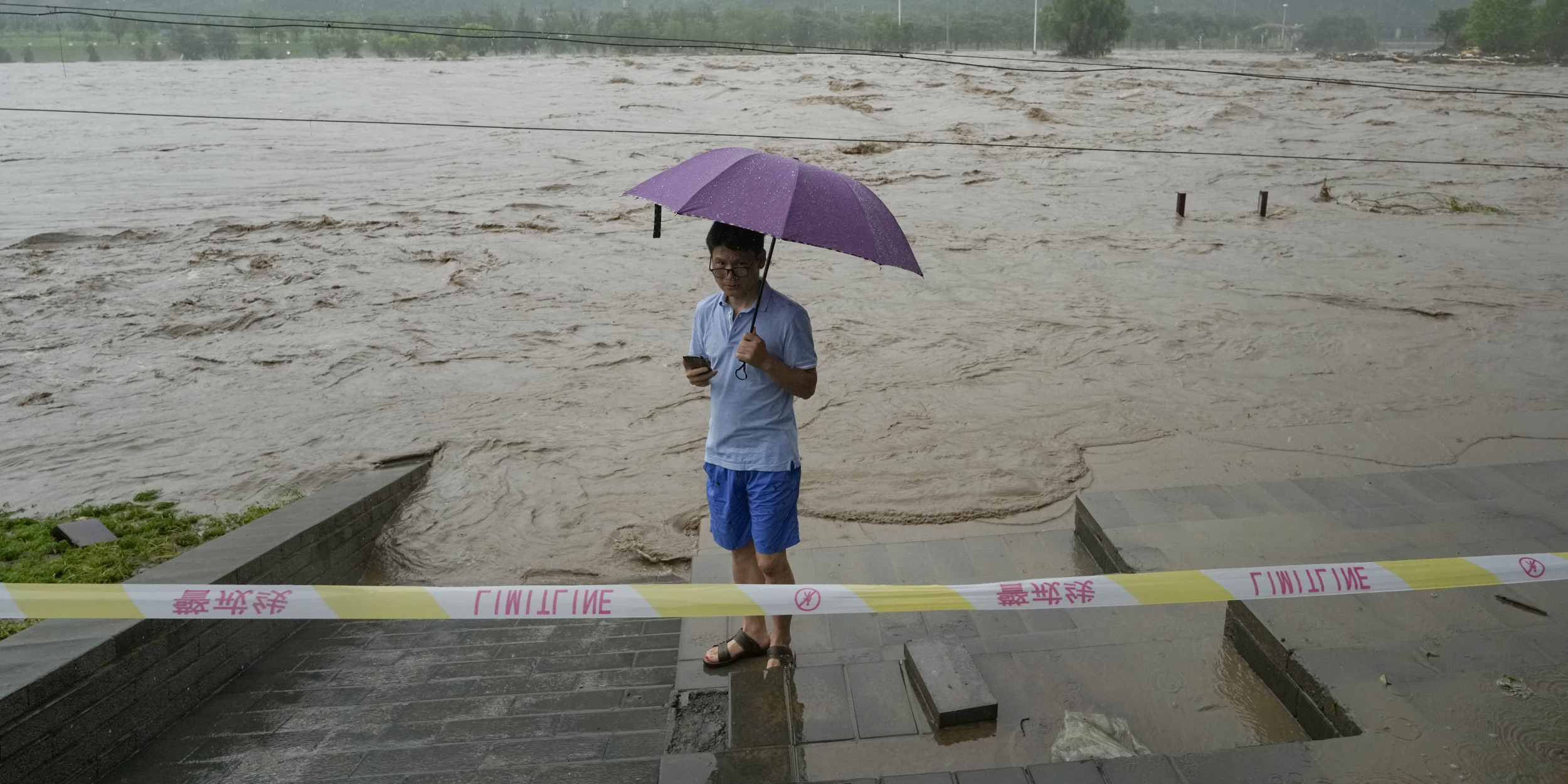 VOICES & OPINION
Flood-Proofing China's Northern Plains
Though the region is more associated with drought than heavy rainfall, worsening summer flood seasons require a coordinated response.
This summer, extreme weather events continued to challenge long-held assumptions regarding the climates of northern and southern China. This time, the north bore the brunt of it: Typhoon Doksuri brought record rainfall to the Beijing suburbs in late July — as much as 744.8 millimeters in some areas — before continuing on to inundate the country's three northeastern provinces in early August.
Many Chinese expressed shock at the resulting floods: Northern China is still more associated with droughts than heavy rainfall in the public imagination. In 2022, a total of 554.4 millimeters of rain fell in the Haihe River Basin in northern China, near Beijing, less than a third of the rainfall received by the Pearl River Basin in southern China. That split is closer to the traditional pattern: The north really is much drier and receives significantly less rain than the south.
However, these figures hide an important fact: Rainfall in northern China has never been spread evenly across the year. In north and northeast China — the regions hardest hit by this summer's torrential downpours — precipitation during the summer flood season can account for 70% to 80% of total annual rainfall. The effects of climate change have only intensified the risk of summer flooding: Since 2010, annual rainfall has risen across northern China, putting greater strain on the region's rainstorm prevention and response systems.
To deal with this uneven rainfall distribution, urban engineers have relied on a mix of reservoirs, river levees, and flood storage areas, though these systems may vary widely in resilience from region to region. In areas like Beijing, upstream reservoirs have reduced flood peaks and lessened the pressure of downstream flooding. The city can now pre-release water stored in reservoirs in its western suburbs to make space for rainwater and allow time for residents downstream to relocate from at-risk areas.
In less-developed regions, a lack of capital and manpower has contributed to delays in strengthening reservoirs and other flood prevention systems. Flood prevention standards in China are designed based on population scale, economic weight, and the location of important regional facilities. In central Beijing, flood control facilities are expected to handle up to 200-year storms, meaning a storm with a 0.5% chance of occurring in a given year. Cities or regions with smaller populations and low economic volume have lower flood control standards. For example, the planning standard for flood control in parts of Mentougou District, located in Beijing's western reaches, is a 20-year storm, or one with a 5% chance of occurring in any given year. As a result, suburban areas are more vulnerable than urban areas when historic storms like Typhoon Doksuri hit.
Some northern economic centers have taken proactive steps to strengthen their flood prevention systems. Tianjin, which is located in the lower reaches of the Haihe River Basin and has a long history of flooding, began work in the 1950s on a series of canals capable of discharging up to 75% of floodwaters safely into the nearby Bohai Sea. Combined with a newly built seawall in the city's east and a designated flood storage area in the west, the canals form a closed-loop flood control system of around 248.8 kilometers in length, one capable of ensuring the safety of the city's main urban area. Beijing likewise upgraded its flood control facilities after heavy rains in the summer of 2012, which helped protect the city during this year's storms.
In contrast, less-developed regions face a cycle of flood damage vulnerability, weaker economic development, insufficient financial revenue, and a shortage of resources needed to strengthen flood control systems. In these regions, improving climate resilience in urban areas is highly dependent on collaboration within river basins. The upstream and downstream ecological compensation mechanism established between Tianjin and the neighboring province of Hebei provides a model: Hebei provides clean water downstream to Tianjin via the Luan River-to-Tianjin water diversion project. In return, upstream cities along the Luan River have received 2.7 billion yuan ($375.3 million) in ecological compensation since 2016 for use in environmental management, ecological restoration, and water resource protection. Considering that imbalanced development between regions will remain an issue in the long term, improving mechanisms for ecological compensation and flood control compensation within basins — and especially flood control compensation mechanisms in flood storage areas — can help regions effectively share the risks of flooding and improve their overall climate disaster response capacity.
Once the issue of financial compensation is resolved, less-developed regions must use the money effectively to improve their overall climate resiliency. In addition to the abovementioned flood control infrastructure projects, that means building stronger disaster warning services capable of providing residents and businesses with more time to prepare. Beijing offers a potential model: In 2013, the city ordered subdistricts and towns to issue accurate and early flood warnings to residents, a measure that has effectively shortened response times to sudden climate disasters.
In addition to early warnings, flood prevention officials should embrace emerging big data and AI technologies to create a smart floodwater management system capable of monitoring and predicting weather-related disasters in the years to come. Such information would be invaluable to city planners and managers. For individuals and businesses, knowing how vulnerable they are to climate disasters can help them make better investment decisions and even spur the development of commercial natural disaster insurance.
Recently, Hebei put the finishing touches on a video surveillance network for monitoring key rivers, lakes, and reservoirs across the province in real time. This information is currently only circulated within government departments, but in the future, it could and should be shared with individual users, allowing people to view maps of at-risk areas, get access to real-time warnings, and look up escape routes on their cellphones. Eventually, getting important information about potential floods should be as easy as checking traffic congestion on their way to work.
Less economically developed regions cannot and should not bear the risks of climate change on their own. Inter-regional cooperation and compensation mechanisms, as well as integrated disaster protection systems, will be key to protecting China's northern regions and helping them cope with the increased risk of climate disaster.
Translator: David Ball; editor: Cai Yineng; portrait artist: Zhou Zhen.
(Header image: A resident stands near a swollen river in suburban Beijing, August 1, 2023. Ng Han Guan/AP via VCG)