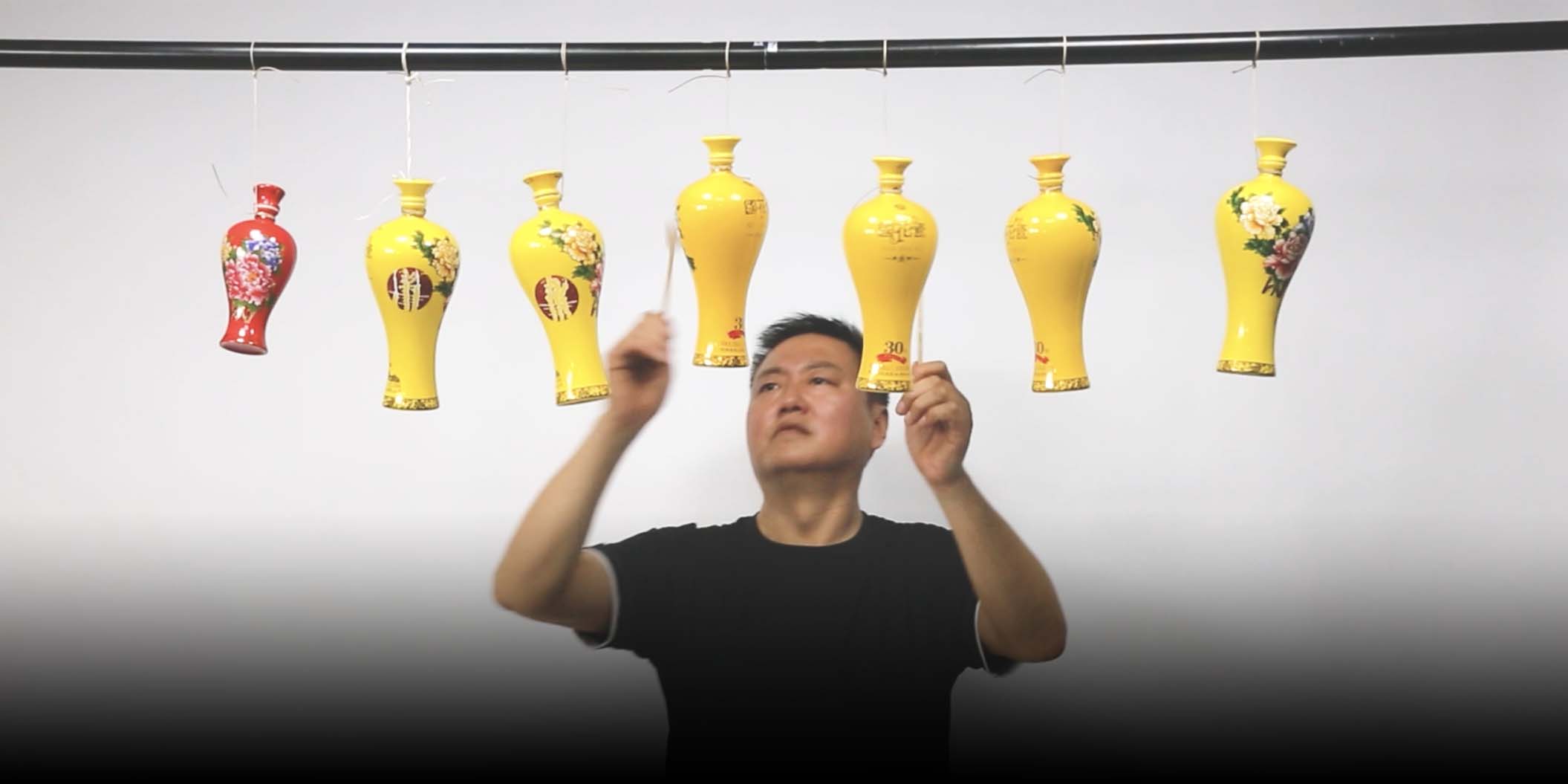 NEWS
The Chinese Musicians Making Melodies Out of Nothing — and Everything
China's latest social media challenge has creators fashioning instruments out of everything from carrots to screwdrivers.
"Wild Geese Descending Onto the Sand" is one of the most famous pieces of music ever composed for the guqin, a traditional Chinese stringed instrument. Meant to evoke the sound of geese flying by the waterside in autumn, the tune dates to the Ming dynasty (1368-1644) and has been a favorite of guqin musicians for centuries.

But what if you didn't need a guqin to replicate the melody of "Wild Geese"? Or even an instrument? That's what Zhan Yangyang, a 30-year-old creator from the central Chinese city of Wuhan who goes by the handle "Vacuum Ginger," set out to learn. Tying a piece of nylon fishing line to a screwdriver, Zhan slowly mastered the different tones needed for the piece before posting a video of the results to his channel over the summer.
Zhan is just one of a wave of Chinese content creators inventing curious new musical uses for household items. Inspired by the viral success of creator Bylin's 2022 recreation of Mandopop idol Jay Chou's "Blue and White Porcelain," which used real pieces of china to imitate Chou's musical arrangement, a number of hopeful internet celebrities are trying to strike it big with instruments made of everything from boxes and twine to carrots.
Tian Jianguo, a 45-year-old from the northwestern city of Xi'an, has taken the viral challenge to an extreme: turning carrots into flutes, bowls into drums, delivery boxes into guitars, and tiles into xylophones.
The gimmicky videos have helped Tian, an accomplished player of the banhu, a Chinese instrument similar to a fiddle, accumulate over 30,000 followers on the video-sharing site Bilibili. But he doesn't see the clips as mere engagement bait. "The idea that anything can become a musical instrument reminds me that music is everywhere," Tian told Sixth Tone.
Zhan agrees. The guqin lover began practicing the instrument while studying engineering at university. Although his homemade version might lack the elegance and versatility of the real thing, he believes the use of everyday items is in keeping with the spirit of traditional Chinese music, which was often meant to evoke the sights and sounds of nature.

"It's interesting how similar the two activities are," Zhan explained in an interview, referring to the guqin and fishing. "You may spend hours waiting for the fateful bite, and you can spend years learning a given instrument, waiting for the day you master it and are able to perform."
Although Zhan said the idea for the video came to him organically while fishing — he noticed that the sound of the nylon fishing line snapping taut after a bite resembled that of a guqin — some viewers wonder how much longer the trend can last. "There aren't many choices left for people to make new instruments," has become a popular refrain on Bilibili.

The trend seems to have life in it yet, however. After Zhan posted his recreation of "Wild Geese Descending Onto the Sand" in August, fans offered him tips on how to upgrade his new instrument, including adding a wooden board and some plastic bottles to prolong the length of each note.

"Music is never far from us," Zhan says. "It should be everywhere. Everything you can access in your daily life has the potential to be an instrument."
(Header image: Zhan Yangyang performs with baijiu bottles. Courtesy of Zhan)