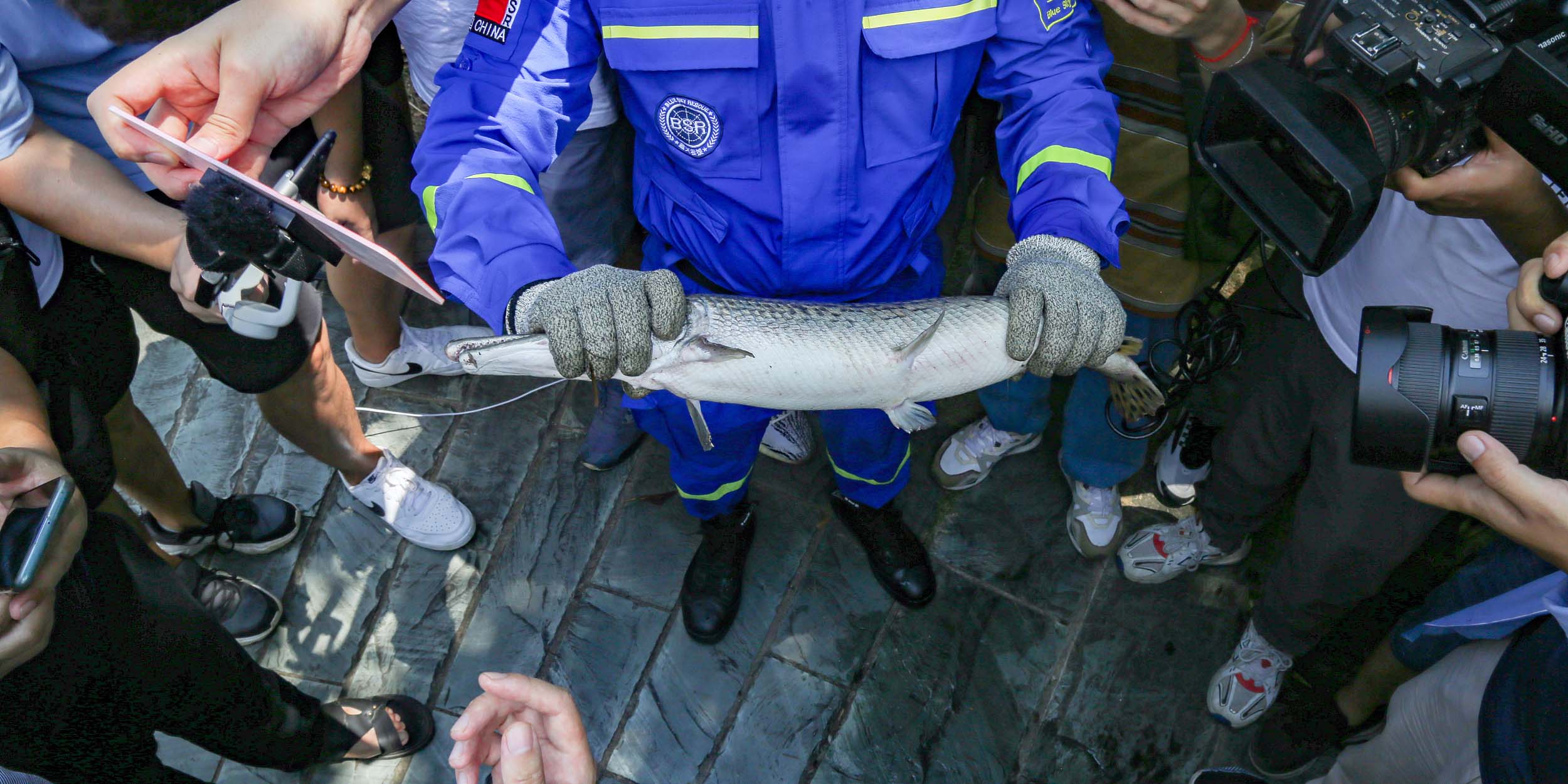 NEWS
New Guangzhou Regulations Set to Curb Harmful Wildlife Releases
In a first for China, the new law prohibits the release of foreign wildlife, with certain species like the alligator gar and plecos explicitly listed. But native species can be set free with prior government approval.
Amid concerns over the ecological impact of releasing foreign species into the wild, Guangzhou, capital of the southern Guangdong province, will implement the country's first local wildlife management regulations starting Nov. 1. The new regulation could see violators slapped with fines up to 100,000 yuan ($13,674) and potential legal repercussions if their actions harm people or property.
Under the new rules, the release of foreign wildlife is largely prohibited, with certain species like the alligator gar and plecos explicitly listed. However, residents can set free native species deemed appropriate under a government-curated list for reintroduction into the wild. 
Those looking to release such wildlife must also submit details — including photos, species information, and the planned release time — to a designated government platform at least three working days in advance, allowing time for official feedback and guidelines to be given. Moreover, individuals are required to release animals in designated areas set by authorities, and releasing wildlife outside these approved zones could result in penalties from 2,000 yuan up to 10,000 yuan.
In an interview with the Guangzhou Daily, the head of Guangzhou's Legislative Affairs Commission voiced concerns over the widespread release of wildlife observed during recent inspections. Specifically, the introduction of invasive foreign species has been wreaking havoc on the balance of local ecosystems due to a lack of effective management measures. 
"Currently, the country's relevant laws have only established principles for the release of wildlife, and they lack operational norms. It is necessary to enact specialized legislation," the official was quoted as saying. 
The official also pointed out that releasing wildlife indiscriminately introduces various challenges. Foreign species might outcompete native ones for resources, while poisonous, ferocious, or unquarantined species may attack humans or other animals on being released, or even spread disease. Some released animals, lacking survival skills, may also be highly vulnerable.
Earlier this year, a Guangzhou resident made headlines after releasing several boxes of cockroaches into a local neighborhood, claiming he didn't want to kill them. Experts have warned about the health hazards of such actions, noting that cockroaches can transmit diseases to humans.
Species like the alligator gar, which is at the top of the no-release list, has also been found in many places like parks and universities in Guangzhou. Often referred to as a "living fossil," this predatory species, native to North America, has been around for over 100 million years, boasts sharp teeth, and lays eggs that are toxic.
In another incident from April, a university in Guangzhou discovered a 1.26-meter-long alligator gar in one of its lakes. The creature was captured only after the school drained the entire lake over a span of nearly 24 hours. According to a faculty member, the rapid growth of alligator gars often outpaces the capacity of standard household aquariums, leading some people to release them into the wild.
The practice of fangsheng, or "life release," which entails setting animals free as a form of blessing or sacrifice, is common in Chinese culture. Beyond wildlife, individuals have been noted pouring items like mineral water and fish tofu into public bodies of water. According to a water department official in Dongguan City in Guangdong, while feeding fish in rivers isn't technically illegal, authorities are intensifying inspections and urging the public to reconsider such actions.
"Releasing animals in an uncontrolled way causes great ecological safety hazards," Mao Kangshan, a professor at the College of Life Sciences at Sichuan University, told state broadcaster CCTV. "The introduction of local regulations has given a legal basis to regulate such activities. We still need to mobilize the public to supervise it."
Editor: Apurva. 
(Header image: A member of BLUE SKY RESCUE with a captured alligator gar in Haikou, Hainan province, Aug. 31, 2022. VCG)