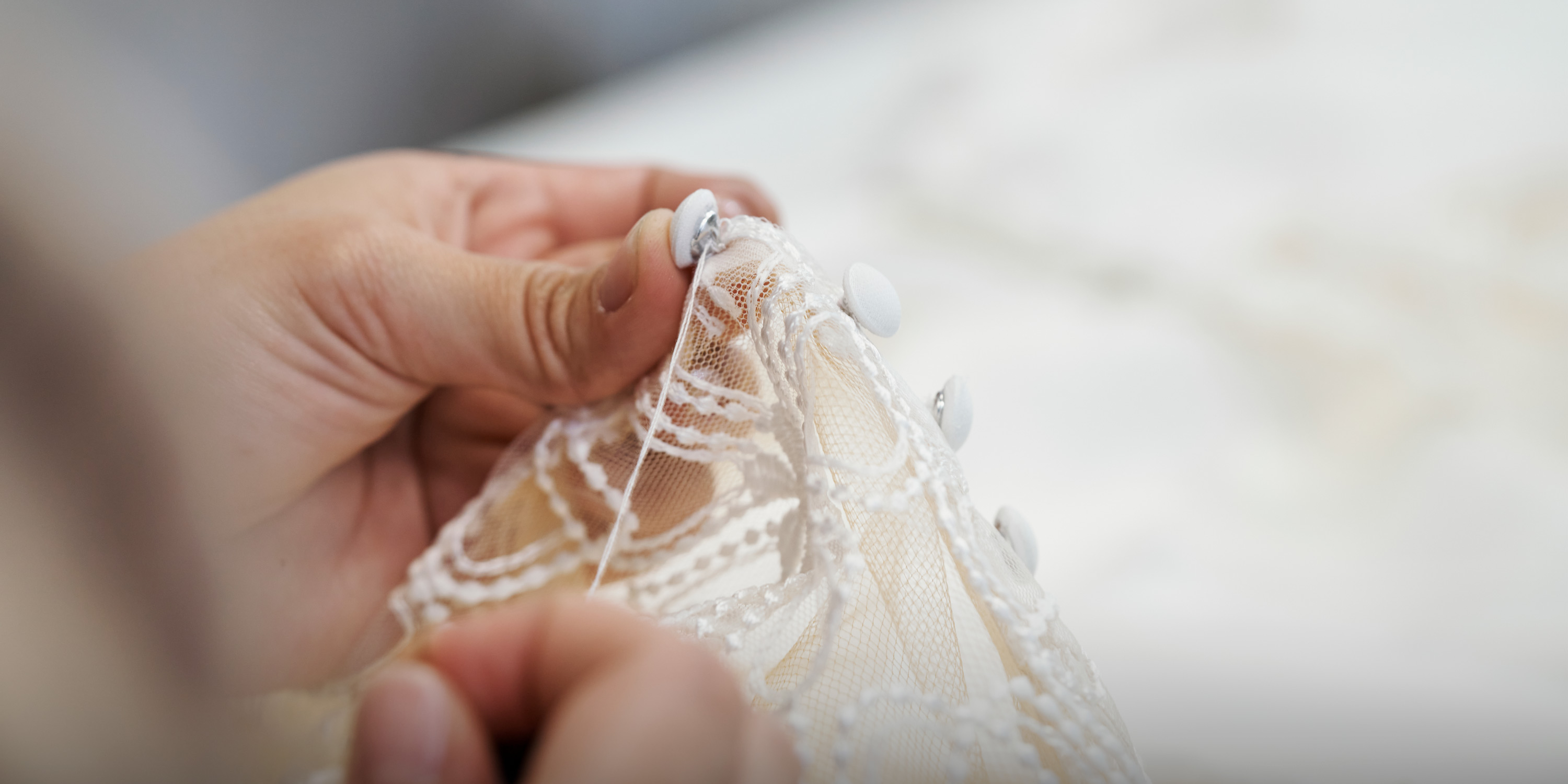 SIXTH TONE ×
Bridal Fashion Capital: How Chaozhou Holds Its Place in the Spotlight
Chaozhou, once the world's bridal gown-making hub, is resorting to legacy, adaptability, and originality as it grapples with challenges ranging from a shifting market to the pandemic.
As my taxi rolled through the city center of Chaozhou in eastern Guangdong province, the driver pointed at stores on both sides of the street and told me about his past as the owner of a wedding dress factory in the 2000s. "At the time, it wasn't just one street — you could find a wedding dress store on every block in the city," he said.
Wedding and evening gowns are a cornerstone of the city's economy, with almost everyone getting involved in the industry and dresses being shipped to destinations worldwide. More than 100 wedding dress brands are registered in the city, according to data from the Bureau of Commerce and the Statistics Bureau of Chaozhou. Over 90% of their products are exported to over 20 countries and regions, including Europe, North America, the Middle East, and Japan. In 2018, Chaozhou's garment industry generated an output value of 2.53 billion yuan ($345.8 million).
"It's the wedding and evening gown capital of China," a factory owner said proudly of the city. "There's not a single country whose major fashion brands don't purchase from Chaozhou," he claimed, adding that the city's dresses have even graced the red carpet at the Cannes Film Festival.
However, after being hard hit by the COVID-19 pandemic and the resulting contraction in foreign trade, the wedding dress industry in Chaozhou now essentially clings to just one street in the city. In 2022, the garment industry's output dropped 60% from 2018 to 1.03 billion yuan. Embattled dressmakers are now looking for ways to make a comeback.
A wedding dress city
In May 1980, Shantou, a city in Guangdong province, became a special economic zone, and Chaozhou, located only 50 kilometers away, leveraged its proximity to become an outsourcing hub for foreign trade. Although the SARS outbreak in 2003 had thrown Guangdong's foreign trade into turmoil, Chaozhou's wedding and evening dress industry remained robust, generating more than $300 million in exports and more than 4 billion yuan in sales that year. The following year, Chaozhou was crowned the "Wedding and Evening Dress Capital of China" by the China National Textile and Apparel Council (CNTAC).
Chaozhou rose to prominence as it had all the necessary elements for the wedding dress industry to thrive. It is home to the school of Cantonese embroidery, one of the four major traditional styles of embroidery in China. Local girls are taught to create stunning motifs by the time they begin high school, and there is no shortage of workers with decades of embroidery experience. Moreover, decades of foreign trade have turned Chaozhou into a sophisticated market with mass-production capabilities.
In the beginning, the industry comprised mostly family businesses started by entrepreneurs from Chaozhou and Shantou in the early days of China's market-oriented reforms in the 1980s. Around the turn of the century, production scale increased through the introduction of advanced machinery, and 2010 marked the beginning of a wave of automation.
Lu Weixing, chairman of the Chaozhou Garment Industry Association, is one of the pioneers in the wedding dress industry. In 1993, he registered a business, which turned into an apparel brand called Luclassic 11 years later. Over the past 30 years, the company has relocated three times, each time coinciding with significant industry changes. At its peak, Luclassic had over 500 employees and exported more than 200,000 dresses each year.
Over the years, financial crises, the rise of outsourcing in Southeast Asia, and the rising cost of Chinese labor have posed challenges for the industry. Nevertheless, it has somewhat endured competition from Southeast Asia largely because of brand upgrading, original designs, and local craftsmanship. Many of the intricate designs that adorn locally made wedding dresses are hand-embroidered by artisans with decades of experience. This in turn made costs and retail prices for these gowns higher compared to those made in Southeast Asia.
Though the market size may be smaller and products are less profitable, industry players believe that the geographical advantages that made Guangdong a foreign trade hub, along with Chaozhou's traditional embroidery skills and other forms of craftsmanship, keep hope alive for local brands.
In 2019, Chaozhou managed to hold onto its reputation as the only Chinese city known for its wedding dresses thanks to its more than 500 wedding dress companies and an industry output valued at 1.89 billion yuan. The city was also one of the largest wedding dress exporters in the world, according to the CNTAC.
The winter months are typically the busiest time for Chaozhou's dressmakers at the city's more than 500 companies, where they work day and night cutting, assembling, and embroidering dresses before hurriedly shipping them overseas in time for Christmas.
But things reached a turning point in 2019. After companies had shipped the final batch at the end of the year, the outbreak of the pandemic forced them to halt operations. This time, the industry has not been able to bounce back as quickly as it did after the SARS outbreak in 2003, when the influx of migrant workers, policy support, and foreign investments kept the industry afloat.
Around 90% of the dresses made in Chaozhou are exported, and 90% of those go to Western countries. When COVID-19 restrictions prevented foreign buyers from importing goods from Chaozhou, they turned to Southeast Asia instead. As this region solidifies its position as an outsourcing hub, buyers are increasingly deterred by the cost of Chaozhou's upmarket dresses.
Just when many believed that Chaozhou's foreign trade was poised for a post-pandemic recovery, the subsequent downturn of the U.S. economy and the European energy crisis further weakened Western consumers' buying power. The ripple effects of these global changes still reverberate in Chaozhou, leading to a further decline in sales volume.
Liu Jiahui, a business owner in Chaozhou, summed up the state of the industry. "It was fine before the pandemic, then for a couple of years, it wasn't too bad. But this year, it's abysmal."
Originally from southeastern Jiangxi province, Liu moved to Chaozhou in 2003 to venture into the dress-making business. He operates a small workshop of more than 20 employees in a commercial apartment building, mainly providing clients with embroidery and pattern printing services.
Though he had hoped that things would pick up as pandemic restrictions eased, he said hardly any potential clients approached him at an expo in Hong Kong in April this year.
As the industry grapples with challenges, wedding dressmakers in Chaozhou have no choice but to shift from exports to domestic sales or downsize their businesses.
Turning inward
While the vast domestic market could be a way out, only a handful of wedding dressmakers in Chaozhou are able to earn revenue in this way. One person fortunate enough to do so is Liu Jun, whose success since transitioning to this model during the pandemic may inspire others to follow suit. Instead of focusing on exports, something his peers have been doing for years, Liu Jun — no relation to Liu Jiahui — turned toward the domestic market, shielding his business from the downturn in foreign trade this year.
At first glance, his workshop is bright and inviting. Unlike many workshops with gloomy LED tube lights, the incandescent lamps in Liu's workshop make the white fabric bolts and sample dresses appear all the more pristine. Workers busily assemble garments at a row of sewing machines, with a pale blue mermaid dress hanging on a mannequin nearby, awaiting its finishing touches. Once completed, it would be sent to Suzhou, Jiangsu province, and displayed at an exhibition.
During his first decade in the business, Liu followed the traditional export-oriented business model. While directing efforts to the domestic market allows business owners to bypass various issues such as language barriers and exchange rates, Liu felt that China's wedding dress and evening gown market was still in its infancy. "(At the time) I didn't see much value in the domestic market because the order volume was so small, and the styles that clients preferred were so different from what we made," he said.
The turning point came in 2019 when an old client began to regularly commission Liu to modify dresses for domestic sales. He visited this client's showroom, which drastically changed his perception of the domestic market.
"I thought our gowns were well made until I saw what other domestic brands were doing. I was amazed by the scale and the quality of their products. It was such a surprise," he said. "This market that I had underestimated was actually much more promising than I thought. Upon returning home, I decided to give it a try, too."
Although he had already taken on some small domestic contracts, making the transition to focus on domestic sales was still no easy task. Much as he had initially feared, the styles Chinese clients wanted were very different from those preferred overseas. As a result, his products struggled to find popularity in the home market.
The owner of a wedding photo studio in Chaozhou explained why Chinese clients usually prefer dresses made in Suzhou. "Wedding gowns made for the overseas markets tend to be minimalist and revealing, while those made in Suzhou are adorned with details like bows and sequins. Young Chinese women tend to like exquisite workmanship," he said.
As such, dressmakers in Chaozhou often send their products to Suzhou for finishing touches so that they can be marketed as "made in Suzhou" upon their return. This made it difficult for Liu to build a domestic client base at the beginning.
One day, a young businesswoman who had just opened a gown store approached Liu for pattern-making services. She toured his workshop, chose a few items she liked, and asked him to name a price. Liu did not take her seriously and just spat out a random number. To his surprise, she immediately agreed with the price and made the payment. Shortly after, when the pandemic broke out and Liu had difficulty retaining his foreign clients, he decided to pivot to domestic sales.
Even after the orders started coming in, developing a more Chinese approach to design proved to be another challenge. With no industry standards for wedding and evening gowns in China, Liu had to reconsider every aspect of his business, from patterns to fabrics and sizes. He painstakingly attempted to replicate whatever his domestic clients wanted before adding his own distinctive touch. His unwavering emphasis remained on the quality of craftsmanship and materials.
His efforts paid off. Today, Liu's business is flourishing. The young woman who sought his services before the pandemic has opened a new store spanning over 1,000 square meters in Suzhou, while his own business is also gradually expanding. This year, he opened his second workshop. "We've been doing well ever since we made this transition in 2020. If I go all out this February and March, I can probably secure as many as 10,000 orders," he said.
Liu Jun is not the only one who has spotted this business opportunity. Many of his peers in Chaozhou are trying to replicate his success.
Liu Jiahui is one of them. He opened a wedding dress workshop next door and has tried his luck in the domestic market. But unlike Liu Jun, his transition hasn't been as smooth. In 2015, Liu Jiahui joined two partners to open online stores on e-commerce platforms Tmall and Amazon to tap markets both at home and abroad, but they failed to get their business off the ground due to their lack of experience and the unsophisticated e-commerce setting in Chaozhou.
When the pandemic hit, Liu Jiahui tried once again to court favor with the domestic market. "The market conditions for domestic sales are a little better now than before," he said. This time, he decided to appeal to Chinese clients by producing cheongsam, which are easier to make compared to Western evening gowns. His workshop began supplying these traditional dresses to stores in Hangzhou, Zhejiang province. He even downsized his workshop and subcontracted some of its work to cut costs.
However, Liu Jiahui has no plans to cater exclusively to the Chinese market in the future. He prefers to give equal importance to his export business. "Though foreign trade may not be doing well at the moment, it may improve in a couple of years," he said.
Though transitioning to the domestic market may seem straightforward, it involves a complete overhaul of operations. While the Western market favors bold and chic designs, Chinese clients prefer modest dresses with more details. This change in style often leaves dressmakers with no choice but to abandon their previous fabric and garnish suppliers and search for new partners. Everything has to be reconsidered, from the workshop mannequins to the embroidery techniques that employees have perfected over 20 years, even the motifs, sewing patterns, and sales channels.
Whether for smaller companies or their larger counterparts that have accumulated years of experience with foreign clients, shifting to the domestic market poses a significant challenge when the industry has focused on exports for more than 40 years. This explains why only a handful of businesses in Chaozhou have done so. Most business owners, like Liu Jiahui, still prioritize exports.
Zhang Yijia is one of the city's most successful wedding gown exporters. Gowns of all colors and styles are stored in piles throughout his factory, discreetly tucked away in a residential building. Over two decades ago, after graduating from university, the Chaozhou native took over the factory from his father and converted it into a garment workshop.
He said the economic downturn in the West has hit Chaozhou's exports significantly. Moreover, Suzhou's emergence as an international e-commerce hub since 2022 has made it even harder for dressmakers in Chaozhou to turn a profit, as the former adopts a business-to-consumer retail model while the latter mainly trades with dealers. Many of Suzhou's wedding dress brands produce dresses in large batches and can offer far more attractive prices than their competitors in Chaozhou.
That said, his business remains strong thanks to its flexible operating strategy. By relying on the sophisticated production chain of Chaozhou's wedding dress industry, Zhang outsources various stages of assembly to smaller workshops when dealing with large orders. He then inspects the finished gowns to ensure they meet the required standards.
This approach allows him to cut costs significantly. "Given our emphasis on quality over scale, it's relatively easy for us to survive," Zhang said. As the industry struggles to recover after the pandemic, the number of permanent employees in his workshop has dwindled to just a few dozen. The atmosphere in the workshop can be best described as laid-back, with a cellphone blasting background music. During meal breaks, workers are allowed to order food and sip tea next to their machines.
Having produced gowns for foreign buyers for over 40 years, Lu, Luclassic's founder who now owns three factories, is well aware that Chaozhou's wedding gown industry has never been in a worse condition, but he refuses to give up. "I said at an executive council meeting last month that our generation has a special sentimental bond with the industry. Despite all these difficulties, we're determined to keep going, because it's in our genes," he said.
Lu's wealth of experience gives him confidence in the face of rising competition with emerging manufacturing hubs. "We're set apart from markets like Southeast Asia by our consummate artistry and creativity. They're not capable of producing works of embroidery like ours," he said.
When compared to other factories in China, Lu's embroiderers have more experience and his machines are more advanced — a result of focusing his business on evening gowns instead of branching out into simpler forms of apparel. To retain foreign customers' interest, Luclassic invests 15% of its annual profits into creating new original designs each year. By leveraging its strengths, Luclassic has managed to stay afloat despite the challenges this year.
October to the Chinese New Year is the busiest time for dressmakers in Chaozhou. The gowns they produce in the lead-up to the weeklong holiday are shipped worldwide and incorporated into the spring collections of countless wedding photo studios, dress stores, and even high-end fashion brands.
Lu is looking forward to the opportunities that his efforts will bring. "What we're experiencing now is completely unprecedented. We need to reflect on how we can harness recent changes to bring Chaozhou's wedding dress industry back to its former glory," he said.
Reported by Wu Yi.
(Due to privacy concerns, Liu Jun, Liu Jiahui, and Zhang Yijia are pseudonyms.)
A version of this article originally appeared in The Paper. It has been translated and edited for brevity and clarity, and is republished here with permission.
Contributions: Tang Jingtai, Chen Xinyue, Lin Xingyu, Lü Chen'an, Pang Bo, Zuo Yuyao, Wang Qian, Yang Ningyu, and Shi Yiru; translator: Lewis Wright; editors: Xue Ni and Elise Mak.
(Header image: Aire images/VCG)