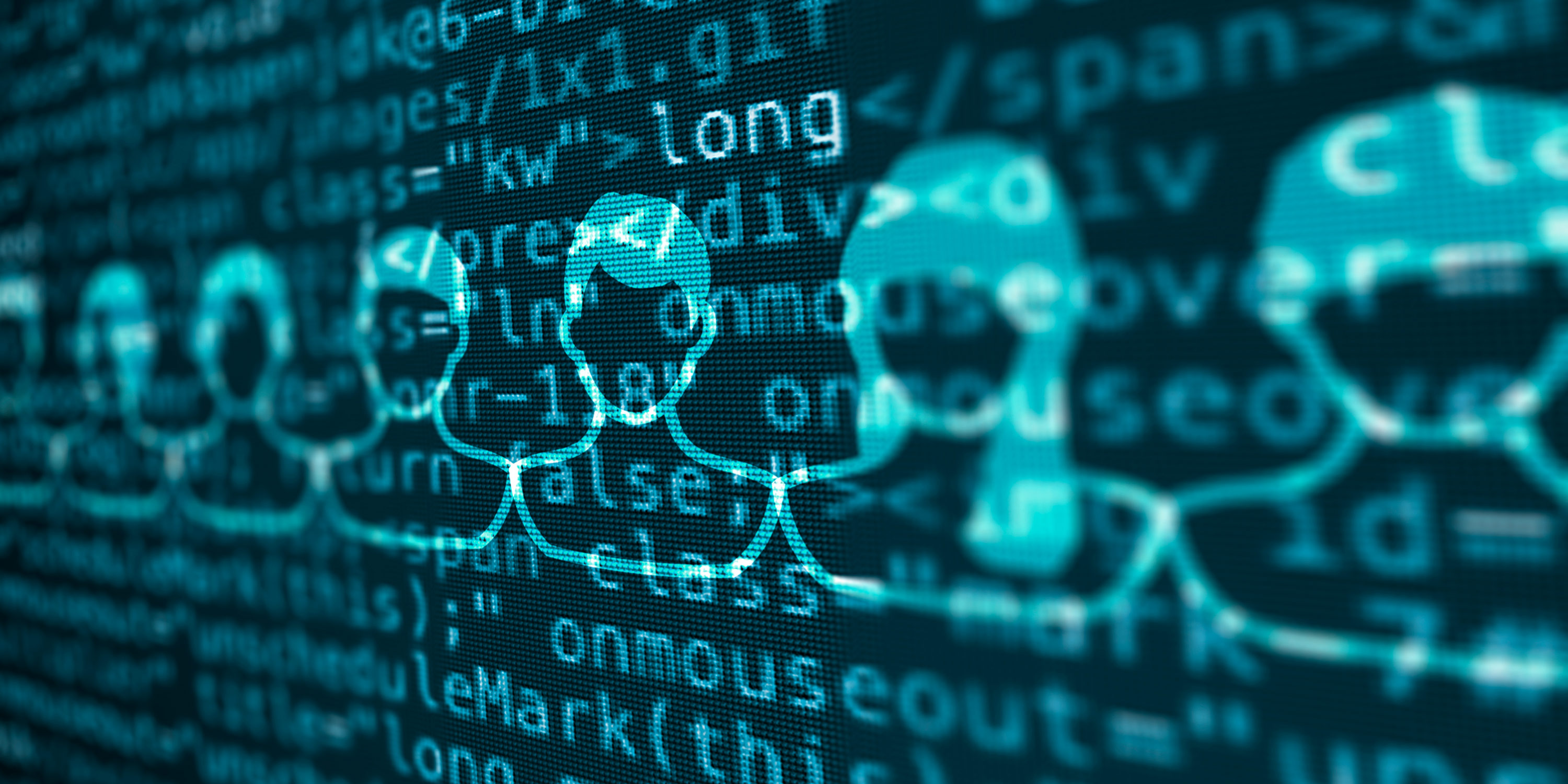 FEATURES
As Cyberbullying Persists, China Seeks Remedies in Law and Tech
For years, China's content creators tackled online harassment largely on their own, through individual efforts or the rare police complaint. But now, new laws promise a broader shield against cyberbullying.
As one of the top vloggers on Douyin, China's version of TikTok, with nearly 6 million followers, Xiaoxue accepted faceless trolls and snide remarks as an occupational hazard. But in July, the vitriol suddenly escalated to a darker, more disturbing level: Rumors surfaced about her alleged "pornographic photos." 
A line overstepped, Xiaoxue, known online only by her given name, immediately notified the police, and then went undercover. Xiaoxue and two friends paid 12 yuan ($1.65) each to enter a group chat on the social app WeChat where these photos were shared to gather more proof. At the time, it already had 300 members. 
With evidence in hand, Xiaoxue, in a video posted on Douyin and Weibo, addressed the culprits circulating the purported photos. "Whoever, for the purpose of profit, disseminates pornographic materials shall be sentenced to up to 10 years in jail," she began. 
"Are you scared? You should be," she warned. "I will show you no mercy. Those who made and spread the rumors, be prepared for calls from the police." 
Amassing hundreds of millions of views and likes, Xiaoxue hoped the video would not only confront her accusers but help others facing cyberviolence. Despite the overwhelming support and her vast online influence, police are yet to report any progress. 
In China, Xiaoxue's experience isn't unique. Cyberbullying rages unchecked on social media, leaving victims grappling for justice, while the bullies themselves often face mere slaps on the wrist, such as a brief account suspension or a light warning.
In central China's Wuhan City, after an accident took the life of her young son in June, a grieving mother sought justice online. Yet netizens fixated on her earrings and high heels, some coldly claiming she showed no signs of grief. Similarly, in February, an influencer in the eastern Shandong province had complained in a video on his channel that he had been "maliciously" attacked online for months. 
Overwhelmed by the bullying, both took their own lives shortly after.
Amid the public outcry that ensued, government authorities and top social media platforms have begun addressing the issue. 
While platforms like Douyin have been proactively policing their spaces, penalizing thousands of inappropriate comments, and educating users about proper online decorum, the Cyberspace Administration of China, the top internet regulator, introduced the country's first draft regulation targeting cyberviolence in July.
Though the new draft law underscores an intensified approach to cyberbullying, China has already had legal provisions against online harassment in place. The country's Civil Code mentions that users and service providers are liable for tort when they infringe upon the civil rights of another individual online. 
Additionally, the Law on Penalties for Administration of Public Security explicitly states that anyone who publicly humiliates or slanders another person by creating false narratives can face detention, ranging from five to ten days, coupled with fines.
Incidentally, the new draft regulation dictates that online service providers could face penalties of up to 200,000 yuan or face operational suspensions if they're found negligent in preventing severe incidents on their platforms, including tragedies like the loss of life. 
The draft stipulates that individuals involved in cyberviolence would also be held to account under existing statutes, such as the Law on Penalties for Administration of Public Security and the Criminal Law. "Internet operators will be harshly punished if they organize or instigate online bullying," the regulations say. 
In a more recent move, China's top judicial authorities, including the Supreme People's Court and Procuratorate, released stringent guidelines on Sept. 25 specifically aimed at cyberviolence, particularly those that maliciously fabricate "sex-related" narratives, target vulnerable groups like minors or the disabled, involve orchestrated campaigns with paid posters, or use AI to spread unlawful content.
While these regulatory efforts mark a significant step, experts emphasize the need for a multifaceted approach. "The management and control of cyberviolence requires the combined efforts of improved laws, raising social awareness, and fostering individual self-discipline," Zhu Zheng, director of the Anhui Provincial Committee for Social and Legal Affairs under the China Democratic National Construction Association, told Sixth Tone. 
He added that new laws were just one part of addressing the issue. "They will undoubtedly bolster the fight against cyberviolence, but the specifics, such as the penalties imposed, warrant more in-depth consideration," he says. 
Ground zero
Among the many incidents of cyberbullying, one case from Hangzhou in the eastern Zhejiang province resonated across China. 
In July 2020, a man secretly filmed a resident surnamed Gu as she stepped out from her apartment to collect a parcel. Shortly after, the man, along with a friend, fabricated chat records and suggested that Gu had illicit relations with the courier. These fake records, combined with staged photos and videos, were disseminated across 110 WeChat groups, amassing hundreds of thousands of views and generating vulgar comments. 
These unfounded rumors rapidly spread, causing Gu to lose her job, with subsequent employers shunning her due to the rumored affair. The emotional strain led to her being diagnosed with depression.
Deciding to reclaim her narrative, Gu sued the two rumormongers. And by December 2020, the case escalated to a public prosecution. The eventual verdict, four months later, was a one-year sentence for the duo, with a two-year probation.
"The Hangzhou case was a landmark," says Zhu, underscoring that if cyberbullying cases are consistently addressed as public prosecutions, it could bring about significant change.
"If the Supreme People's Court and the Supreme People's Procuratorate issue clear judicial guidelines addressing cyberbullying, and specify when such incidents can be pursued as public prosecutions, it could revolutionize the current handling of cyberviolence cases," Zhu told Sixth Tone. 
The Sept. 25 guidelines stipulate that public prosecutions should be filed against criminal acts of insult or slander that seriously endanger social order and national interests.
So far, on the ground, the Hangzhou judgment has been a rarity. "The likelihood of the police formally investigating a cyberbullying complaint is slim," says Zhu. "Only when an incident gains significant traction, and possibly even comes under the national spotlight, do authorities take it seriously." 
Liu Daqing, an attorney who is representing Xiaoxue in her case, concurs. While Liu has received a police acknowledgment for the complaint, an official investigation is yet to begin. 
"The police are currently examining the evidence we've submitted. However, the direction they'll take for the next phase remains unclear," says Liu, adding that the mechanism would work better if police are required to cooperate with the courts on further investigations.
As the police inquiry continues, both Xiaoxue and Liu prefer not to comment further on the matter. In a public statement, she advised other cyberbullying victims, "Don't hastily defend yourself or fall into your adversaries' traps. Rely on the law. The truth can easily dispel rumors."
While the legal battles rage on, internet companies have also stepped up efforts to control and mitigate cyberviolence on their platforms.
In just the first quarter of this year, Douyin has taken action against 32,000 inappropriate comments, sent out 170,000 emails educating users on proper online behavior, and issued 70,000 alerts to potential victims, warning them of cyber threats, as noted by its security management team.
But the sheer scale of the problem becomes evident in user interactions. "Comment and private message zones are hotbeds for cyberbullying. We've made it easier for users to report violations, but many found it challenging to locate this feature," says Liu Huan, Douyin's safety product manager.
Douyin also introduced a "one-key" function to fight cyberbullying last year. Once activated, this function offers a suite of protective measures for users, including banning people from commenting on their posts, sending private messages, and searching for the users in question.
Typically active for seven days, users can opt to continue its protective services or deactivate it based on their discretion and perceived threat level.
Self-defence
While platforms continue to develop approaches to mitigate cyberbullying, some content creators are crafting their own strategies to combat online harassment.
Liao Yidong is a 28-year-old fitness vlogger with 780,000 followers on the video streaming platform Bilibili. Refusing to be silenced by trolls, he's earned himself the title of "No.1 online cyberviolence fighter" by producing content that exposes his harassers.
"When they retract their malicious comments, I ensure their personal information disappears. But if they continue with their actions, they face the collective might of my supportive followers," Liao tells Sixth Tone.
However, he's not relying solely on his follower base. Liao says he's already reached out to a lawyer, ensuring he's legally prepared to tackle cyberbullying the next time he comes across it.
Liao's stance against cyberbullying stems from an incident in October 2022, when he encountered a significant wave of online harassment. After posting a near five-minute video on Bilibili detailing his daily life and passions, one particular line drew unexpected attention: "If I don't have enough time during the day, I work out after midnight."
Liao had intended to emphasize that, with determination, one can always find time to exercise. However, his words were twisted by some, who accused him of actively promoting unhealthy lifestyles by encouraging fans to stay up late to exercise. "I was advocating for determination and discipline, not jeopardizing one's health," rues Liao.
The backlash was unrelenting. Within a short span, Liao's private message inbox and comment section were inundated. "Many didn't just stop at cursing me; they went as far as to curse my entire family. Some even suggested I should end my life," he recalls. 
And the phone number he had listed for business inquiries began receiving incessant calls. "Every time I answered, a torrent of profanities would ensue," says Liao. "Luckily, it wasn't my personal number. I had to eventually mute it to regain some peace."
Liao initially reported the accounts to platforms, hoping for action. "But they'd suspend accounts for a day, and then these bullies would return. It felt futile depending solely on these platforms," he says. 
Despite platforms implementing measures, such as limiting users to sending one private message to strangers every 24 hours, Liao's experience didn't improve. "Even with these restrictions in place, my inbox was still flooded with malicious messages," he says. 
But what drives individuals to attack others so viciously online? 
Hou Yubo, an associate professor in the Department of Managerial and Social Psychology at Peking University, believes the internet's anonymity offers an outlet for pent-up frustrations. "The internet provides a space for unrestrained expression," Hou explains. 
"When faced with real-life challenges, many redirect their negative emotions online, using it as a platform to vent or even express prejudiced views, shielded by the illusion of anonymity."
The dynamics of group behavior also play a role. Hou posits that when individuals perceive themselves as just a minor cog in a vast online community, they often feel less personal responsibility for the consequences of their actions. This perceived obscurity emboldens them to act with fewer inhibitions.
And while Hou acknowledges the potential of legal repercussions to curtail cyberbullying, he points out the inherent challenges. "Defining intentions and evaluating the degree of harm caused is complex," he says. "Given these challenges, the immediate need is basic education, emphasizing to all users that the digital space isn't lawless."
Yet, while experts like Hou advocate for education and ethical boundaries online, those on the frontline of cyberbullying, like Liao, offer a more practical perspective. Liao believes that, for the average internet user, the best strategy might be to sidestep engagement entirely.
"Silence often proves to be the most effective response," Liao suggests. "Ignoring them might see them disappear within hours. Responding, on the other hand, can fan the flames, leading to more aggressive comments. It's easy for things to spiral out of control, which only deepens the emotional toll."
However, he admits that this approach isn't feasible for everyone. "For content creators like me, silence isn't always an option. Cyberbullying can distort public perceptions, impacting the reach and reception of our work. In my case, it's crucial to manage the narrative – whether that means closing comments or proactively addressing the issue," he explains. 
"But for the everyday netizen, detaching from the vitriol and seeing it as mere fleeting noise might be the healthiest choice."
Additional reporting: Wang Lianzhang; editor: Apurva. 
(Header image: Mattjeacock/VCG)