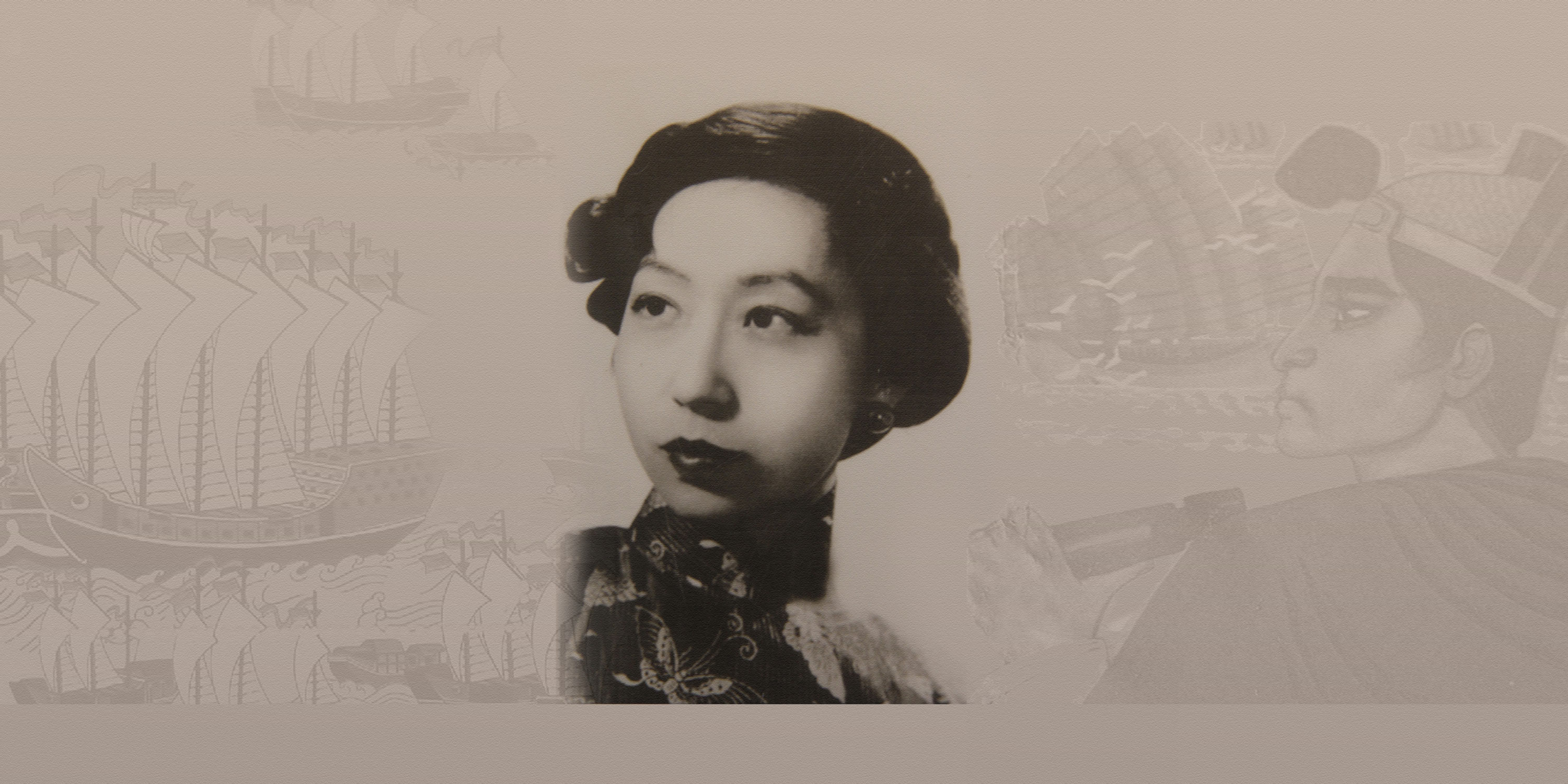 SIXTH TONE ×
How Eileen Chang Almost Wrote a Book on Explorer Zheng He
The feminist essayist and author, whose writings show a deep interest in Southeast Asia, told friends about her plan to write about the legendary Chinese admiral's voyages to the Western Seas.
Editor's note: The following is an excerpt from "Between Man and Sea: China and Its World in Maritime Asia," by Yang Bin, professor of Chinese language and history at the City University of Hong Kong. He is a member of the historic Xiling Seal Art Society and a recipient of the Gutenberg-e prize, awarded by the American Historical Association and Columbia University Press in recognition of scholarly writing.
Ancient China is often viewed as a land nation. However, based on documents, archaeological discoveries, and other materials, Yang's book focuses on the country's often-overlooked status as a maritime power. In this excerpt, he explores acclaimed writer Eileen Chang's surprising yet unfulfilled plans to write a novel about the explorer Zheng He, who is regarded as the greatest admiral in Chinese history, as well as her deep interest in Southeast Asia.
Zheng He's legendary voyages to the Western Seas have fascinated people for centuries. In China, Southeast Asia, and beyond, his explorations have inspired countless articles, books, and other works. Eileen Chang, an essayist and novelist who rose to fame in Shanghai in the 1940s, is best known for her stories about relationships between young men and women in China's new era. For those familiar with her work, it might come as a surprise that this modern feminist writer would consider penning a novel about the adventures of Zheng He.
Southeast Asia — or Nanyang (literally, the "South Seas"), as Chang called it in her work and correspondence — was not just a destination for Zheng He, it was a passage on his journey westward. For Chang, the region was often in her thoughts, almost from the time she began writing.
Although we know she traveled to Taiwan and Hong Kong, there is no evidence to suggest Chang ever visited Southeast Asia. Yet despite this, the region frequently appears in her stories, with some even featuring overseas Chinese protagonists from Nanyang. But why did Chang long to travel there? And what formed the basis of her descriptions of the region in her work?
In 1961, Chang, then living in the United States, wrote to her close friend Mae Fong Soong in Hong Kong saying that she wanted to visit Southeast Asia. Decades later, Roland Soong, the son of Mae Fong and her husband Stephen Soong, was sorting through his parents' old correspondence when he came across another letter from around the same time in which Chang revealed she was planning on writing a novel about Zheng He.
"My parents had found her a booklet about him," he said. "But then in 1963 she suddenly wrote, 'After considering the Zheng He story, I have decided to give it up, so don't send me that booklet after all.' They sent it anyway."
"The fact that Eileen Chang considered writing on the subject goes against our usual perceptions of her," he added. "It would have been interesting if she'd written it. But she gave up on the idea, at least on writing it in English. She said in a letter: 'I don't think American readers would be interested in a novel about Zheng He because none of the main characters are English or American (or at least European). Short historical novels don't have a market, and long ones are a huge undertaking. It's not worth trying.'"
Chang had begun thinking about Southeast Asia much earlier. In 1955, she wrote to the novelist Hu Shi, explaining that she had decided to write her novel "The Rice-Sprout Song" in English "because the story was too plain for the tastes of Chinese readers — especially those in Southeast Asia." She also says of her later work "Naked Earth" that "personally I wasn't satisfied, because I had to take into account the interests of general readers in Southeast Asia." This, of course, refers to those among the Chinese diaspora who can read Chinese.
In her novella "Red Rose, White Rose," the female protagonist Wang Jiaorui hails from Nanyang and is the titular "red rose." She is passionate, has dark skin and a voluptuous figure, and falls deeply in love with Tong Zhenbao, who rents a room from her.
The red and white roses here are strongly symbolic. Compared with traditional women in China, overseas Chinese women from Southeast Asia were influenced by the traditions of the region. There, women were seen to have a relatively high social status, assuming important and prominent responsibilities in politics, the economy, and the family, and enjoyed more rights. In contrast, women in China were so deeply covered beneath the oil-paper umbrella of the patriarchy that their faces were blocked from view.
Chang grew up in a broken home with a domineering father, and she lacked a sense of security all her life. She rebelled against her father, an opium addict, and ran away to live with her mother, who similarly fought against the patriarchy. However, Chang became anxious when she didn't receive the love she expected from her mother. And as she continued to struggle under, and resist against, traditional systems, she unconsciously projected the shadow of patriarchy onto the bodies of overseas Chinese women.
Having received an elite Chinese and Western education at St. Mary's Hall in Shanghai, Chang was often disparaging toward the overseas Chinese students at the school. "Malaya is a layer of petty civilization on a steaming, suffocating, and barbarian base, like a too small, flowery, and foreign cotton-wedded quilt that could only cover either one's head, or one's feet," she once mused.
She also mocked how they sounded, saying: "Their thick Malay accents were difficult to understand, and they dropped the word 'man' in every sentence, just like the original inhabitants of the West Indies, when they meant to call their interlocutors 'brother.'" She even joked that one of her classmates, Yuenü, had a "mind like a locked little room, with whitewashed walls stained with mildew."
In Chang's writings, "those overseas Chinese" had left their home country and their families, crossed the sea, and arrived in Southeast Asia surrounded by the ocean. She casts them as "others" on the fringes of Greater China. In her novel "Love in a Fallen City," the main character, an overseas Chinese from Malaya named Fan Liuyuan, says at one point: "It's true that I am not a real Chinese. It's just that in the past few years I've become a little more like a Chinese." In this way, overseas Chinese and "real Chinese" are separate and parallel.
It's not at all surprising that the term "those overseas Chinese" appears repeatedly in "Red Rose, White Rose," including one instance in which the group is branded as having "the bad habits of the Chinese and the bad habits of foreigners as well." Although framed as a joke, wasn't this the general impression among those in China? In terms of appearance, overseas Chinese are represented in Chang's work as slim and dark-skinned, while the women have good figures, full lips, and are sexy and sensual, which stands in contrast with the traditional Chinese aesthetic. Materially speaking, they are rich, such as characters like businessman Fan Liuyuan, but they are uncultured and speak with a strong accent. In addition, they are more casual when it comes to relationships between men and women, hence "red rose" Wang Jiaorui has affairs with two of her tenants.
Chang's ideas about Southeast Asia are consistent with the works of many other writers in China at that time. In the early part of "Fortress Besieged," author Qian Zhongshu devotes a significant amount of ink to describing Miss Pao, a young mixed-race woman who is returning from studying medicine in Europe. He writes that her skin is "dark, though not black" and that she "was wearing only a scarlet top and navy blue, skin-tight shorts; her red toenails showed through her white, open-toed shoes." He adds: "Miss Pao had a very slender waist … Under her long eyelashes was a pair of sleepy, seemingly drunken, dreamy, big smiling eyes: Her full, round upper lip seemed to be angrily pouting at her lover." This is clearly the living embodiment of a "red rose."
Qian and Chang both wielded their pens like weapons, their words often stinging. Qian's writing about Miss Pao's mixed-race is not dissimilar to Chang's "those overseas Chinese." Coincidentally, the two authors also wrote about overseas Chinese women having studied medicine — perhaps with a hint of mockery?
Chang's musings on Southeast Asia reflect her own ideas, but not solely. This leads us to wonder about where she got her knowledge on Southeast Asia, and what informed her impressions of the region and its people.
For the first half of her life, Chang's closest friend was Yan Ying, a Sri Lankan-Chinese who served as a witness at both of her marriages. She may have provided Chang with some knowledge of the tropics. Her overseas Chinese classmates at the University of Hong Kong also would have been a source for her literary constructions of Nanyang. However, one person who certainly would have directly impacted Chang's impressions of the region was her mother, Huang Suqiong.
Huang, who later changed her name to Yvonne Whang, left her husband and children to study in Europe with her sister-in-law. She traveled the world, visiting Southeast Asia several times, and even taught for six months at a Chinese school on the Malay peninsula in 1948. Her experience provided Chang with colorful details of the region: Durian cakes, curries, Balinese dances, sarongs, Buddhist temples and statues in Cambodia, forests in Malaya (modern-day Malaysia and Singapore) — all scenes that pop up in Chang's works.
In "Love in a Fallen City," Chang describes a scene between Fan Liuyuan and the beautiful Shanghai divorcee Bai Liusu: "When they had finished eating, Fan raised his glass and drained the remaining tea, then lifted the glass high and stared at it. 'If there's something worth seeing, let me look too,' Bai said. 'Hold it up to the light,' said Fan. 'The scene inside reminds me of the forests of Malaya.' When the glass was tilted, a hatching of green tea leaves stuck to one side; held up to the light, they became a waving plantain tree, while the tangled swirl of tea leaves clumped at the bottom looked like knee-high grass and undergrowth."
Here we can see that Chang's impressions of Southeast Asia not only were framed by what she knew but also through the eyes of her personal connections. Mostly, this came out of China's gradual opening up to the outside world, especially its closest neighbors, and it is because of Nanyang that the "red rose" and Fan Liuyuan exist in Chang's work. Unfortunately, she never did complete that novel on Zheng He's voyages, meaning her fans can only speculate what might have been.
This article, translated by David Ball, is an excerpt from the book "Between Man and Sea: China and Its World in Maritime Asia," by Yang Bin, published by Guangxi Normal University Press in September 2023. It is republished here with permission.
Editors: Xue Ni and Craig McIntosh.
(Header image: Visuals from IC and Kongfz.com, reedited by Sixth Tone)