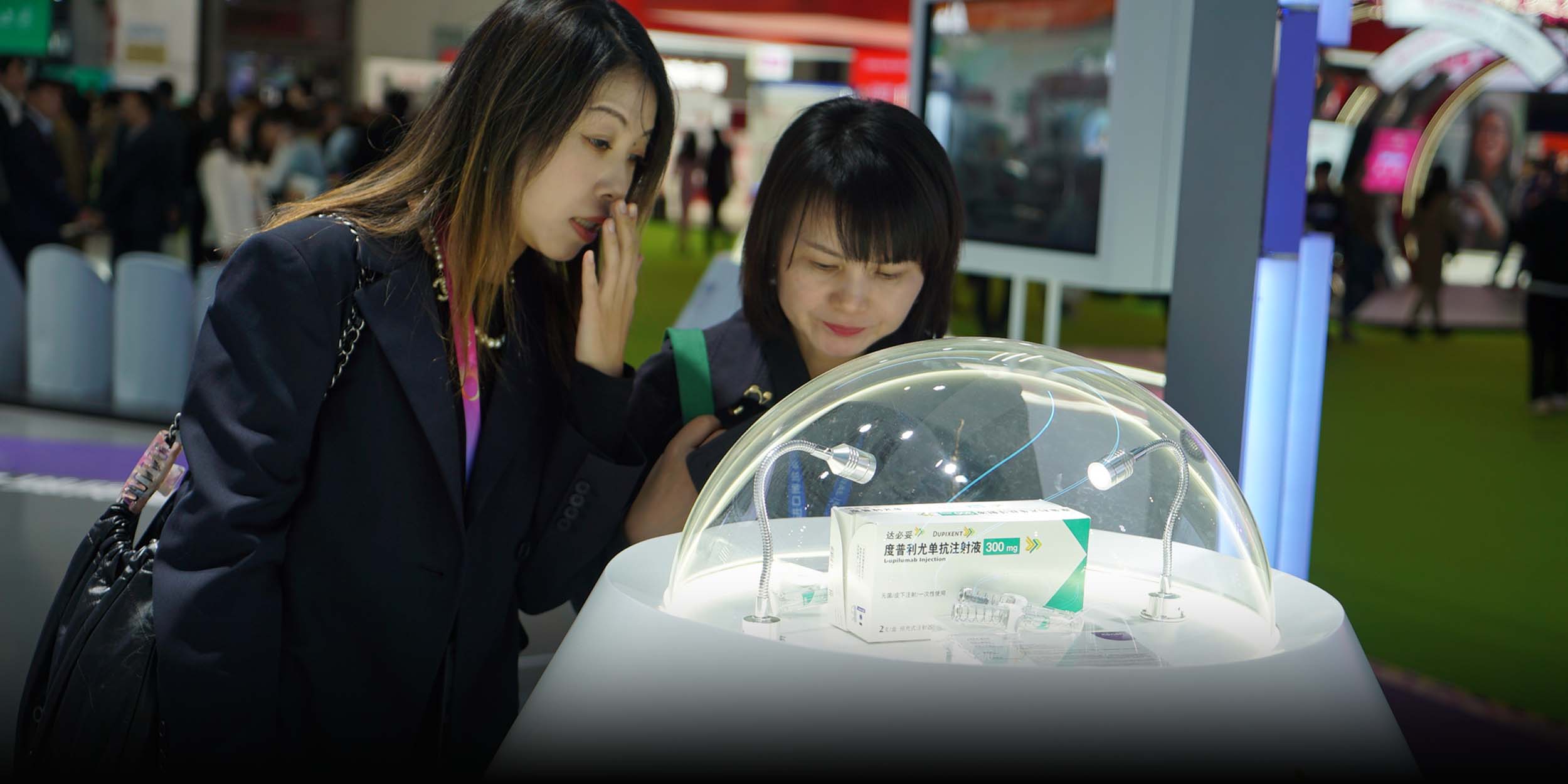 NEWS
Eye on China Market, Top Pharma Firms Showcase Rare Disease Care
At the China International Import Expo, rare disease treatments have been in the limelight, with many quickly gaining market approval in China after their debut at the event.
SHANGHAI — From cutting-edge treatments that significantly reduce bleeding risks in hemophilia patients to new drugs for complex conditions like neurofibromatosis and Pompe disease, top pharmaceutical companies are tapping the China International Import Expo to showcase advancements in treating rare diseases. 
Drugs and treatments for a variety of rare diseases have taken center stage at the international trade show in recent years. These offerings have often earned the label "CIIE Baby," referring to novel drugs introduced at the expo that subsequently gain expedited approval for the domestic market in China.
Approximately 20 million Chinese have been diagnosed with rare diseases, with the number rising by 200,000 annually, according to the global consultancy Frost & Sullivan. Across the world, over 7,000 rare diseases have been identified, but a mere 5% of these conditions currently have effective treatments available.
At this year's expo, healthcare giant Sanofi presented a new therapy that targets two primary types of hemophilia, a hereditary disorder affecting blood clotting. Citing clinical research data, Zhang Wentao, a company representative, told Sixth Tone that this therapy could reduce the risk of bleeding by up to 90% compared to conventional treatments.
Globally, there are approximately 230,000 confirmed cases of hemophilia, with about 9% of them in China. Current treatments require patients to receive intravenous doses of clotting factors multiple times a week. "The frequent injections are damaging to the human body, especially for babies," said Zhang.
The therapy is in the third phase of clinical trials both in China and abroad, with the drug expected to be submitted for approval by the end of next year, according to Zhang. "Progress in China is on par with elsewhere abroad," he said, adding that Sanofi intends to seek simultaneous approval from the U.S. Food and Drug Administration and Chinese medical regulatory bodies.
Sanofi also introduced Nexviazyme, a drug for Pompe disease — a very rare genetic disorder characterized by progressive muscle weakening and organ damage. Initially unveiled at last year's CIIE, the drug received approval for use in mainland China just last month.
To tackle such rare disorders, China introduced a list of 121 rare diseases earmarked for prioritized research, clinical trials, and expedited regulatory approvals in 2018. This list was expanded to 207 diseases by medical authorities in September. Additionally, in 2019, China established a collaborative network of 324 hospitals aimed at enhancing patient care and medical staff training to improve treatment accessibility, particularly for patients in areas with scant medical resources.
Yet, the sector is still hampered by a limited selection of drugs and substantial financial costs. According to the Frost & Sullivan report, of the first list of 121 rare diseases, only 47 have an available drug in China. And treatments for 16 of these conditions are not covered by the national medical insurance, with some costing upwards of 1 million yuan ($137,000) per year.
Discussing hemophilia treatment in China, Zhang stated that patient access to services has greatly improved due to the establishment of a vast hospital network. However, he acknowledged that the treatments remain expensive. According to Zhang, many patients, particularly those with moderate to severe symptoms, are still at risk of inadequate treatment due to the prohibitive costs involved.
U.S. pharma giant Pfizer also showcased a new therapy for hemophilia at the expo, which introduces a new treatment mechanism and has completed its third-phase clinical trial. It has the potential to decrease the frequency of treatment and reduce the risk of bleeding, according to Li Sheng, a member of staff at the company's rare disease unit. 
Pfizer has also secured approval for four medicines targeting rare diseases in China. Two were introduced at the 2019 CIIE and subsequently entered the Chinese market the following year, after expedited approval processes.
AstraZeneca, marking its sixth appearance at the expo, exhibited two drugs that treat a range of rare diseases, including neurofibromatosis — a rare neurological disorder — and myasthenia gravis — a condition that causes muscle weakness. 
These are some of the 40 innovative drugs the company has introduced in China since 1993. The health care firm is poised to introduce at least 15 new drugs in its second-largest market, targeting rare and chronic diseases. On Tuesday, the company also announced a rare disease cooperation project in Shandong province focusing on drug research and development. 
(Header image: Visitors at the Sanofi exhibition area at CIIE in Shanghai, Nov. 7, 2023. Wu Huiyuan/Sixth Tone)