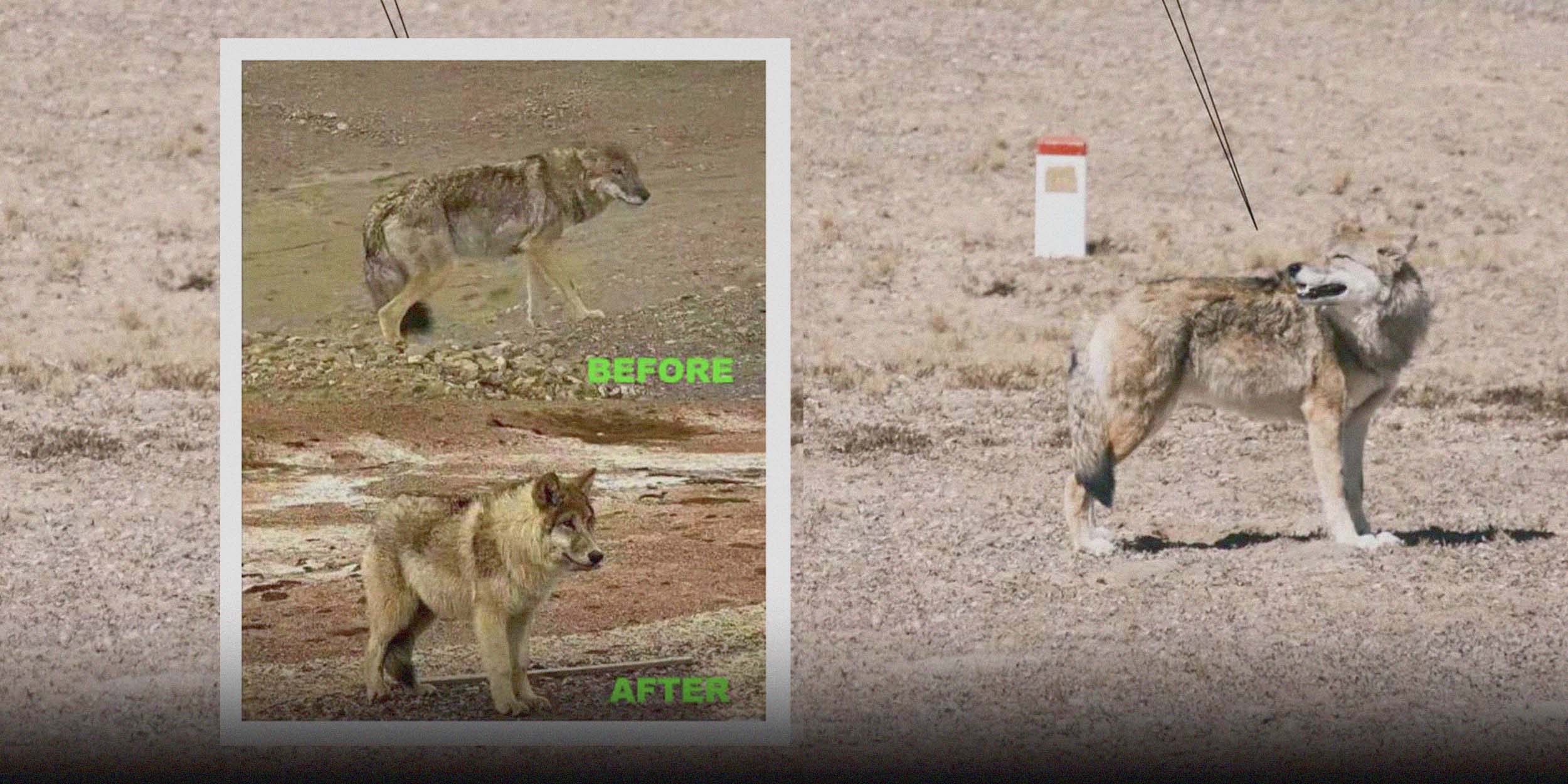 NEWS
'Lying Flat' Wolf Fed Well by Tourists, But Concerns Raised
Netizens have followed with glee the story of a wild wolf in northwestern China that has seemingly been nursed back to health as visitors have rushed to give it food. But experts warn that the feeding of wild animals can be dangerous for both the wild animals and humans.
A wild wolf has become an unlikely internet celebrity after it was filmed waiting for food to be thrown from passing cars on a highway in the northwestern Qinghai province, sparking debates about the feeding of wild animals.
Since late October, multiple drivers have documented the physical transformation of the wolf in the Hoh Xil National Nature Reserve from visibly malnourished to "chubby" as visitors have thrown food at it. 
Reportedly expelled from its pack due to old age and physical weakness, the wolf has gained popularity among netizens, with a relevant hashtag on microblogging platform Weibo garnering 240 million views so far.
Netizens joked that the wolf has been domesticated like a husky dog and learned to "lie flat" for a less stressful life.
However, the wolf has also sparked discussions surrounding the feeding of wild animals and its negative impacts. According to Feng Yidi, a scientific consultant at Shan Shui Conservation Center, regular human feeding is likely to cause wild animals to associate humans with food sources and can also cause health issues for the animals.
"There is a possibility that when it encounters humans again, it may actively approach them, which can actually be very dangerous for people, especially when it comes to species like wolves," Feng told Sixth Tone.
The wolf is a Class II protected species in China that was once widely distributed across the country, but now can only be found in small pockets of central and western China due to human-caused habitat loss and hunting.
In Feng's research work on raccoon dogs in Shanghai, another Class II protected species, she has found that regular human feeding can lead to a rapid increase in the population density of the animal.
"As regional population density becomes too high, wild animals' ability to resist diseases and other potential risks will decrease," said Feng.
While the Hoh Xil National Nature Reserve does not have rules about the feeding of wild animals, it does have regulations stating that the local management agency is responsible for ensuring that the habitats of wild animals are not subject to human destruction and interference.
Some cities in China have explicit bans on feeding wild animals. Shanghai's municipal regulations on wild animal conservation came into effect on Oct. 1, prohibiting the feeding of wild animals "that naturally grow and reproduce in the wild."
(Header image: The wolf with more weight as more drivers throw food at it. From Weibo)