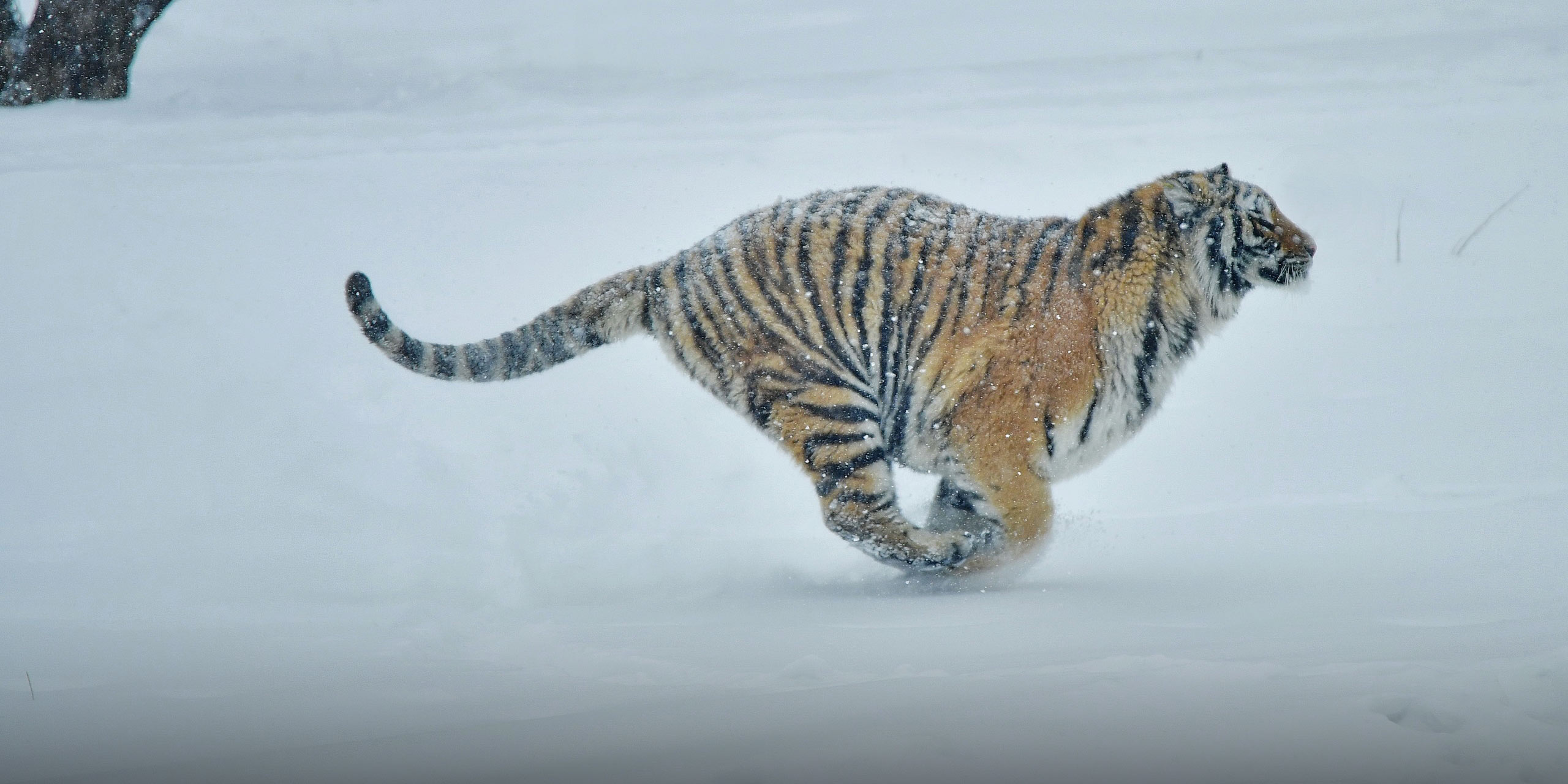 NEWS
Harsh Winter Drives Tigers Closer to Cities in Northeast China
Experts attribute the rise in tiger sightings in the region to food scarcity and mating season behaviors, leading to the reclusive predators getting closer to human settlements.
Residents in the northeastern Heilongjiang province's Yilan County and Hulin City have reported multiple sightings of wild Siberian tigers, prompting local concerns about human-wildlife conflict. The tigers, driven by a harsh winter and mating behaviors, have been spotted near residential areas and have reportedly killed livestock. 
On Nov. 9, state broadcaster CCTV reported that a villager from Yilan County, which comes under the jurisdiction of the provincial capital Harbin, reported a tiger encounter in the mountains and discovered a cow mauled to death. The cow's hind limbs were torn, and nearby snow revealed tracks indicative of a tiger. On examining the site, local authorities and wildlife experts verified the animal in question as a Siberian tiger.
Tigers have also been sighted in Hulin City, more than 300 kilometers from Yilan. Afterwards, city officials released an urgent alert stating surveillance footage showed tigers near rivers and villages. Following a comprehensive survey of the area, authorities assessed that at least two wild Siberian tigers were active in the vicinity.
"To ensure the safety of people's lives and property and to prevent and mitigate the risk of human-wildlife conflicts, all residents and tourists within the territory of Hulin City are kindly requested not to engage in mountain activities," the local government warned, suggesting that residents in some key areas stock up on supplies and not go out unless necessary.
Located along the Russia-China border, Hulin City occasionally has sightings of transitory wild Siberian tigers. In 2021, border patrol officers found animal tracks, later identified by experts as belonging to a female Siberian tiger cub likely following roe deer into Chinese forests before returning to Russia. 
In contrast, Yilan County seldom reports tiger sightings. An official told a local news agency that the sighting of a wild tiger near the village was unprecedented.
"It's normal to find the tracks of wild Siberian tigers. This year, the heavier snowfall has led to food shortages for tigers. This is why they are coming down from the mountains to search for food," Fu Jianguo, secretary of the Daqing Wildlife Conservation Society, told Sixth Tone.
Last week, Heilongjiang recorded its severest blizzard of the year, with many local governments issuing the highest snow storm alerts. Yilan County reported snowfall exceeding 40 millimeters, with depths ranging from 30 to 40 centimeters.
Zhang Minghai, director of the State Forestry Administration Feline Research Center, explained that the wild tigers' frequent sightings are largely due to their behavior during the mating season, which often spans from December to February. 
During November, less dominant males are often compelled to broaden their territories in search of mates, leading to increased tiger movements, particularly among males, in human-populated areas.
"Wild tigers still fear humans. They won't actively attack humans unless they think the level of human proximity threatens them," Zhang told Sixth Tone.
China's estimated population of 50 wild Siberian tigers, which are listed as national level one protected animals, primarily reside within the expansive Northeast Tiger and Leopard National Park. This sanctuary stretches over 14,000 square kilometers across two provinces and is also home to a human population exceeding 90,000.
To prevent human-tiger conflicts, the national park has implemented a comprehensive real-time monitoring system using infrared cameras to track the movement of wild animals. If tigers approach inhabited areas, authorities will warn residents. 
However, the World Wide Fund for Nature in July highlighted that habitat loss from industrial growth poses significant risks and may foster potential conflicts. 
"Building nature reserves is one of the best ways to protect tigers and all the amazing species that coexist with them," said Thomas Gray, head of WWF's Tigers Alive Initiative, who also suggested setting up ecological corridors between habitats to allow for the safe passage of tigers and to reduce encounters with humans.
Editor: Apurva. 
(Header image: A tiger runs through the snow at the Siberia Tiger Park in Harbin, Heilongjiang province, 2018. IC)