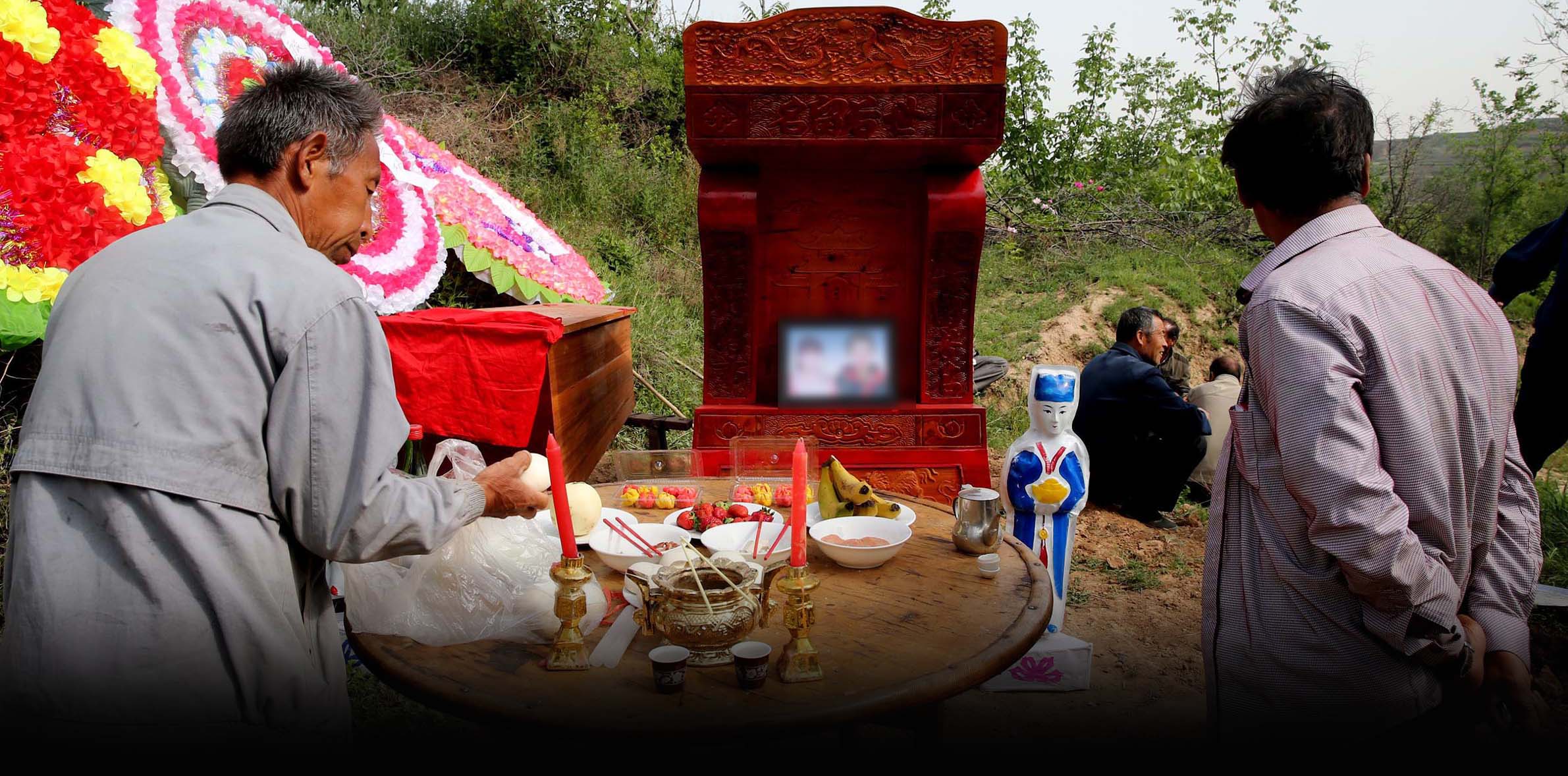 NEWS
Ghost Marriages Under Scrutiny in East China After Teen's Death
After the teenager's death, her biological father has alleged that her adoptive parents arranged a ghost marriage for her with a deceased boy and received 66,000 yuan in return.
Local authorities in Guan County in eastern China's Shandong province have vowed to stamp out the ancient practice of "ghost marriages" — the custom of marrying a couple, when one or both parties are dead — after a local case involving a 16-year-old girl's posthumous marriage sparked public outcry. 
According to a report in the Shanghai-based outlet The Paper, the girl fell to her death from the ninth floor of an under-construction building last December. But last week, the girl's biological father, surnamed Sun, alleged that his daughter took her own life after being persistently abused by her adoptive parents. 
Following her death, Sun further claimed that her adoptive parents arranged for her to be posthumously married to a deceased boy, with whom she now shares a grave. Sun also claimed that her adoptive parents received 66,000 yuan ($9,200) for the ghost marriage. 
According to Sun, his daughter was originally given up for adoption due to his family's financial constraints. Local authorities confirmed a transaction of 66,000 yuan for the ghost marriage. However, they added that Sun's allegations against the adoptive parents — of cruelty, intentional homicide, and corpse desecration — lacked evidence, which meant they could not file a case.
Following the public outcry over the incident, Zhang Xuehong, party secretary of Guan County, emphasized the need for the stringent regulation of ghost marriages. "We must crack down on the practice of ghost marriages and pursue legal responsibility if any issues are found," said Zhang at a meeting Saturday. He also advocated for enhanced public education and awareness campaigns to eradicate such customs among villagers.
Ghost marriages are a tradition combining marriage and burial rites. They have existed since the Shang dynasty (1600–1046 B.C.), according to a paper by Huang Jingchun, a professor at the College of Liberal Arts at Shanghai University. This tradition was even observed during the Three Kingdoms period by Emperor Cao Cao, who arranged for a deceased woman to be interred alongside his son, fulfilling the rite of ghost marriage.
"The three most fundamental reasons for ghost marriages are as follows: the fear of being haunted by the dead; the parents' need for emotional catharsis; and the requirement of the patriarchal family system," Huang wrote.
He explains that Confucian traditions dictate that a young, unmarried descendant without an heir cannot be buried in the family's ancestral tomb, thereby disrupting property inheritance. Through a ghost marriage, such individuals are believed to be wed in the afterlife, ensuring the continuation of the family lineage.
In modern society, the boundary between ghost marriages and Chinese law is blurred. While the Criminal Law imposes penalties for the theft and desecration of a corpse, it doesn't specifically address the practice of ghost marriages.
"Existing laws do not explicitly and directly prohibit the superstitious custom of ghost marriages," Yao Jianlong, director of the Institute of Law at the Shanghai Academy of Social Sciences, told a local media outlet. "The law will only intervene if other illegal and criminal activities result from ghost marriages."
A search on China Judgements Online, a free online database containing verdicts from all levels of China's legal system, shows more than 100 judgments containing the keywords "ghost marriage," mostly in the provinces of Shanxi, Hebei, and Shaanxi. The verdicts describe several crimes related to ghost marriages, including the theft of women's corpses and the intentional killing of women for profit in ghost marriages.
Editor: Apurva. 
(Header image: A ghost marriage ceremony in Yuncheng, Shanxi province, May 6, 2016. IC)