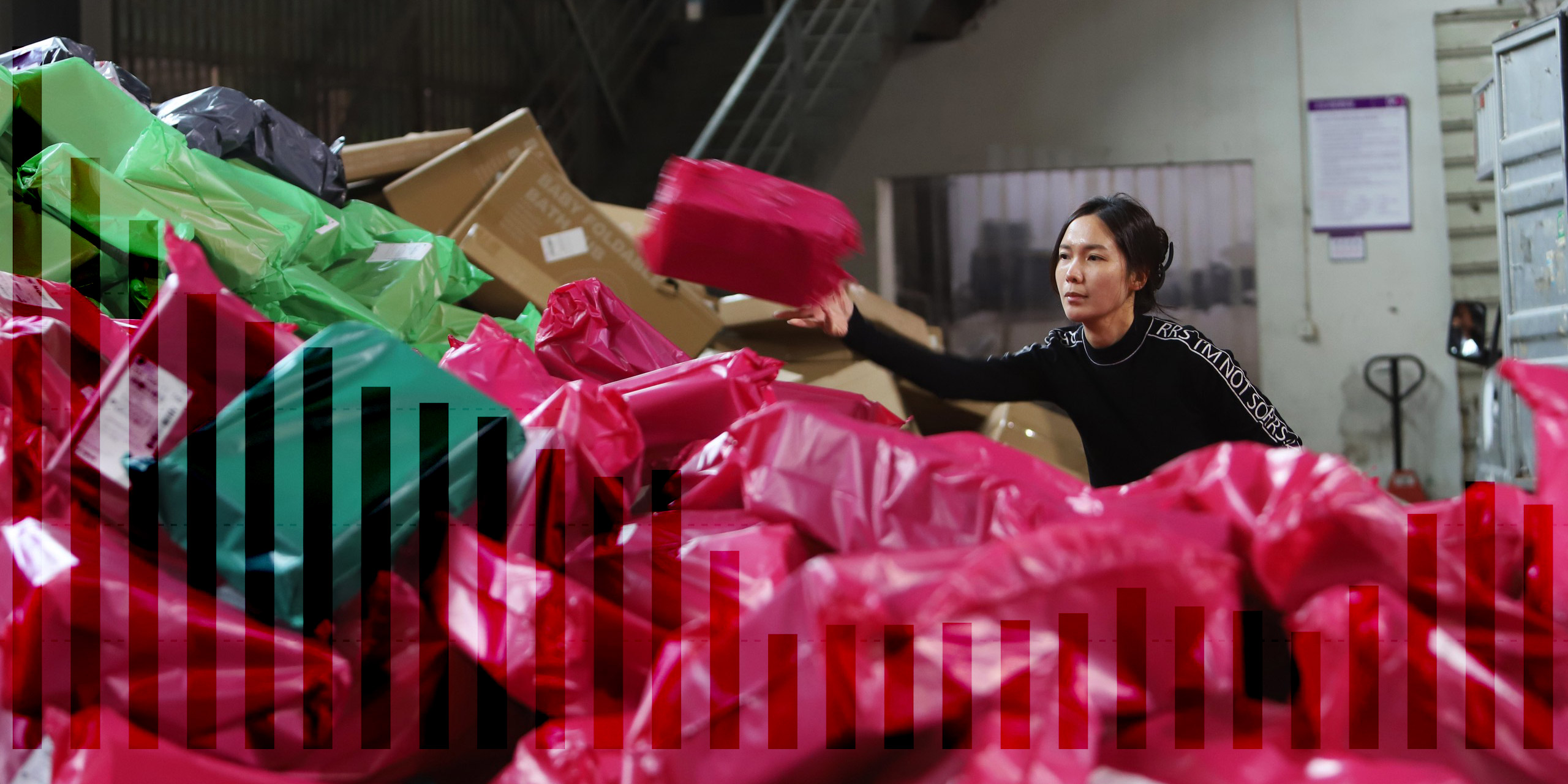 SIXTH TONE ×
Has the 'Double Eleven' Shopping Festival Lost its Luster?
The annual online shopping festival has continued to falter as an overabundance of sales seasons and opaque pricing strategies cause fatigue among consumers.
The annual "Double Eleven" shopping festival — so called because it falls on Nov. 11, or China's Singles' Day — is a crunch time for e-commerce platforms and retailers, many of whom slash their prices on a wide range of products.
However, data shows that interest in the festival among consumers is continuing to wane, not least due to the sheer number of sales seasons throughout the year, while the type of goods shoppers are purchasing on the day is changing.
So, what might the future hold for this annual retail bonanza?
Double Eleven was an instant hit upon its introduction in 2009 by Alibaba, the company behind popular e-commerce platforms Tmall and Taobao. For about a decade, each year was bigger than the last, with record-breaking revenues. More online marketplaces quickly joined in, and shoppers gladly logged on to bag their bargains.
Yet searches for the phrase "Double Eleven" by netizens using Baidu plunged by about 60% this year compared with 2022, continuing a steady downward trend since the festival's peak in 2017.
This apparent cooling of interest was mirrored on social media, too. In 2019, topics related to the annual shopping event trended on Weibo, China's Twitter-like platform, for a total of 464 minutes — almost eight hours. This year, it was well under three hours, with one of the hottest topics of discussion being "Has Double Eleven lost its lure?"
In a poll of 3,033 netizens, 63% agreed with the statement that "Double Eleven no longer needs to exist."
Too much of a good thing
An excessive number of online shopping extravaganzas coupled with retailers' discount-heavy strategies appear to have severely dampened overall interest in Double Eleven. Netizens repeatedly used words such as "boring" and "year-round" when talking about the topic, indicating that consumers are less inclined to make impulse purchases after being subjected to the relentless price wars across e-commerce platforms.
On Tmall alone, almost two-thirds of this year have featured a shopping festival of some kind. In addition to major events like Double Eleven and "618," which falls annually on June 18 and was first launched by e-commerce giant JD.com, discounts are also offered during seasonal campaigns and traditional holiday sales.
On top of that, platforms routinely organize commercial activities to coincide with national and global events. For example, to mark International Women's Day on March 8 this year, Tmall offered various promotions nearly every day that month on food, digital and household appliances, cosmetics, clothing, and other products.
The rise of livestream shopping through platforms such as Douyin, the domestic version of TikTok, also appears to have reduced the appeal of Double Eleven. "I buy what I need for my daily life on livestreaming platforms, as the discounts are not much different from Double Eleven," wrote one Weibo user.
The livestreaming market has expanded quickly in China, according to e-commerce database Dianshubao. The industry value is expected to reach 4.56 trillion yuan ($632 billion) in 2023, a 30% year-on-year increase and up by 232 times compared with 2017. The number of users so far this year has been 540 million, an increase of 14% year-on-year.
Dianshubao forecasts that per capita spending on China's three major e-commerce platforms — Tmall, JD.com, and Pinduoduo — will hit 8,660 yuan this year, nearly 29 times higher than in 2018.
Calculations and gamification
In previous years, a common complaint from consumers during Double Eleven was about promotions being too complicated, with shoppers often having to stay up late the night before to grab e-coupons to secure discounts or pore over intricate rules. Platforms tried to address the problem this year, simplifying some processes, though netizens say the opaque pricing strategies still made it difficult to determine whether there genuinely were substantial savings to be had, resulting in confused and frustrated shoppers.
About 30% of the Weibo comments analyzed included complaints about the rules for promotions, using keywords such as "troublesome" and "complex." One netizen wrote that consumers used to be able to buy products at half price on Double Eleven, but "now there are just too many tricks."
By comparing the Double Eleven prices of 225 popular commodities available on Tmall, JD.com, and Pinduoduo, we found that many were listed as cheaper than during the rest of the year, with relatively large savings to be had on luggage and furniture in particular. Tmall offered the most discounts, with 53% of these products at their rock-bottom price.
However, we also found tricky pricing tactics. For example, the discounted price of a best-selling baby basin on Tmall was set at 25 yuan on the day, while in August it was on special for just 4.5 yuan.
Cautious spending
Despite the sustained recovery in retail sales, the consumption demand in China remains lackluster, according to the latest data from the National Bureau of Statistics.
However, while the general lack of consumption momentum did have an impact on Double Eleven, online sales are still performing better than other types of consumption, the data shows.
The cumulative express delivery volume from Nov. 1 to 4 reached a record 2.03 billion items, surging by 16.1% compared with last year, according to China's State Post Bureau. The average daily volume was roughly 507 million items, higher than the 388 million last year and 425 million in 2021.
Despite the sluggish mood among consumers, the recent retail data has shown improvement. As of September, the combined retail sales of physical goods online increased 8.9% year-on-year to 9.04 trillion yuan, compared with year-on-year growth of 6.1% in 2022, according to the NBS.
Another trend is that online shoppers are spending more on food. Sales of edible products increased year-on-year by 10.4% in 2023, while that of daily necessities inched up 8.5% year-on-year.
The fact that express delivery volume and online retail sales increased amid a frosty Double Eleven suggests that consumers are possibly not unwilling to buy, they are simply being more cautious about the products they "add to cart." In the food and beverage sector, new categories emerged while others enjoyed significant gains, such as ready meals and healthy options like low-alcohol wine and high-fiber snacks.
This year's Double Eleven also demonstrated an appetite among middle- and upper-class consumers for experiences or products that enhance their health, lifestyle, and self-expression. For example, vitamins, pet care, athletic apparel, and even luxury goods proved extremely popular, suggesting that buyers are looking to upgrade their consumption in these sectors.
Reported by Lian Junxiang, He Shuyao, Jin Tianyi, and Lei Guanghan.
A version of this article originally appeared in Shanghai Data, a platform operated by the Shanghai Observer. It has been translated and edited for brevity and clarity, and is republished here with permission.
Translators: Wu Yichen and Xue Ni; editors: Xue Ni, Luo Yahan, and Craig Mclntosh.
(Header image: A worker sorts packages at a logistics distribution center in Taizhou, Zhejiang province, Nov. 13, 2023. IC)