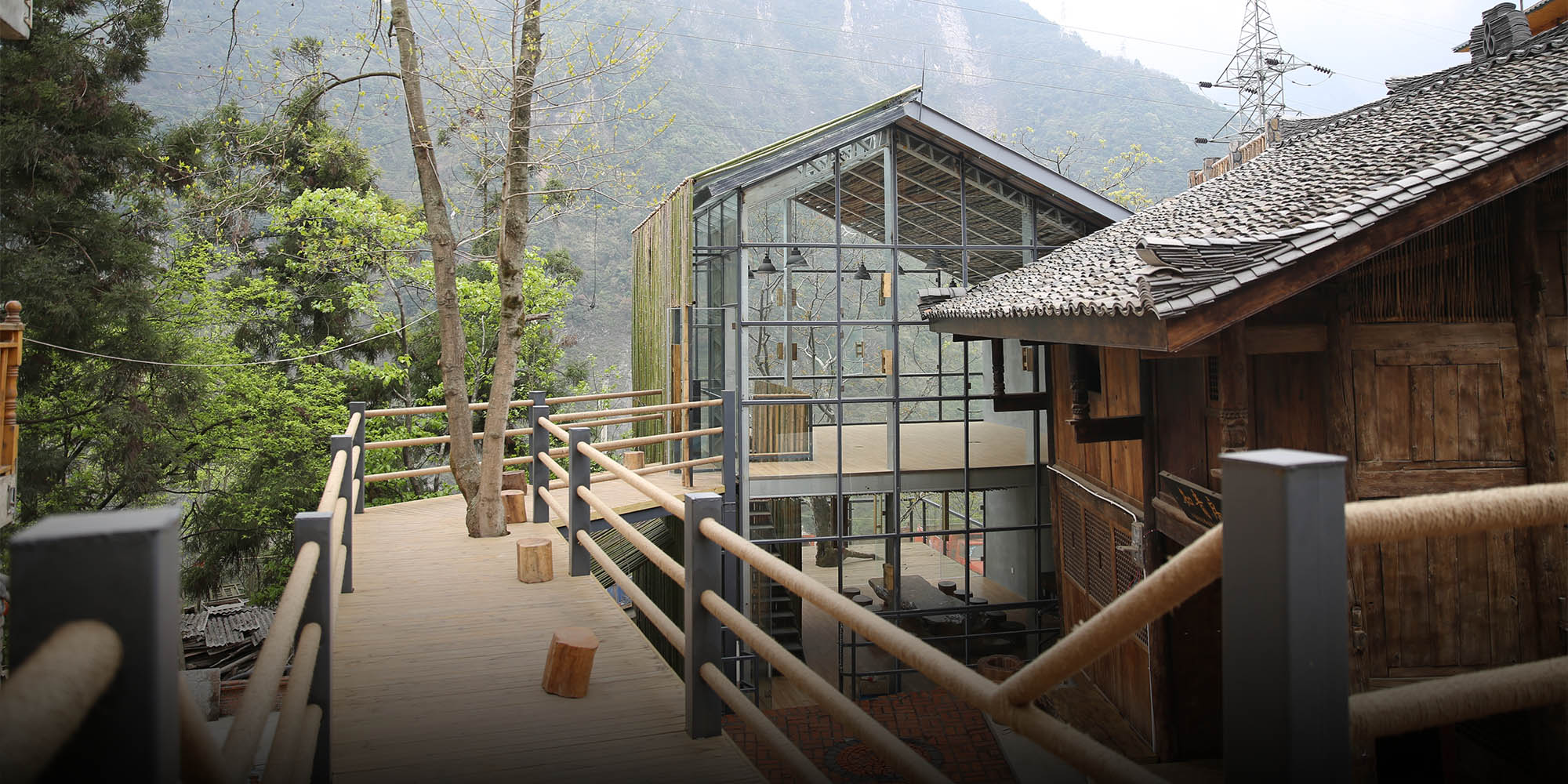 FEATURES
Earthquake-Stricken Village Turns to B&B Industry to Heal Wounds
Torn apart by 2013 disaster, villagers of Xueshan are rebuilding their homes to very new briefs.
At around 8 a.m. on April 20, 2013, Tian Yuxia left her home in a small village in China's southwestern Sichuan province to tend to her crop of corn — part of her daily routine. Soon after she stepped outside, a massive earthquake tore through the terrain around her, throwing her to the ground.
Tian, 43, doesn't remember how long she lay terrified in the dirt. All she remembers is looking up and seeing a pile of rubble where her family home of 17 years had once stood.
It was a similar story for the other 450 residents of Xueshan, a small village that sits among mountains in western Sichuan. Three years after the magnitude-7.0 earthquake, commonly referred to as the Yaan or Lushan earthquake, the village is in the middle of a plan to reimagine itself as a tourist destination, with villagers like Tian being encouraged to rebuild their homes with a dedicated floor for bed and breakfast (B&B) guests.
"If farmers want to get rich, they must start with their land," Xueshan's party secretary Li Dean, 52, said to Sixth Tone, going on to cite B&B accommodation and agricultural tourism as key ways in which Xueshan's villagers can expect to increase their income.
The village's attempt to reinvent itself comes as rural communities across China look to increasingly unorthodox ways to diversify and supplement the incomes of their inhabitants.
[node:field_quote]
Following the disaster, Tian, with her husband and two sons, spent the next few months living between temporary relief housing and her aunt's home in another village. In September, poverty and disaster relief NGO China Foundation for Poverty Alleviation (CFPA) rolled into Xueshan with a plan to rebuild the town and turn it into a tourist hotspot in the process. With them were members of the executive committee of Architects in Mission, a Beijing-based international architectural competition specializing in rural projects.
According to Li, the earthquake, terrible as it was, presented a valuable opportunity for Xueshan to reinvent itself. In less than ten years, he believes, "the village will become a luxury destination that people in the big cities will scramble to visit."
The project has heralded the return of many working-age villagers who — like millions of rural citizens around China — had left in search of better-paid and more predictable work in cities. "Look at all those men," Li said, gesturing to a handful of young men walking down Xueshan's main street. "It was the earthquake that brought them home, but it was the reconstruction projects that made them stay."
Li knows all about Xueshan's exodus of working men. In 1986 he himself went down from the mountains and headed into the surrounding cities in search of employment. A few years later he became a labor contractor, acting as an intermediary between villagers seeking work and factories seeking laborers.
"The moment I decided to serve my hometown," Li told Sixth Tone, "all I wanted was for the villagers to be able to live a good life."
CFPA's vice secretary Wang Jun cites Li, a senior figure with relevant experience, as one of the main reasons they chose Xueshan as the location for their scheme above the countless other villages affected by the Ya'an earthquake. "According to our experiences," Wang said, "having a local strongman is essential to solving the problems of the countryside."
Yet for most people, it is Tian who has become the renovation project's unexpected flagbearer, thanks mainly to the bold design she chose for her new family home. "I knew nothing about architecture," Tian remembers. "But I believed that to be a tourist destination, our village must have something extraordinary."
Of the 20 architectural plans that were offered in 2013 to residents through a competition organized by Architects in Mission, Tian picked the design possibly least in keeping with the buildings that once lined Xueshan's small lanes. Designed by then-22-year-old Zhou Yuchan, an architect living in a neighboring village, the split-level home with its large but few rooms raised many eyebrows among villagers when construction was completed.
Even Tian's husband Li Dehua — of no relation to party secretary Li Dean — was against her, even threatening to divorce her at one point. "Three floors, but only seven rooms!" Li said to Sixth Tone, recalling his reaction upon seeing Zhou's plans. "With the money we invested in the house, we could have built two ordinary houses." As local conventions dictate, the couple have an unwritten obligation to provide a house to each of their sons.
Tian persisted against her naysayers, and "Sister Tian's Home," as it has come to be known, was completed in July 2015. Among visitors to the village, the house is by far the most popular spot.
Xueshan opened its doors to visitors on Sept. 21, 2015, and within three months, the income of the 15 households who had subscribed to the co-op scheme had reached a total of more than 400,000 yuan (around $61,000).
It may seem promising, but for Tian's family, it isn't nearly enough. While the CFPA connected villagers with architects and facilitated construction, in most cases it only covered around half of the building costs; the remaining expenses came out of the pockets of the residents themselves.
That has left Tian and her family, whose monthly income before the earthquake was under 5,000 yuan, in debt to the tune of 400,000 yuan. With only enough visitors — mostly government officials — to occupy the guestrooms for 10 days out of each month, Tian has begun to question whether the venture was ever worth pursuing. Not even news of a planned highway running through the county connecting Xueshan to the nearby city of Yaan fills her with confidence.
Zhang Haobo, a CFPA member who has been working in Xueshan since April 2014, told Sixth Tone it is hard to convince rural residents to consider long-term interests. "It's hard to persuade them that ideas can make money," he told Sixth Tone. "All in all, rural construction has a long way to go."
(Header image: A public area at Xueshan, Sichuan province, April 11, 2016. Wu Haiyun/Sixth Tone)